Things To See St Louis – Five Days to Enjoy St. Louis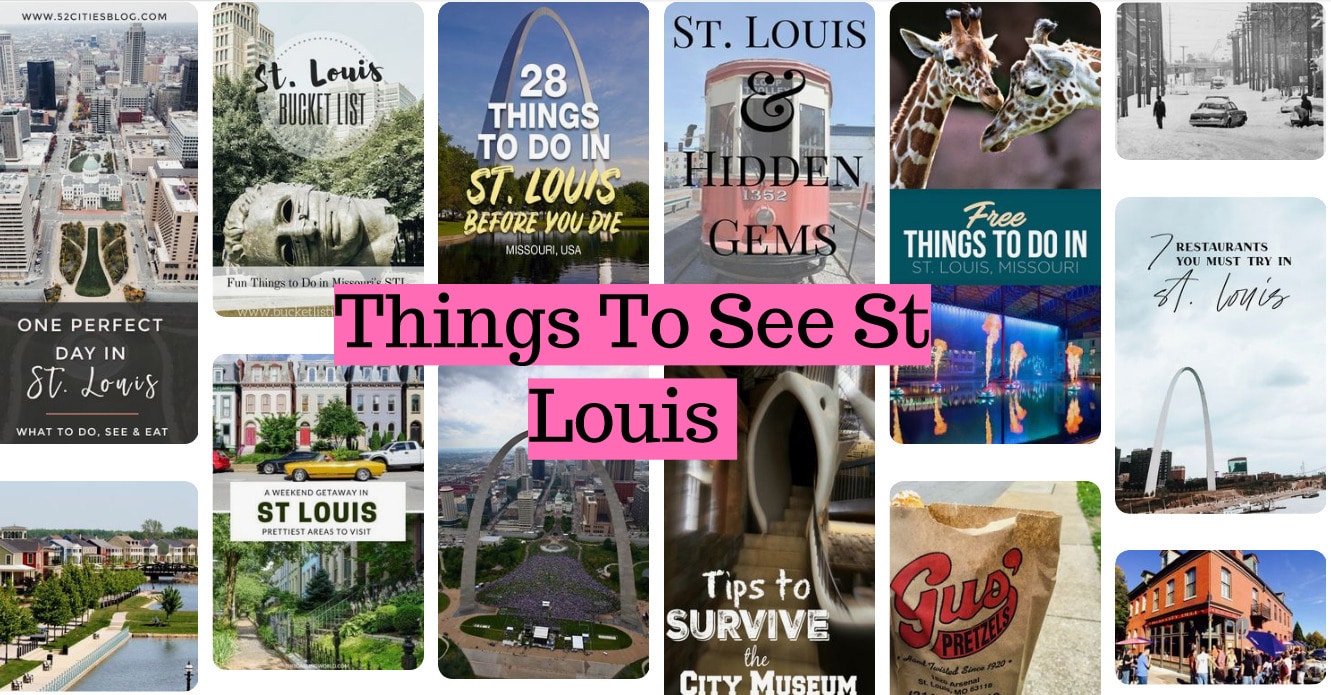 Some of the great things to see st louis to enjoy in this historical city.
When coming into St. Louis from the east, the Arch will be by far the most prominent feature you will notice. From the right angle, the arch almost seems to frame downtown. Before a week is over, you can look at the city from the top of the structure if you choose. The arch is just one of dozens of first rate attractions St. Louis has to offer for the whole family to enjoy.
On day one in St. Louis, you can easily fit the Arch into some downtown fun. Most people probably are not aware, but the Arch is one of the largest tourist attractions in the world. In order to ride to the top up one of the 630 foot tall legs, you will need to purchase your tickets early. The wait can be from two to four hours. The trick is to go get the tickets early or even the afternoon before. Once you have the time of your trip to the top, you can go enjoy something else for a while. While you are waiting for your Arch appointment, you might want to just go and enjoy the national park that surrounds it. Its a nice tranquil place for a picnic or just to go sit and watch the Mississippi go by.
Next to the Arch grounds is Laclede's landing. It is full of small shops and restaurants. The streets are still cobblestone. The stones were quarried in southeast Missouri. The type of granite is called Missouri Red or Gray. At one time, many of the streets of St. Louis were paved with these. You can also spend at least an hour in the underground museum between the legs of the Arch. Near the Arch are the Old Courthouse and Old Cathedral. If you have a long time to kill, you can catch the Metrolink commuter train and take a trip out toward Union Station. It is an old train station that now serves as a Metrolink stop. It is filled with shops, restaurants, and has an excellent hotel. A few blocks back toward downtown is the Memorial for the veterans from the area that gave their life in the service of their country.
Downtown has some shopping and the largest Macy's store in St. Louis is on 7th Street. The Old Post Office at 9th and Olive has been restored and can be worth a look for history buffs. Of course, you might want to plan an afternoon at the Arch with a Cardinal's baseball game at Busch Stadium. The stadium is also located downtown.
St. Louis has one of the finest Zoo's in the world. This will make a great day two activity. The great thing about it? It's free! Decades ago, St. Louisans voted to support their zoo with tax money. This has kept it free of charge and maintained at a high level. You will have to pay to park, but it is quite reasonable. If you want to walk, you can find free parking. The zoo is popular, and lots of people want to park free. The result is you might have a mile or more to walk. Pay for the parking and enjoy the zoo which comes with its own built in long walk included. It is easy to spend 4 to 6 hours at the zoo. You may want to just make it a day by itself. The zoo sits in Forest Park. This is one of the largest inner city parks in the nation. It is a leftover from the 1904 Exposition or World's Fair that commemorated the Lewis and Clark expedition that originated in St. Louis. That fair saw the first use of incandescent bulbs for public lighting. Putting ice cream in cones started there also.
By the third day, you might be ready for an amusement park. Six Flaggs over St. Louis is a top flight dual park. It has its share of thrill rides, great roller coasters, restaurants, and entertainment. Along with this, it also has a large water park with plenty of great ways to get wet and cool while having a great time. Mark off a whole day for this adventure. Mom and Dad will be dragging, but the kids will be flying high.
On day four, you will want to find the Museum of Transport. This has a wealth of transportation related things to see. Many special train cars including the one used by Harry Truman are there. All types of strange and experimental automobiles and few planes are on display. In this museum, there is plenty to do and see to last about 1/2 day. The other half of the day can be spent at the Magic House. This is one of those places that is a hoot for kids of all ages. You can make your hair stand on end, get lost in a maze, make a permanent shadow on a wall, and about 100 other strange things to see and do. It is easy to lose 4 or 5 hours here.
In the early evening, find Ted Drew's Frozen Custard. It is a St. Louis original. Many ice cream parlors have copied the concept, but none do it as well as Mr. Drew. It will take you about 20 minutes to figure out what you want. You need to know what you want when you get to the window to order or the people behind you will begin to complain. The lines are long and move quickly. If you are a novice, stand aside until you decide and then get into line. Your order will be shouted to the back of the store and then magically appears within a few seconds. It is a great treat.
On the fifth day, you might want to head to the mall. St. Louis has a great mall in every direction. If your family enjoys shopping, you can have a great time. If shopping is not your forte, then, I suggest a short road trip. Bring the sunscreen, bathing suits, and maybe some insect repellent and head west. An hour down Interstate 44 will bring you to the Cuba and Steelville exits. Hit the visitor's center there for some directions and head toward Steelville for a great float trip. I actually recommend this for a mid-week activity. This way, you can have the river to yourself. Get some tubes or a big raft or a combination and have a great time taking a 5 hour trip down the river.
I have not mentioned the theaters, sports bars, microbreweries, and other such attractions in St. Louis. For the most part, the activities listed should be fun for about every person in every family. But, the other options are here too. Just get a visitors packet and come to town.
nabewise