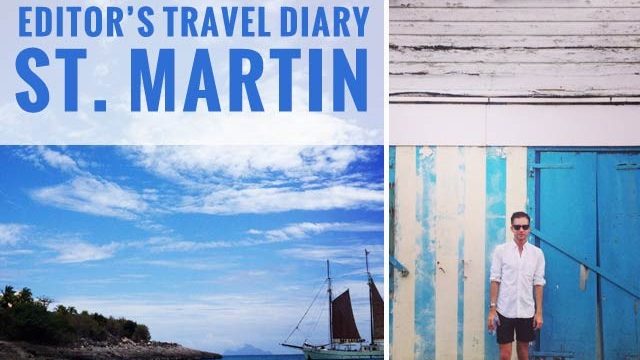 What To Do In St. Martin
WHAT TO DO IN ST. MARTIN: Head to the über chic island of St. Martin with our editor's travel diary slideshow.
It's no secret that the French have the right idea when it comes to many things from fashion to food, but if there's one thing they are exceptional at, it's how to vacation. One super fast yellow taxi, a quick three-and-a-half hour flight, and a particularly colorful stamp on my passport later, I found myself at St. Martin, the incredibly chic French half of the northeast Caribbean Island of St. Maarten.
While casinos and cruise ships are of dominating presence on the Dutch side of the island, it's no wonder that celebrities and socialites flock to the French St. Martin for it's laidback ambience and low-key beaches. I checked in to the historic La Samanna hotel and with privacy a priority and relaxation the only item on the agenda, soon discovered it's the perfect retreat for even the most stressed-out jetsetter. I guarantee, even five minutes on the beaches' white sands and you'll feel totally in-tune with the vibrant island's way of life.
And even though the attitude is low-key, you'll find no shortage of luxury from this international destination. Rather, expect an island where designer bikinis are most often accessorized with a pair of diamond earrings and a Cartier watch—a lifestyle we can most definitely get on board with.
Want to see for yourself exactly what St. Martin has to offer? Click through the exclusive slideshow above. Better yet if you find yourself with a round-trip ticket in hand, shop our beach bag essentials below.
By Alex Sweterlitsch (@sweterlitsch)
ST. MARTIN TRAVEL GUIDE
How to get there: From most major U.S. and European cities, fly direct to Princess Juliana International Airport in St. Maarten and taxi over to the French side of the island.
Where to stay:La Samanna, a 55-acre property located on St. Martin's Baie Longue, offers accommodations ranging from $445 per night for deluxe ocean view rooms to $2000 per night for a four-bedroom private villa.
What to buy: The French capital of Marigot is a small-town with a worldly dose of culture. Looking for a one-of-a-kind souvenir to capture the essence of St. Martin? Shop artwork at Roland Richardson Gallery at #6 rue de la Republique.
nabewise