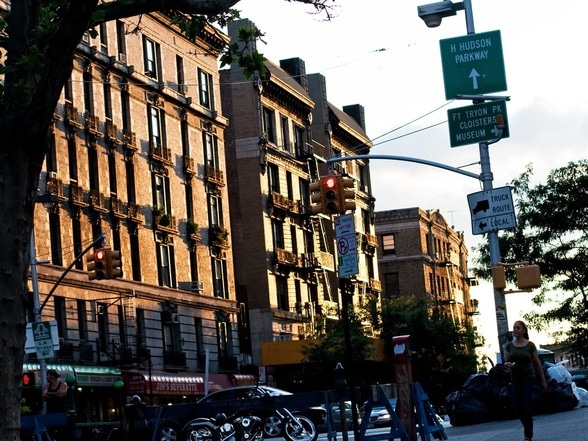 Washington Heights
by nabewise
Infomation
Washington Heights occupies the narrow, northern tip of Manhattan Island and has recently been attracting artists in addition to the established community that forms the basis of the nabe. An up-and-coming nabe, Washington Heights is perfect for those looking for an escape from downtown and a little extra elbow room. The nabe also has great transportation options–it's 20 minutes to Penn station by train and for those with a car, Washington Heights has easy access to the George Washington Bridge and I-95.
Top Votes – Score out of 100
Gentrifying 78
Green space 71
Public Transportation 69
Pet friendly 58
Dining 58
Lowest – Score out of 100
Seniors 38
Quiet 36
Clean 32
Singles 28
Income 5
Top Reviews from Travel Rentals Neighborhoods
No Passport Necessary

Washington Heights is nestled on the Northern tip of Manhattan, way uptown aboveHarlem and just below Inwood. Predominantly Dominican populated, the vibrant streets are usually filled with men playing dominoes, women food vendors, and inner-city teenagers strolling along. Misplaced hipsters here and there, the neighborhood is mainly hard, working class families and an older crowd of New Yorkers sacrificing location for square footage.

The food is mainly Dominican fare but cheap, tasty taco joints can be found and a decent sized 'Dallas BBQ' sits across from Columbia Hospital if all else fails. Large, one stop shops for housewares mark the winding street of Broadway where barber shops occupy every block.

Although it may be a schlep to get to, the colorful nabe also provides breathtaking views along the Hudson River, a major park not teeming with tourists in Fort Tryon, and the ever inspiring architectural feat of The George Washington Bridge. So, grab a friend and hop on the A Express, it will feel as if you have escaped the country, no passport necessary.

What's awesome

Fort Tryon and The George Washington Bridge.

What's not so awesome

Spanish seems to be more widely spoken than English.

David E.
My life's journey in New York-Growing up in Washington Heights in the '60s

This is going to be the start of the many neighborhoods I lived in in my home town, New York. I lived here from 1964-73 as a child but my mom still lives there and so have been back regularly from then till now. As you will see in my other neighborhood reviews, I'm here to give some historical perspective to the neighborhood you may be considering for your domicile. I think the best thing current that conveys the neighborhood I grew up in is the movie Doubt which takes place during this period. Predominantly Irish Catholic working class, there was also a predominant middle class population, which included my parents, both teachers. We were at the top of a steep hill called Fort George Hill. At the bottom was and still is Inwood Heights (ironically named, but you will discover why if you venture into the awesomely beautiful InwoodPark and forget that you're still in Manhattan). I played in Highbridge Park, which had a playground and ball fields (and still does) but whose mostly rugged and untamed terrain, which fascinated me, extended all the way from Dyckman Street down to 155th Street along the Harlem River. It still, with both its wildness and steep terrain, provides a soothing and inviting vista to the multitude of people driving up the Harlem River Drive or the Major Deagan or traveling north on MetroNorth or Amtrack.

As I changed, so did the neighborhood. The ethnicity underwent a major transformation by the time I left in 1973 to move in with my dad after the divorce down in Park West Village on the Upper West Side. The Dominicans moved in and the whole feel changed. Spanish replaced English along St. Nicholas Avenue and bodegas and bars replaced the grocery, the butcher (mouth watering meat I've never seen anything like since) and the Chinese place we always got take-out from Fridays. On a Sunday afternoon, I could here the memorizing sound of music right off the boat from the Islands pumped up real loud with its unique and enticing rhythms. This music will always be a part of me.

Fast forward many years through the crime and the assimilation of the Dominicans: The neighborhood is attractively welcoming more than I remember in a long time. The music's still loud if and when you venture into my mom's favorite Dominican restaurant where you may have to point to the dish you want or try your best Spanish for the waitress but it's more likely to be tunes if not well known to you from years gone by, definitely to your parents and older friends, and you'll always get a glimpse of any home team game that's going on. People still hawk interesting and unique island drinks on the street. But it's not uncommon to see other faces in the (relatively uncrowded) crowd, mostly young, which the term "hipster" as I've seen used around here in the revival of this term, aptly characterizes, not uncommonly from eastern Europe. A fascinating and exciting place, and, yes, affordable.

Marc G.
Hipsters. Everywhere. They're slowly but surely creeping in. Less so than in Inwood, which is also changing quickly, but it seems like once word gets out that rent is cheap, that's where they'll flock to. Don't get me wrong, a lot of the young folks I've met around here are generally nice and well intentioned, but it's a strange feeling when you've been living here your whole life.Ed C.
I moved to Washington Heights last summer, and I quite enjoyed it. The 2/3 was right outside my house, there's good food everywhere, and aside from my landlady who was a bit intense, most people seemed fairly friendly. I felt pretty safe here, but it's always good to be on the lookout. Just be smart.Victor M.