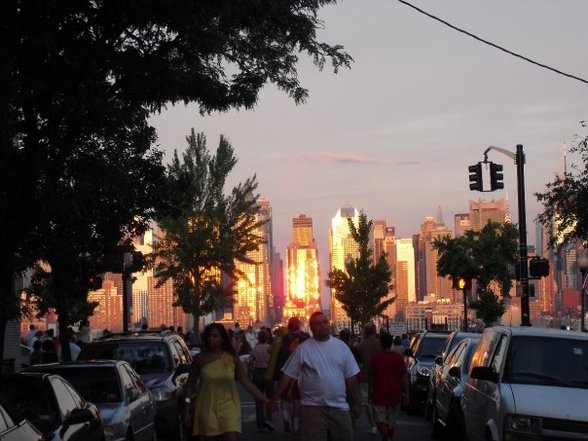 Weehawken, roughly translated from the original Algonquin as "Rocks that Look like Trees", is a very old nabe. It offers great views and quick access to NYC, stately turn-of-the-last-century homes, and a storied history. Here you will find beautiful parks, memorials, and architecture mixed into its dense, bucolic communities. Shopping options bleed over from Union City onto Park Avenue, but since Weehawken zoning prohibits super tall buildings, the vibe is more tranquil.
Weehawken Data
Top Attributes
Public Transportation 7.5
Top Weehawken Review
Cool

Weehawken straddles the line between charming and urban. I think this is because its so old that most of it isn't really built up on a grid, so you get a lot of that magical, informal feeling even though it's well-ordered and pretty. Regardless, it has a slightly different feeling than the rest of Jersey City, which can be a good thing, depending on what you're looking for.
steve L.
Beautiful NYC views and nice houses

So, i think the main reason to live in weehawken is for the views of NYC. There is also a nice path that runs all along the water, so jogging here would be wonderful. There are houses with cool architecture all along the waterfront and some even have garages. Weehawken to NYC would be a great commute.

Cons would be that the area still has a gritty feel, and I don't know of any good dining options. Good grocery stores are also really lacking from what I know. Nightlife is no good -people in Weehawken typically go out in Hoboken.

But, it's an affordable area, very, very close to NYC, with gorgeous views.
Ann Montgomery
The Hawk

I lived here for over 4 years, and my brother has for over 5 years. It's an excellent, clean, residential town with stunning views of Manhattan. Funny thing is, not many NJ peeps know about Weehawk or that it's the most densely populated city in NJ (per sq. miles, according to Wikipedia of course). Even though it is a small town feel, the Chart House, Paula's, and more recently Charritos (Park Avenue Bar and Grill too, but technically it's in Union City) are your best and tastiest options to wine and dine. There is a Pathmark and a couple of bodegas, and a neighborhood wine shop all within walking distance (of BLVD EAST). But in terms of super markets, you'll be driving, vespa-ing, or bicycling to Whole Foods (edgewater), Trader Joes (edgewater), and other shops in Hoboken. Weehawken is oddly shaped, so be conscious of your location, as I am unfamiliar with Upper-weehawken Gregory street area's local businesses.
As far as nightlife for singles, forget it (even though there are a lot of singles and hotties in town)… this is a commuter/residential town with amazing options to either commute into Manhattan via ferry, shuttle bus, transit bus, or lightrail-path. Parking situation shatters Hoboken, and they've gotten stricter to 'try' to protect the residents. There are not many apartments located within apartment buildings…rather…the apartments are mostly located within 2-3-4 family homes. BLVD East is the best location for transportation, aesthetic, and view of Manhattan. Because of Weehawken's location— you find yourself venturing in Hoboken, Jersey City, Union City (bergenline avenue), Manhattan for nightlife/dining.
Overall, you can conveniently walk to everything you need (food, transport) and the houses off BLVD East have excellent character and value. The people seem extremely diverse and varied in background. I really like it here and the prices easily beat some Brooklyn neighborhoods, Manhattan, and Hoboken.
Chris C.
Nice and quiet area. I like the area because it has very nice views of new york city. At night you can see some of the best views of new york.
horace washington