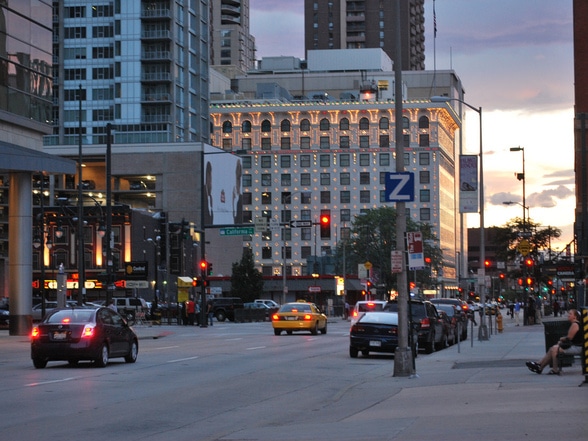 Central Business District
by nabewise
Bursting with bright lights and busy sidewalks, the Central Business District is Denver's headquarters for metropolitan activity. With its revitalized apartment buildings and urban lofts, the CBD offers trendy living in the heart of the city. Here, work and play are equally important—buttoned-up business folk occupy sleek skyscrapers by day and hit the local watering holes at night. With dining and nightlife interspersed generously throughout the Central Business District, this nabe earns some serious walkability points. Not to mention, light rail and bus stops on nearly every corner make it incredibly easy to explore!
Central Business District Data
Top Attributes

Public Transportation

9.0
Lowest Attributes
Central Business District Articles and Reviews
Like a Naughty Librarian
During the day the Central Business District is mostly what you would expect. 9-5ers hustling and bustling. Hair up, glasses on, all business. But at night? She pulls the pins from her hair, whips off her glasses, and dons her sexiest attire.
The nightlife in this CBD is to die for. Want to try a trendy new restaurant from a famous chef? Head to the Pavillions. Looking for a bar to see and be seen? Hit the 16th street mall. Want to see a comedy show or concert? Walk on over to the Paramount. Not to mention its proximity to LoDo (Lower Downtown), Auraria, Civic Center… it's the "bee's knees" for centrality.
The only draw backs are the stiflingly high rent and the cost of parking.
What's awesome
The nightlife! Public transportation!
What's not so awesome
Sky-high rent and costly parking.
Niki G.
CBD
Sure there's a lot going on but that's the beauty of the Central Business District, you've got mostly your 9-5ers and a bunch of traffic but boy is there plenty to do and taste, it's classic urban living. Have dinner on 16th Street Mall, catch a flick at the Pavilions, do a little shopping at H&M, move on right along to drinks on Larimer, and have a nightcap and a bit-o dirty shuffling at Suite 200.
Not to mention public transportation heaven! Lightrail, bus, or the free MallRide will getcha where you need to go in a timely fashion. But 90% of the time, you can just walk, perfect sitch for those who work downtown like me. Even more perfect for those who play (and PLAY HARD) downtown, if you can't stumble your way home then it'll be a cheap cab ride. On the topic of stumbling home do be careful, shadiness does occur.
Rent can be daunting for some but there are affordable options especially for those who fall under a certain income bracket. City Lofts offers affordable housing units that are beautiful, they own Chamber Lofts which use to be the old U.S. Chamber of Commerce. They've renovated the historic building into updated but charming lofts with lots of character, plenty of crown moldings and bright, sunny windows.
And for visitors, there are hotels galore, The Monaco and the Residence Inn next door both accept pets. There is plenty to see and do, have brunch at Panzano (excellent gluten-free options), stroll 16th Street and catch a musical or performance at the Convention Center.
Loves it!
What's awesome
Close proximity to say…EVERYTHING?!
What's not so awesome
Parking blows, busy traffic, no patch of turf for pups
Joann T.
Want to see and be seen?
Head to Denver's Central Business District. Like most cities CBD's, this is the urban heart of it all, where the hustle and bustle of city can be seen with wide eyes. Easy public transportation allow for ample time to peruse the streets for fine cuisine and trendy threads. And although this nabe is often thrown together in one large pot with LoDo, it has a distinct personality that sets it apart.
Over the past few years renovation projects are popping up like crazy, revitalizing historic buildings into lofts or condominiums while keeping the area's history alive. A little more business minded than neighboring LoDo, expect to see a plethora of briefcases and fancy suits in this nabe, it's the cities financial hub.
What's awesome
loft living, public transportation, cultural center of the city
What's not so awesome
expensive and crowded
Christine S.
Central LIFE District
Denver's CBD has a recent history that could serve as a microcosm for pretty much every mid-sized city in the country. Built up in the '80's, abandoned in the '90's, repopulated in the '00's, booming in the '10's. As people have moved back into the city center from the 'burbs, Denver's CBD has become not just a center of business, but a center of culture as well.
From bars to restaurants to music venues to tourist attractions, the CBD has it all. The sixteenth street pedestrian mall offers block after block of shopping and dining, though the dining will cost you a premium just because of its location, and the mall shuttle will zip you up and down sixteenth from the bus terminal to the light rail terminal for free.
Unlike a lot of CBD's in mid-sized cities, people actually live in Denver's, and party in it too, which gives a vibe that is more urban that you tend to find in cities bordering on the suburban in style. It makes Denver exciting and interesting. If you are looking the urban lifestyle, the CBD, along with LoDo, are your best bets, but expect pricey rent. There are new condos going in every day.
What's awesome
Dining, shopping, insanely awesome mass transit options.
What's not so awesome
The Big D!
In the small town where I grew up, going down to Denver was a BIG deal. Not only were you leaving the safety of your little community, you were going to a place where anything was possible. From ballets to hotel rooms with elevators to the street performers on the 16th St. Mall, the Central Business District was absolutely the place you would think of when you thought of taking in the sites and smells of the big city.
The Central Business District is the heart of Denver. You can't visit without making a trip down the outdoor pedestrian mall on 16th Street. It's the mecca for entertainment, conferences, shopping, dining, and night life. Broadway shows, performances, and serious big names make their way to the Performing Arts Complex.
Most of the buildings are hotels or businesses, but there are also quite a few high rise urban condos and places for rent for those seeking to live in the thick of downtown.
No room for boredom!
What's awesome
16th Street Mall Performers, watch out for the Robot Guy!
What's not so awesome
Parking! It's a constant chunk of change to park in the many lots. However, you can usually find a metered spot if you have the patience and the new meters are now equipped with credit card payment methods which makes it a lot less of a headache when you come unprepared without quarters.
Alyssa A.