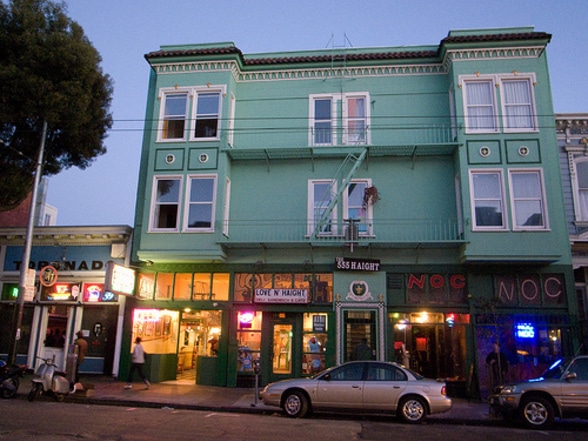 Infomation
The Lower Haight is a nabe where a bohemian aesthetic rubs shoulders with post-punk. Situated east of Divisadero along Haight Street, the nabe is home to an eclectic mix of restaurants and watering holes that draw crowds from all over the city. Considerably grittier than its more famous counterpart, Haight-Ashbury, the Victorian and Edwardian homes are more often in disarray in this part of town–but we think people love them all the more for that.
Top Votes – Score out of 100
Dining 86
Singles 86
Nightlife 78
Artists/Creatives 74
Community 71
Lowest – Score out of 100
Empty nesters 34
Quiet 33
Income 32
Parking 29
Seniors 13
Top Reviews from Travel Rentals Neighborhoods
Lower Haight vs. Upper Haight

A lot of my friends in the city live in Lower Haight—it's a young neighborhood; an alternative to the Haight, with more "bonafide" Bohemian dwellers. There does seem to be some rivalry, or rather, angst from Lower-Haighters toward Upper-Haighters. I find great attributes to both nabes, but would probably choose Lower-Haight mostly due to cheaper rent.

Greg F.
Live it, Love it

"I never thought I would live here," my friend Grace has said. Indeed, at first glance, the Lower Haight may seem a bit too gritty. Look past Haight St itself and you'll be pleasantly surprised.

Everybody I know who has lived in Lower Haight has absolutely loved the experience of their time in that 'hood. There is my guy friend who moved in with a Serbian and a Spaniard after they secured his move in after drinks at The Noc Noc. There is my girl friend who began her DJ career playing in front of her big bay windows that led to a fire escape balcony where partiers would lounge and wave at the tourists on the double-decker hop on hop off bus, joints hanging from their hipster lips. There is my PR and interior designer married friends who relocated from DC and found high ceilings and incredible ornate detailing that satisfied their high aesthetic expectations.

The people who live here like to have fun. Golden Gate Park is close by as is Alamo Square. If the strung out 71 bus is not your fancy, you can skip over to the more sophisticated N Judah (just hope it's coming soon). It can get a little loud during Friday art walks along Divis and when the bars empty out at 2am, but the convenience factor for everything is real high. In one week, I had 4 fabulous lunches – a tasty organic taco at Little Chihuahua, a satisfying portabello sandwich at Bean Cafe, a great Greek salad from The Grind, and a righteous turkey cheesesteak from Jay's cheesesteak, done right, the Philly toasted bun way.

Some of the Victorian homes could use another coat of paint for the wow factor as they all seem to sigh along Haight St with the bums who've taken up residence in the nooks and crannies. But Lower Haight is a serious foodie destination and what's better than having it all right outside your door? High-end and ever popular Nopa near Ethiopian bar Waziema next to tried and true Little Star Pizza vs standard Phuket Thai…really the choices are endless.

The moral of the story is if you like to eat, drink, and be merry, then you will enjoy living in the Lower Haight.

Mary P.
My experience after 12 years in the Lower Haight

I've lived in 10 neighborhoods of San Francisco, and the Lower Haight is still the one that I call "home". The eclectic mix and vibe is truly San Franciscan, as is the architecture, restaurants and nightlife selection. This is one of the most convenient neighborhoods to live in. You are within walking distance to Church & Market where you can get on every under ground train, which makes it a great area to live in if you work downtown. Likewise, it's an easy walk to the Castro. The other major bus lines (22 & 24) run north and south in the city. There is a great selection of cafes, bars, restaurants, and boutique shops as well. Convenience and authenticity are the two words I would use to describe this great area of the city.

Jayne-Louise Webb
RENT: San Francisco Version

I think that if they made a production of RENT: San Francisco Version, it could be set in the Lower Haight. There is definitely more grit than in the Upper Haight, therefore more addicts, more homeless, and more crazies. The Victorians are not kept as nicely as they could be. The rent is low, the people are definitely interesting, and the city is working on the crime rate (it's not THAT bad). The best part of the Lower Haight is probably the cafe's, like Blue Front and Rosamunde's Sausage Grill. At night, there are plenty of dive bars to frequent, but nighttime is also when you have to be the most careful.

What's awesome

Restaurants
Bars
People watching (SUBTLE people watching)

What's not so awesome

Homeless and crazies, crime rate

Chloe N.
Pitch your Preconceptions

Lower Haight is certainly a nabe of shoulder-rubbin' and grittiness. It's also a nabe of Whole Foods, McDonalds and Amoeba Records (check out Groove Merchant too) shoulder-to-shoulder, and Buena Vista Park vagabonds who'll offer all sorts of illegal treats. The homes are urban decay loveliness and even the tipsy folks around Mad Dog Pub are jovial enough.

There's excellent and relatively cheap food everywhere. If you aren't into carnivorous Wild Boar with Apple and Spice sausage at Rosamunde's Sausage Grill, simply swagger over to Love n' Haight for some Vegetarian Chicken Steak Sandwich with Avocado.

I recently returned from a year of strange experiences in Beijing, China—I still find sitting in the Blue Front or KK Café brings me the most exciting and eclectic mix of staring subjects. A breakfast wrap dining experience at Blue Front, example, will reveal a few fashion-forward rockabilly kids; several timid German girls; hip young residents weathered by the ubiquitous tourists and tie-dye vendors who infiltrate fromHaight-Ashbury; a chatty French family armed with DSLRs and guidebooks; and the occasional Normal Person.

Lower Haight is not Haight-Ashbury, nor will it transport you back to the groovy 60's. Come without a guidebook and let yourself get lost in the savory snacks, foamy brews, and quaint signage. (just don't stay out too late!)

What's awesome

affordability, eclectic people, unique architecture, color, culinary choices, Rooky Ricardo's Records

What's not so awesome

overpriced grub at Whole Foods, belligerent drunks, addicts

Joanna S.
[insert overused haight/hate pun here]

The other day, I was riding the 6 on my way to work from home (home is in Lower Haight, work is in Upper) and as is the case so often on my short commute, a few tourists were on board the bus. They're relatively easy to spot- often with their SF guidebooks in tow, bundled up in large winter coats (yes, it's 46 degrees in July), and usually sporting sensible walking shoes. Anyway, on this particular day, a woman in her 30's was on her way to wander the famous Haight-Ashbury and the bus driver seemed to be giving her a few tips. As we rode away from my stop on the corner of Haight and Fillmore, the bus driver says to the young woman, "This is where all the cool people hang out. This is where the nightlife is. Up there, that's where all the tourists go."

Though I never thought of my fellow-Lower Haighters as "the cool people," or that Mad Dog and Molotov's constituted a thriving "nightlife," I did have to agree that if you're solely comparing Upper and Lower Haight, it was a pretty accurate observation, and I much prefer the Lower Haight for its sort of hole-in-the-wall vibe. In a way, it reminds me of my college days at UCSB, living in Isla Vista: a lot of young people, dive bars, and cheap food with a lazy, laid back vibe. Yes, it's grungy and grimy, but that's a part of its charm. I love how each business seems as though its been there forever. You also can't beat the great variety of ethnic eateries (and quality ones at that), from Japanese at Sushi 509, to Italian at Uva Enoteca, to Ethiopian at Axum Cafe, Lower Haight has you covered for the nights when you feel like to expanding your palate.

Though at times, I'll admit, I yearn for the days I lived in a cleaner, safer nabe (Duboce Triangle), it's nice to be surrounded by people with less pretensions, which can be hard to find in The City.

What's awesome

Mad Dog in the Fog (Tuesday trivia night!), Uva Enoteca Happy Hour (pizza + wine =$8), Cafe International iced coffee

What's not so awesome

Crime and the fact that there are four police cameras on my corner

Candace L.
Less Crowded Than Upper Haight

Five words and an exclamation point:

Tornado and Rosamunde Sausage Grill!

Michaela Ann M.
Lower Haight is for the youthful

I moved to Lower Haight after about a year and a half of living in San Francisco because it's the perfect fit – the Goldilocks. Lower Haight is nestled right up to three of the most vibrant neighborhoods in San Francisco, with a little flavor from the Mission, some of the Castro's pizzaz, and the peace-loving spirit of Haight Ashbury. A short walk to each keeps us comfortably out of their more hectic atmospheres, yet close enough to absolutely feel their influence. A great way to think of it is the combination of the three in a more serene setting, with a side of Hayes Valley to dine on. If you love the excitement and the idea of those neighborhoods but without the cons (pun intended) then I highly recommend my favorite neighborhood in the city.

Those lucky enough to find residence in one of the beautiful, spacious places cascading all around Alamo Square park will find plenty of youth who love to call the area home. Besides having one of the most scenic parks in the city as it's center piece, Alamo – home of the Painted Ladies, if it's greenery you're looking for, you'll find a lot more. Both here and at Duboce park humans and dogs are on a first name/first sniff basis — great places to be single, or to lay in the sun with some friends and loved ones. Jogging trails through the Panhandle across the street lead all the way to Golden Gate. And the glorious buzz-filled days in Dolores are a short meander away. If the views of Twin Peaks, the capital building, and downtown from the tops of Alamo and Dolores didn't make you feel bad enough about your fortunate ways already, try finding a postcard, tourist pic, or movie shot in San Francisco that doesn't have your backyard in it.

The beauty of the area during the day is completely matched by the beauty of the people out and about at night. Haight street below Divisadero is chiller than most, with places like Mad Dog in the Fog, Toronado, Molotovs, and many more comfortable places to meet up with friends, featuring fantastic beer selections and always entertaining. You can find a trivia night here easily during the week, weekly specials, pool tables almost everywhere, and game watching on a variety of big screens on the block. Turn the corner onto Divisadero and you'll find Mo Town Mondays at a sweet little club called Madrone Art Bar, or one of the best music venues in the city, the Independent, offering big name shows amongst other things like free movies and sporting events. Most of the watering holes in this area have a very local feel, are low key during the week, and a destination for the weekends.

The restaurant scene features any type of food you could name. Most of it is pretty good, with a few standouts here and there like NOPA, Thep Phanom, and Kate's Kitchen. Late night eats aren't too hard to come by either. But the area is completely surrounded by great dining.

Haight street and Divisadero will remain a little bit noisy for some at night with transportation lines running to anywhere, and skateboarders rocketing down the slopes, but living off the path should keep you out of earshot, and besides it's just part of the youthful charm. It's an area where the people wish they didn't have to sleep, and sometimes it feels like nobody works.

David L.
This used to be considered the Fillmore District, and sometimes still referred to as "Haight-Fillmore." Fillmore was removed from the neighborhood's title due to urban renewal and gentrification. Back in the '60s the neighborhood was populated with jazz clubs.emily w.
The daily grime

I love the Lower Haight and all it's grit and grime. It's much more authentic than the Upper Haight and there is some great value here. The area can feel a little dicey at times and some of the Victorians could use a makeover but it has character and plenty of it.

Gena F.
The real Haight

This area blends in with Alamo Square nabe. Great proximity to a lot of good neighborhoods (i.e., Mission and Castro). Easy easy access to buses. Feeling is very safe when walking on the streets at night. Great caf : Caf du Soleil (French/Algerian run), and GREAT for brunch!

Jessie W.