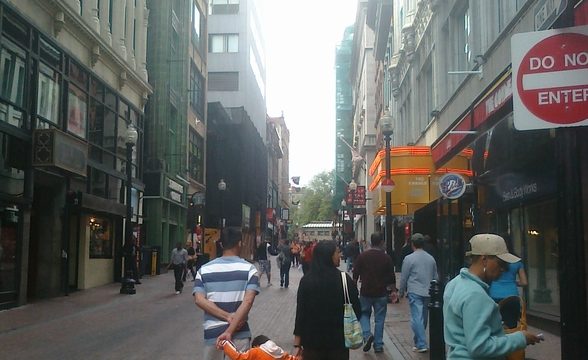 Downtown Crossing
Infomation
The hub of the hub, Downtown Crossing is where all those people in suits hurry off to every morning, and likewise, it's where they hurry out of every afternoon. On a weekday, between the hours of 8 and 5, it's populated by daytime cubicle dwellers and their bosses. You'll find busy streets lined with big box stores and street vendors hawking knock-off bags and watches. Lunch trucks and happy hour joints make a killing in this nabe, but after 7 and on the weekends, the place clears out. In fact, many restaurants and coffee shops in Downtown Crossing don't even open on weekends. Because of this fact, few people actually live here, though housing is available and relatively affordable. It's close to everything and is served by its very own T stop on the Orange Line.
Downtown Crossing, Boston Data : Neighborhoods & Travel – Score out of 100
TOP ATTRIBUTES
Public Transportation 94
Shopping 84
Students 75
Artists/Creatives 67
Singles 64
LOWEST ATTRIBUTES
Seniors 26
Community 25
Parking 19
Income 18
Pet friendly 17
Downtown Crossing, Boston Reviews
Great for a midday visit
A couple of my New York City friends have told me that Downtown Crossing reminds them most of home. I can see why—there are lots of hot dog and sausage carts, close together skyscrapers, little knock-off jewelry shops and it gets packed during the middle of the day. I like Downtown Crossing for these reasons too. Boston doesn't have a huge downtown so it's nice to get lost in skyscrapers and get hassled by street musicians and performers every now and then.
I'm not quite sure that anyone actually lives in Downtown Crossing, though. There may be some apartments on top of shops, but I've never met someone who actually was from here. But it is a great place to walk to from the Boston Common or South Station, for a quick lunch or shopping at Macy's, H&M or DSW. Alas, the classic Filene's Basement is no longer there, but the equally historic Brattle Book Shop is still around.
What's awesome
Transportation, Food, Shopping
What's not so awesome
Nightlife, Residential
Heather V.
BOSTON'S "CITY"
I recently visited downtown crossing on an errand and I have to admit, I wasn't too please about it…until I got there. I don't think I've ever really spent that much time in Downtown Crossing other than driving through on my way to South Station. This trip, however, I took the T to Park Street (very conveniently located, by the way, if you live on the green line—or if you live on the red, you have the downtown crossing stop!), had my meeting and then had some time to kill before going to South Station. The nabe itself doesn't seem to offer much in terms of living space. Although I imagine there are some apartments tucked into the tall buildings, it doesn't seem like a very homey place to live. This all being said, however, this seems like it would be a really nice place to work for several reasons:
*Lots of places to grab your lunch during your break. Ok, this doesn't sound like a good reason but when you work in an office all day it's nice to be able to go outside and have lots of lunch options
*It's near the park for a lunch brea (here I go again!) stroll, a summer picnic etc
*It's also near the waterfront and the North End…after work cocktails anyone? Just think how lovely it would be to walk over to the water on a warm summer evening…
*It's about a three minute walk to South Station in case you want to get out of town
So these are just a few of the highlights but Downtown Crossing is also charming in a really uncharming way. Let me explain: Boston doesn't really have that much of a big city, New York feel, but it does for the couple of blocks in Downtown Crossing. If you ever feel like you need a little "city," come to Downtown Crossing. A couple of blocks and every now and then is all the city I need.
Mallory C.
DOWNTON CROSSING, CHOCK FULL
With the breakout of Tiffany's little blue box, very few places impress in terms of jewelry. Boston's Downtown Crossing changed all that.
Well, it did not exactly change high-end jewelry shopping; it did, however, allow those who can't afford the "Return to Tiffany" necklace to at least pretend. And SoGood Jewelry store, the bright, shining, glittering beacon in the center of Downtown Crossing, is just one attraction of the neighborhood.
If there's one thing to be said for Downtown Crossing, it's that the place is definitely bustling. Picture a busy city and you've pretty much got a snapshot of DowntownCrossing at lunchtime. With a food court in the center of the action, you can travel here for a quick lunch and shopping spree at H&M or Bath and Body Works. Or, you can pop into some of the little, lesser-known lunch places and dine in style. We recommend Al Capone's on Summer Street—perfect if you're craving a hot, steamy chicken cutlet sandwich on a cold winter day.
Downtown Crossing not only hosts shops ranging from SoGood to Borders and food attractions from Quizno's to Al Capone's, though. Even within this haven of insanity, there are pockets of solace. My secret hiding spot is the Bruegger's on Summer Street, which hosts a large seating area with tables just a block away from the madness.
One last thing to note: this neighborhood hums. Literally. Around lunch time every day, Downtown Crossing comes alive with musicians on the corner near Macy's. If you're in search of some entertainment while on your lunch break, come up from the T stop (both the Orange and Green lines!) and sit at one of the tables to hear some authentic Bostonian beats.
Alessandra S.
HOURS AND HOURS AND HOURS
I can literally spend an entire day in Downtown Crossing. I work at the Boston Opera House just down Washington Street, so first and fore most I am giving a shout out to the theater district, which is right there. Feel like seeing a band? The Orpheum, Lime Light, The Wilbur Theater; they are all just a few steps away from a numerous amount of train station stops. Maybe your more into The Boston Ballet or musicals such as Wicked, Young Frankenstein and Dirty Dancing. If that is the case, The Opera House, The Colonial and The Wang are right there just waiting for you to step inside and be transported into another world.
Food? Don't get me started on food. Ivy! Ivy! Ivy! Have some extra cash? Go to Ivy. It's expensive but so worth it. They have everything from traditional cheese and fruit platters to the best Calamari I have ever had. Feel like not spending money? Downtown Crossing has, Smart Food, Qdoba Quiznos,Wendy's, Burger King, McDonald's, a food court sporting( sushi, subs, Chinese, fast food, Mexican, EVERYTHING) Faneuil Hall is a stone throw away, the North is a slightly bigger stone throw away. And of course the old state house is now housing the unbelievably perfect Ruth's Chris. Not to mention there is a Dunkin Donuts about every 20 or so feet.
On a date? The movie theater is right there, a romantic stroll through the commons perhaps? Or you walk for ten minutes and hit the aquarium and stroll along the sea side.
Shopping! I will get out of work and spend my entire pay check before I get on the train. Tello's, Rainbow's, Eddie Bauer, Macy's, H & M, Wet Seal, plenty of shoe places, FYE, CEX, Game Stop, CVS's on every corner, Claire's, ( the list could continue for days).
Point being, aside from occasionally being very crowded, Downtown Crossing, is where it's at.
Braidie c.
A CENTRAL AREA THAT CAN'T EXACTLY DECIDE WHAT IT IS
Downtown Crossing is a series of contradictions. Men and women in suits and skirts shuffle to and from their workplaces in the nearby financial district as professional beggars and self-appointed street-proselytizers stand grounded in their few square feet of the city.
Lambert's fruit vendors near the building-sized wound that was supposed to become the new Filenes' Basement call out "Dollar, dollar! Strawberries for a dollar," as the smell of the street food from the nearby pushcart sneaks beyond the parameters of their respective venders. People sell ethnic-looking bags, no-name or fake-brand-name sunglasses and the Aldo store is forever having a sale.
Downtown Crossing, in general, is not a place to live, but rather, to pass through. However, there are a few scattered residences that could be considered to be in the neighborhood—including the 21 Beacon St. condo building, and the Suffolk University dormitories. The condo building is a 12 story vintage style building with units that are both owner occupied and rented. Rent for a 1 bedroom ranges from $1400-1800, and 2 bedrooms start in the low 2000's. The area is central in terms of public transportation, and is close to stops on the Green Line, Orange Line, and Red Line—as well as various buses
Downtown Crossing is also in close proximity to the Boston Common—which is a nice place to sit, walk through, or just observe the collage of characters who pass through. In the wintertime, it is home to ice sculptures and free outdoor ice-skating in the duck pond. During certain weeks in July and August, it becomes the stage for Shakespeare in the Park—a free performance that attracts young and old, Bostonians and Suburbanites alike.
Places to eat include the local burrito chain Boloco, Bruegger's Bagels, and the Falafel King. Other food venues are similar, offering some kind of fast food or street food. Nearby stores include H&M (in which you'll have to wait in a 10+ minute line if you come during busy hours), TJMaxx, Marshalls, DSW Shoes, Bath & Body Works, and Borders. Stores close early. Don't head to this Border's at 10 PM though, expecting it to be open as late as Borders in other locations. This Borders closes at 9 PM on weekdays and 8 PM on weekends, and most of the Downtown Crossing area is dead by 8 PM.
Julia D.
A GREAT MEETING SPOT
In the midst of Boston you'll find this fun nabe. As a student in the suburbs, it is a place where my friends from all over the area and I would go to just hang out and walk around. As you walk out from the T station for downtown crossing, you'll find yourself looking up at tall buildings on either side of you, with plenty of shopping to do. You can adventure into all different kinds of retail stores from a large Borders or H&M to a small corner Claire's. There are even a couple theaters in the area in case you want to catch a flick, but you can usually find some kind of street performer if you're looking for easy entertainment. Most of the dining in this area are small shops or fast food, but that's okay if you're like me and probably just looking for a quick snack. Government Center, Boston Commons and Chinatown are a quick walk away from this area so you can skip getting back onto the T for just one stop. I love adventuring around this place, since everything is walking distance, if you're in Boston, you should definitely check it out!
Eric K.
THE ENERGY OF THE CITY
No matter what time you visit downtown people will always be scrambling. If you arrive around 8am you'll see the hustle and bustle of people trying to make it to the coffee shops before before. Lunch hour, that's a whole other story. The stores are open, the restaurants have popped bottles of wine and people are texting on their phones. Between shopping and going out to lunch, this professional neighborhood is a great place to people watch. You can just sit down, grab a cup of coffee at Starbucks and instantly feel that crazy energy around you. And then as the time passes you by and the sun goes down the nightlife gets rolling. With men all pressed in their suites and women with their high heels on, they are ready to relax and have fun. It really is a great place to be (well if you like the high-paced life).
Bmac
nabewise