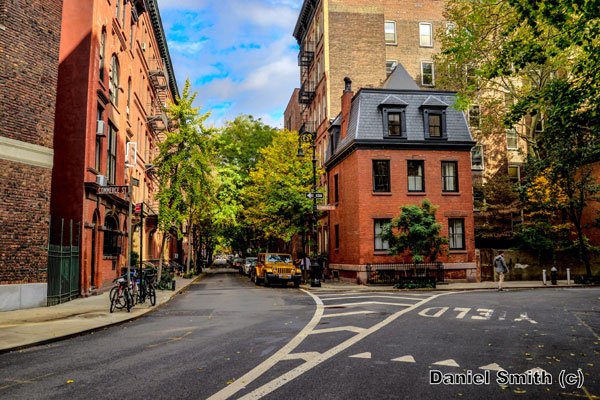 West Village New York Neighborhood
by nabewise
Update September 2023 –  West Village New York Neighborhood
Welcome to the heart of Manhattan – West Village New York! This vibrant and eclectic neighborhood is a true gem in the city that never sleeps. With its unique culture and old-world charm it's no wonder why so many people flock here for an unforgettable experience. Whether you're looking for a night out on the town or simply want to explore beautiful streets lined with brownstones and cafes there is something for everyone in this amazing area.
As soon as you step foot into the West Village you can feel your stress melting away thanks to the peaceful vibes emanating from all directions. From quaint shops selling vintage clothes to one-of-a-kind restaurants serving up delicious cuisine this dynamic destination offers endless possibilities of exploration and discovery. Plus if you're feeling spontaneous you can always take advantage of the nearby parks and art galleries where you can enjoy some much needed "me time" while soaking up all that NYC has to offer.
If freedom is what you seek then look no further than West Village: Freedom from ordinary life is just around every corner waiting to be discovered. So don't wait any longer – come see what makes this captivating neighborhood truly special!
History
The West Village of New York City is a charming and historic neighborhood in the heart of Manhattan. With its tree-lined streets brownstones and cobblestone alleys it's no wonder why this area has so much charm! The history of the West Village dates back to when Dutch settlers first arrived in 1625. It was originally an agricultural community with farms dotting the landscape until 1817 when residential development began transforming the small rural village into an urbanized neighborhood.
Since then the West Village has become one of NYC's most sought after neighborhoods for those who seek a taste of city living without being overwhelmed by big-city crowds. This vibrant area offers residents plenty of restaurants shops art galleries and entertainment venues while also boasting some beautiful parks and gardens that make it easy to relax away from the hustle and bustle of everyday life.
Location And Geography
The West Village is located in the heart of Manhattan bordered by 14th Street to the north Houston Street to the south 7th Avenue and Greenwich Avenue on either side. It covers an area of only 0.48 square miles but has a population of more than 35000 people! This makes it one of the most densely populated neighborhoods in New York City. The streets are lined with trees providing plenty of shade during hot summer days and adding a touch of natural beauty to this urban oasis.
Most buildings in the West Village date back to its 19th-century origins – brownstones and cobblestone alleys give way to quaint boutiques and cafes that create a unique atmosphere unlike any other part of NYC. There's also plenty of green space for residents who want to get away from city life; Washington Square Park is a favorite spot for locals looking for some respite from busy streets. With so much history and charm it's no wonder why living in the West Village is such an attractive option for many New Yorkers! From here we can transition into discussing the architecture and landmarks which make up this iconic neighborhood.
Architecture And Landmarks
The West Village is a neighborhood steeped in history and culture with architecture that reflects its origins. Many of the buildings here are original 19th-century brownstones and townhouses featuring beautiful brick facades and intricate details like iron railings or marble stoops. In addition to these classic structures there are also several historic churches scattered throughout the area – St. Luke's Episcopal Church Trinity Lutheran Church and Holy Apostles Greek Orthodox Church are just a few examples.
But it's not all old-fashioned charm; contemporary landmarks can be found as well! The Whitney Museum of American Art showcases modern art from some of America's best creative minds while the High Line provides an elevated park experience complete with stunning views of the Hudson River. All of this combines to make the West Village one of New York City's most unique neighborhoods – a place where you can find both history and modernity living side by side. Let's look at what it would be like to live in this vibrant community next.
Living In West Village
Living in the West Village is a truly special experience. From its iconic architecture to its lively community this neighborhood has something for everyone and offers an unparalleled quality of life. Here are just a few reasons why it's such a great place to call home:
1. Its central location makes it easy to get around – the subway lines at Christopher Street-Sheridan Square provide access to Manhattan's other neighborhoods while the Hudson River Waterfront Walkway provides scenic views of the city skyline.
2. There are plenty of activities available right outside your door; whether you want to explore galleries dine out on some of New York City's best restaurants or simply relax in Washington Square Park there's always something new happening here!
3. Residents also benefit from living near renowned institutions like NYU and The New School as well as numerous cultural attractions that celebrate the area's rich history.
From its convenient location to its vibrant culture and amenities residing in West Village brings with it all the benefits of urban living without sacrificing any of the charm and character that make this neighborhood so unique. On top of that residents enjoy being part of one of NYC's most beloved communities – where old meets new and tradition blends seamlessly with modernity. Let's now take a look at what local culture and amenities have made this historic spot so popular among locals over time.
Local Culture And Amenities
With its quaint cobblestone streets historic architecture and cozy cafes West Village has long been a beloved neighborhood for locals and visitors alike. In fact on any given day you'll find over 10000 people walking the streets of this vibrant area – which makes it one of the busiest spots in all of Manhattan! Aside from that impressive statistic though what really makes this spot so special is the incredible culture and amenities that are available to residents.
One unique feature about living here is having access to some of New York City's top restaurants. From high-end dining experiences at Michelin-starred establishments like Estela or Babbo Ristorante e Enoteca to casual eateries such as Joe's Pizza or Cafe Cluny where you can grab a quick bite with friends – there's something for everyone here. And if you have an appetite for art and culture? Look no further than The Whitney Museum of American Art or Bleecker Street Cinema both located right nearby.
Whether your style is more luxury or laidback vibes the West Village offers plenty of options when it comes to shopping too. Here you'll find everything from designer clothing boutiques along 8th Avenue to vintage stores along Christopher Street – not to mention iconic record shops like Electric Lady Studios (which dates back to 1970). It's also worth mentioning that this area features countless music venues ranging from jazz clubs to rock bars – adding another layer of diversity and entertainment into the mix! All these factors combine together create an unbeatable atmosphere that cannot be found anywhere else in NYC.
Frequently Asked Questions
What Is The Average Cost Of Rent In West Village?
The average cost of rent can often be a determining factor in deciding where to live. Whether you're looking for an apartment studio or other living space understanding the range of rental prices is essential. So what's the average cost of rent in West Village?
Well it depends on the type and size of housing that you're interested in. On average studios start at around $2000 per month while one-bedroom apartments go for closer to $3300 per month. Two bedrooms will typically run about $4100 each month and three bedroom units are usually priced around $5800 monthly.
These costs could vary depending on amenities provided by the landlord such as:
• Washer/Dryer In Unit
• Doorman Service
• Fitness Center Access
Having access to these features could increase your overall budget substantially but also give you more freedom and flexibility when selecting your next home. Whatever option you choose should allow you to have enough money left over to enjoy yourself after covering expenses. The key is finding something that works within your budget and still provides all the benefits of living in this thriving New York neighborhood!
Are There Any Good Schools In The Area?
Are there any good schools in the area? This is a great question for anyone considering relocating to a new neighborhood. As a New York City resident I understand that having access to quality education can make all the difference when it comes to settling down and raising a family.
One of my friends recently moved his family from Brooklyn to West Village and he was delighted to discover some of the best elementary schools in Manhattan are within walking distance. A couple of these include P.S. 41 Greenwich Village and Little Red School House & Elisabeth Irwin High School which both have an excellent reputation in terms of student safety and academic performance. He had also heard about The Earth School another nearby school with an emphasis on project-based learning and sustainability initiatives – perfect for parents who want their children exposed to innovative approaches in education!
Overall West Village has no shortage of options when it comes to finding quality educational institutes. From renowned public schools to progressive private institutions this vibrant community provides plenty of opportunities for curious minds looking for engaging learning experiences outside the traditional classroom setting. So if you're planning your move here anytime soon rest assured knowing that your kids will be well taken care of!
What Public Transportation Is Available In West Village?
When looking for convenient ways to get around public transportation is an important factor to consider. Whether you are in a large city or small town having access to reliable and efficient transit can make all the difference when getting from A to B. So what kind of public transportation is available in West Village?
West Village has plenty of options when it comes to public transport. The New York City Subway serves the area with multiple lines running through the neighborhood. Residents can also take advantage of other forms of mass transit such as buses and ferries that provide connections throughout Manhattan and beyond. Additionally taxis Ubers Lyfts scooters and bike-share programs are all accessible within the vicinity for those who prefer a more customized ride experience.
No matter how you plan on getting around there's no doubt that living in West Village provides easy access to many types of transportation which makes commuting hassle free!
Are There Any Green Spaces In West Village?
The streets of West Village are like a patchwork quilt made up of different colors and textures that come together to form something beautiful. But nestled in between the colorful buildings is something else: green spaces. From peaceful parks to vibrant gardens there's no shortage of places for locals or visitors alike to take some time out and enjoy nature's beauty.
These spots provide much-needed respite from the hustle and bustle of city life; a chance to relax breathe fresh air and admire the natural surroundings. Whether you're looking for a place to read meditate or simply watch the world go by these tranquil gems can offer just what you need. Plus they might even be home to some wildlife – who knows? With many open all year round there's always an excuse to explore them whenever you feel like it!
So if you want a break from your daily routine while still being close to home why not head over to one of West Village's green spaces? You won't regret it – trust us.
Is There A Nightlife Scene In West Village?
When you think of nightlife New York City is usually the first place to come to mind. But the West Village offers a surprisingly vibrant scene for those looking to experience something different. From bars and clubs to late-night restaurants there's plenty of options for evening entertainment in this neighborhood.
Whether you're looking for a low-key evening out with friends or an all-out party atmosphere the West Village has it covered. The area is well known for its lively bar culture where you can find some of the best cocktails in town. There are also plenty of clubs that stay open until 4am on weekends offering up music from around the world as well as local DJs spinning the latest tunes. For foodies there are loads of eateries serving up delicious dishes even past midnight – perfect for refueling after a long night out!
With so much to do and explore it's no wonder why people flock to the West Village when they're looking for a great time. Whether you prefer relaxing at cozy pubs or raging at dance parties till dawn – one thing's for sure: You won't be bored here!
Conclusion
Living in West Village is a dream come true for many. It's an area of New York City that offers so much to its residents—from the convenience and quality of public transportation to the seemingly endless array of green spaces shops restaurants and nightlife activities. The cost of rent may be high compared to other areas in New York City but it's worth every penny due to all the opportunities living here provides.
The schools in this neighborhood are top notch as well; students have access to some of the best educational resources available in New York City. Whether you're looking for a place to raise your family or just want a comfortable home with plenty of entertainment options nearby West Village has something for everyone. To put it simply: if you can make it in West Village you can make it anywhere!
Overall moving into West Village is like winning the lottery – there's no better feeling than having such great amenities and opportunities right outside your door. If you ever get tired of city life and need a break from all the hustle and bustle take solace knowing that nature is just around the corner waiting for you. So what are you waiting for? Put on those lucky pants and join us in one of the most sought-after neighborhoods in all of New York!

Top Votes – Score out of 100
Dining – 98%
Shopping – 90%
Singles – 87%
Nightlife – 86%
Public Transportation – 85%
Lowest Votes – Score out of
Families – 50%
Income – 49%
Pet friendly – 43%
Seniors – 36%
Parking – 16%
Top Reviews
I love where I live!
It seems like not a day goes by when I don't think to myself "I love where I live". I feel incredibly lucky to live in the W. Village in NYC. It truly has a village feel to it. The tree-lined narrow streets lined with cafes make it feel like the old New York. It's a bit trendy and somewhat snooty in places, but I don't even mind that. There is a sense of history and charm that this neighborhood exudes. It's truly timeless. And the food! Oh, the food choices are abundant. Within 4 blocks, I can name 20 or more amazing restaurants and gourmet shops. It's a food lover's paradise. The downsides: it's not cheap to live here and it can get overrun by tourists (on Bleecker St especially). Parking is difficult, but the flipside is that public transportation is nearby and plentiful. This neighborhood continues to delight me and make me proud to call it homeBARBARA P
GREENWICH VILLAGE

The West Village looks more like a European town than a neighborhood in New York City. It has the most tree-lined streets, beautiful historic brownstones, nooked restaurants and Hudson River access. As such, it is one of the most coveted addresses in New York. Home to many celebrities and the exorbitantly wealthy, this is an excellent neighborhood for couples or families. It is further away from the raucous college scene of Greenwich Village, but there is still enough in the way of nightlife for people to have a good time. But because it is tucked away, it is not near many subway lines. The walk from the closest ones is not terrible, but it can often be inconvenient especially when the weather is rainy or cold. Even so, it is a stunningly beautiful and quiet neighborhood.

Beverly W.
West Village – The Best Neighborhood in Manhattan!

The West Village is by far, the most charming neighborhood in Manhattan. Gorgeous, Pre-war brownstones, tree-flooded streets, quaint shops, trendy restaurants, and a vibrant nightlife. Contradicting an outsider's general perception that Manhattan is just a huge city with towering skyscrapers, the West Village is more like a suburb within a city where everything is smaller and more intimate. I spend so much time in the village, yet I am always hearing about someone's favorite restaurant, coffee shop, or hot spot I have yet to experience. There is no better place for the perfect romantic night out. Outdoor dining, live jazz music, or just taking a stroll down an enchanting street, such as Morton, Waverly, or Grove. All summed up, the West Village is a dream come true.Susan D. lives here now
I couldn't think of a better place in Manhattan to raise kids. There's great parks, and lots of other young families for play dates, associations, and a general sense of community. It's also clean, without the post-industrial or recovered slum feel of many parts of downtown. It does feel like a little village, because most of the streets besides the major avenues don't see a lot of traffic.Evan O.More than any other neighborhood, the West Village lives up to the image of Manhattan in contemporary romantic comedy movies. It really is beautiful, and the shops and restaurants, though skewing towards upscale, are unique in character. It's not a cheap place to live, but its residents are still difficult to pin down, as opposed to some other Manhattan neighborhoods. The downside of all this, in my not so humble opinion, is that you see a fair amount of young money acting out a thinly veiled version of Sex in City or Entourage, generally oblivious to where they are at. However, a touch of the character of old downtown still remains on Christopher St, which, although no longer quite a national destination for gay life, still provides an oasis of tolerance for the younger LGBT crowd from the tri-state area.

Filippa Edberg-Manuel visits here regularly

A West Village walk along memory lane (MacDougal Street)
Before the Village was part of New York City, when it was just the marshy green country side, considered uptown by the inhabitants of New Amsterdam, a brook ran southwest from what today is 23rd Street, across the
marsh lands, made a westward turn, and then ran out in the Hudson River.

This brook was called Manette or Devil's Water, by the Indians, and is known today as Minetta Brook.
Walk along MacDougal Street, from West 3rd Street towards Bleecker, and among pizzerias, cafés, body piercing and tattoo parlors, and you will find
parts of some real Village history.

Named after the Minetta Brook, that still runs underground, Minetta Tavern opened in 1937. Supposedly while it was speakeasy during the prohibition,
"known" as The Black Rabbit, the basement was the birthplace of the very first Readers Digest.
Today Minetta Tavern is known for it's aged prime beef burgers and excellent cocktails, as well as their celebrity clientele (there is even a "no
photography" rule). Keith McNally, who took over the restaurant in 2008, polished it up, and all while keeping the old saloon feel turned it in to a modern day Village hotspot. Minetta Tavern is today one of the most popular restaurants in the Village, and reservations can be quite hard to come by.

During the golden ear of the Village bohemians Minetta Tavern was a famous hangout for a host of writer and poets like Ernest Hemingway, e.e.Cummings, Dylan Thomas, Eugene O'Neill, Ezra Pound and Joe Gould.

In the street corner just north of Minetta Tavern, at 115 MacDougal Street, is another famous hangout for writers, artists and musicians: the rock club Café
Wha? Beatniks and rockers rubbed elbows here. Allen Ginsberg came for the drinks and the music. Café Wha? claims to be the birthplace of the careers of Bob Dylan, Jimi Hendrix , Bruce Springsteen, Peter, Paul &
Mary, and Kool and the Gang. Today Café Wha? is still an active music venue, and even though it is mostly
cover bands there are still a few historic rock music performance happening: Van Halen and David Lee Roth (who's uncle, Manny Roth, used to own Café Wha?) preformed together in January, 2012.

If you are in the mood for a coffee why not sit down at Caffe Reggio, at 119 MacDougal Street. This original Village café proudly claims to be the first café in the United States to serve Cappuccino. Caffe Reggio opened in 1927, and the same Espresso machine, in chrome
and bronze, from 1902 is still on display. The original owner, former barber Domenici Parisi, was said to have spent his life savings $1000 to import the Espresso machine from Italy. No food was served at the time, and the owner was the only one allowed to touch the expensive machine. When he was sick, the café was closed. The café has retained its old world décor with stucco walls, pressed tin ceiling and an eclectic mix of furniture and artwork. There is a 500 year old bench said to have belonged to the Medici family, and a painting by an artist from the Caravaggio school. The historic charm of the café has been featured in many movies: The Kremlin Letter, Godfather II, Serpico, Next
Stop-Greenwich Village, In Good Company and Shaft. It is a popular location for photo shoots, and it was the backdrop to a famous speech made by John F Kennedy in 1959.

Besides the many bohemians, writers, poets and painters, this part of the Village was known for its "long-haired men" and "short-haired women". A large number of famous gay and lesbian restaurants, bars, cafés, and tearooms has lined the streets trough out the years.

In the corner of MacDougal and Bleecker Street lay the San Remo, the cool place to be for Beatniks like Ginsberg, Burroughs, Kerouak and Corso. In the 1960s they all used to hang out at the San Remo, together with
Tennessee Williams, Jackson Pollock, and Judith Malina (the co-founder of one of the most radical theater troupes of its time: the Living Theater). Famous for being one of the few places in the US were interracial couples were accepted, the San Remo was featured as The Masque in Jack Kerouak's interracial love story The Subterraneans.

Another famous bohemian village hangout, before it closed after more then 50 years in 2008, was Le Figaro Café. Le Figaro, at 186 Bleecker Street, used to be quite a Village Landmark and "everyone" used to come here for the drinks and the company: Dylan, Ginsburg, Pollock, Miles Davis, Auden, Albee, Lenny Bruce, and Warhold. This is where in the film Factory Girl, Edie Sedgwich met Andy Warhold for the very first time, and in Carlito's Way there is a scene with Al Pacino and Penelope Ann Miller talking about old times in Le Figaro Café.Edberg-Manuel
mary jane day, too-high-heel night

I def. agree that the Wes Village does have this cool, almost European town vibe going on…during the daytime, that is. I find this area a bit annoying at night. The streets get swarmed with—what is the nice way to say 'bitches in heels'? All of a sudden the charm gets zapped away and I feel like I'm in an outdoor nightclub. Booze is a bit too expensive here as well: 6 packs of Modelo for $15 at a bodega, come one!All that said, daylight in the west village is beautiful—I recommend strolling hitting a gourmet food shop and then strolling around some side streets. It's an uber-charming experienceKatie P.
Though you still have the urban outfitters crowd that you might find in the East Village, the West Village will offer you are more settled and modern feel than it's 'village' neighbors.This nabe is surely gentrifying, but it maintains its quaintness quite well. The west village has a classy feel to it, and it's a place where you can always find a great bite to eat.

Although most of the residences here are lowrises or brownstones, there has been work done to get some high rises in there (for better or for worse)Richard H
People get stuck on living here

Here's the thing with the West Village, so many people feel like they have to live here to get the authentic NYC experience. I think the West Village is great, super charming, etc. But to all those people who feel like this is authentic NYC living at its best, I have to disagree. This is one of the wealthiest and most established areas in NYC. Personally, I love NYC for its diversity, creativity and energy. I think you can find that better in other neighborhoods. Go live in Brooklyn, or the Lower East side, or the East Village, or Harlem, or Washington Heights… I'd rather live somewhere where people are creative and striving, where all the neighbors know each other and there is a real scene. Then you can come back and visit the West Village. You don't have to live in one of the teeny tiny apartments to experience this nabe. Just be a regular visitor, like me ?What's awesome
cute, winding, cobblestone streets. Great restaurants, shops and cafes.

What's not so awesome
Too mainstream, tiny spaces, lacking the artistic/creative scene of other nabes. EXPENSIVE!!!

Ann
West Village Charm

Situated in a very trendy part of town, the West Village provides residents and visitors with a small-town feel in a big city. When you turn down any of its residential side streets, the honks and horns of angry cab drivers and the sometimes-overwhelming intensity of New York traffic suddenly drift away. Yet, those sights and sounds are so close that you don't feel isolated from any aspect of city life. The West Village is full of tree-lined streets and picturesque brownstones that feel straight out of classic New York films and television shows. Visitors will love the charm of the residential areas, but will also be drawn to the numerous, and often packed, restaurants located on almost every corner. Going to the same restaurant twice will feel like a crime when one sees just how many different choices are within close walking distance. Though the restaurants' prices can be a bit steep for the average tourist, it is definitely worth the splurge after you taste the food. There is also such great variety in food choices that you will surely not feel deprived. After an incredible dinner at hotspots such as Spotted Pig or Little Owl, a walk around the commercial areas will show more of what the West Village has to offer. Boutiques and cafés are on every block, but a prime attraction is The Magnolia Bakery, located on the corner of West 11th and Bleecker (if you have any trouble finding it, just look out for the line around the corner). Its classic navy blue awning has been made famous by shows such as Sex and the City and Saturday Night Live. Though the line may be daunting at times, the delicious treats inside are well worth the wait (hint: the bakery is noted for its red velvet cupcakes, and its frosting is almost unbeatable). It's the perfect way to finish a night out in the Village. If those cupcakes didn't lull you into a food coma, this neighborhood is in very close proximity to the active nightlife in the Meatpacking District. All in all, the West Village offers visitors with a charming look at the best of New York: beautiful brownstones, amazing food, and an exciting and easy neighborhood to casually stroll around in. If you're one of the lucky residents of this extraordinary neighborhood, feel free to invite me over! For those of you staying in other parts of the city, there are many bus stops and subway entrances in the area, particularly on 7th and 8th Avenues. However, it will be hard to leave such a charming New York neighborhood

.Stefanie R.
Love Affair with the West Village

The most European of New York neighborhoods, the cobblestone streets of the West Village sometimes feel like getting lost in Paris…if only for a street here or there. Small (albeit private) gardens, tiny outdoor cafe tables, and petite artisanal shops clustered around crooked tree-lined streets defy the formal gridiron NYC plan with all the charm they can muster.It's not uncommon to find New Yorkers (and visitors!) deep in a love affair with the neighborhood. It's hard to remain indifferent to the sense of community within the anonymous space that's New York City. Even the most casual observer will notice how carefully a resident will select a spot in a cafe, after all he may be sitting there for hours banging away on his computer.

The mixture of old-time bohemian residents and their wealthier and younger counterparts is only occasionally punctuated by the Hollywood-exhausted celebrity trying hard to go unnoticed in some variation of hat-scarf-sunglasses tightly pulled around the face.

At night, the plethora of cafes & tiny restaurants are filled to the brim with residents and tourists alike. Expense concerns are put aside for the night as a large bill at the end of the meal or a night out is a given in the neighborhood. No money? No problem. The gentle experience of walking the neighborhood streets, trying hard to stifle the naturally curious urge to look into the huge windows of old brownstones, is still the best way to experience the neighborhood.

Diana S
West Village Rocks

This is the most New York of the New York neighborhoods. It's the place I most like to take visitors to NYC.s w. visits here regularly
Live Music Central
Visit the Vanguard

What's awesome
Jazz!
Venues/Bars/Cafes
Food

What's not so awesome
Parking
Crowded during special eventsMatt L