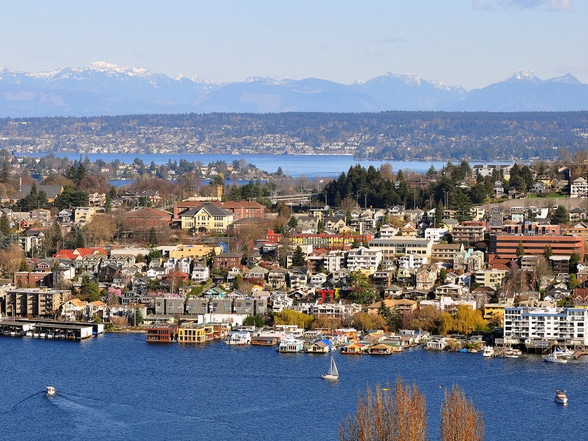 [vc_row][vc_column][vc_column_text]
Infomation
This central Seattle nabe is located on the east side of Lake Union, just north of Downtown and south of the University District. This centralized location makes it an ideal spot for students of the University of Washington and people who work in Downtown. Filled to the brim with restaurants, shops, and excessive nightlife options, Eastlake is rapidly becoming a Seattle hotspot, especially for the twenty-something crowd. Seattle's rising collection of houseboats are mainly located in this nabe along the many piers and marinas that jut out into Lake Union, providing an interesting feel for a nabe that's so urban in character.[/vc_column_text][vc_separator color="mulled_wine"][vc_column_text]Eastlake, Seattle Data : Neighborhoods & Travel – Score out of 100[/vc_column_text][vc_progress_bar values="%5B%7B%22label%22%3A%22Public%20Transportation%2079%22%2C%22value%22%3A%2279%22%7D%2C%7B%22label%22%3A%22Public%20Schools%2075%22%2C%22value%22%3A%2275%22%7D%2C%7B%22label%22%3A%22Safety%2075%22%2C%22value%22%3A%2275%22%7D%2C%7B%22label%22%3A%22Singles%2075%22%2C%22value%22%3A%2275%22%7D%2C%7B%22label%22%3A%22Gentrifying%2075%22%2C%22value%22%3A%2275%22%7D%5D" bgcolor="sky" options="striped,animated" title="TOP ATTRIBUTES"][vc_progress_bar values="%5B%7B%22label%22%3A%22Community%2043%22%2C%22value%22%3A%2243%22%7D%2C%7B%22label%22%3A%22Income%2038%22%2C%22value%22%3A%2238%22%7D%2C%7B%22label%22%3A%22Shopping%2029%22%2C%22value%22%3A%2229%22%7D%2C%7B%22label%22%3A%22Parking%2029%22%2C%22value%22%3A%2229%22%7D%2C%7B%22label%22%3A%22Seniors%203%22%2C%22value%22%3A%223%22%7D%5D" bgcolor="bar_turquoise" options="striped,animated" title="LOWEST ATTRIBUTES"][vc_separator color="mulled_wine"][vc_column_text]Eastlake, Seattle Reviews
Easy Access and Good Living
Eastlake is the perfect place to live near the action without being stuck in the middle of it. Proximity and easy access to the University District and Capitol Hill makes it a perfect place for twenty-somethings to call home and being bound on the West by Lake Union attracts a broader mix of people to the fairly nice homes, apartments, and condos in this nabe. Transportation's easy and the living is good. This is definitely on my list of possible places to move to after the University District.
What's awesome
Views of Lake Union, Transportation
What's not so awesome
Getting people to come to your parties if you're in college, you're always going to be the one going out
Bowen S.
All Roads Lead to Eastlake
All Roads Lead to Eastlake
Living on Eastlake is like being the Pope for a day, you feel like the center of the city. Anything you could possibly desire is within bussing, biking, walking, driving, cabbing distance. Let's put it this way, I never had a car when I lived there and I had no problem working in both the University Village AND Fremont, while going to UW AND remaining socially involved on Capitol Hill, West Seattle and Ballard. It wasn't unimaginable for me to bus to my internship in Fremont at 7am, head to UW at 12pm, bus home, bike to work in U Village and then bike into Ballard for drinks after work. With two or less transfers you can get anywhere, even West Seattle!
Having said all that, Eastlake is not just an amazing thoroughfare. It is also the best community I have ever lived in, and I've lived in several. From quaint to chic, Eastlake has it all!
Quaint things include Pete's Market, where you can get amazing wine for a decent price while picking up fresh cuts and bread for tomorrow's sandwiches. Head up the hill to the last privately owned video store ever (I think?!!) and get advice from the owner/operator. Not ready to head in for the night yet? Grab a beer at the ZOO tavern, one of the oldest spots in the city, and tons of space for pool playing and general merrymaking.
Chic things include Kristo's cocktails, Le Fournil's perfectly pitched espresso, and Sarafina's Dinner and happy hour.
More of an outdoorsman then a foodie? As a runner it was never hard to get motivated knowing I'd have amazing Lake Union and City views. And I didn't have to run hills if I wasn't in the mood because Eastlake is relatively flat and connects directly to the Burke Gilman under the bridge. Eastlake is also a rower's paradise with several clubs and docks off of Lake Union's east side.
Rent costs can be higher because of the view property but I was able to live there as a student. With most of it's real estate either rentals or condos, Eastlakers tend to be young and unmarried. However, there are some expensive homes in the area and great schools so parents and children aren't rare.
Popular restaurants and bars make this area a hotspot and make parking difficult. I suggest carpooling, bussing, or biking, especially when visiting for the 4th of July Fireworks.
But don't let the traffic of the 4th keep you away, Eastlakers throw the best block party in town in celebration of their country, and their luck at having one of the best views in town!
What's awesome
Lake views, great variety of bars, Video Quest!, central location, direct bus lines, Condo Costs are down!
What's not so awesome
Parking, Small Parks, single family home prices are high, high, high!
Amanda C.
My favorite side of the lake
I lived across I-5 from Eastlake for a year last year, and so I did most of my shopping, eating, drinking, etc in Eastlake. While the northern and southernmost areas are a little drab, the heart of Eastlake is incredibly charming and definitely on the rise, with new restaurants and cafes springing up like crazy recently. It's wonderful to walk up and down, and being so close to the water while maintaining a strong urban feel is unique to this area (as opposed to the more residential Wallingford or the more industrial/commercial Westlake). The apartments on the east side of Eastlake ave are relatively inexpensive and are an incredibly smart alternative to the U-district for UW students. If you're low on cash and trying to live near campus, living south of campus rather than north is better without question (there's SO much more to do!), and Eastlake is closer to campus and far cheaper than Capitol Hill.
Eating in Eastlake is fantastic. Louisa's has some of the best breakfast and coffee I've had in Seattle, and is definitely Eastlake's jewel. Voxx Coffee is very new and very nice – a welcome alternative to the Starbucks across the street (which is actually one of the more charming starbucks in the city). Essentially any restaurant between Louisa's and Serafina (also good) is going to be good, and the Grand Central bakery more towards the south has bomb sandwiches as well.
The coolest thing about the 'Lake nabes is that they're long and skinny, and so a multitude of buses run up and down them with great frequency. You can get downtown or to the U-district on any of the 70 buses (71,72, etc) quite easily, and the bike ride is an equally straight shot in either direction. The Eastlake nightlife is fun but limited, so the bus system is very handy for going out in other neighborhoods.
Joseph S.
The One That Got Away
Out of all of the neighborhoods I've lived in during the nearly 15 years I've resided in Seattle, I miss living on Eastlake most (as another founder explained, Eastlake really is one LONG avenue, so even though it is also it's own little neighborhood as well, it is more common to speak of living on Eastlake, not in it). Luckily, I live nearby, so I do still frequent the area. All the same, visiting is not the same as living there, especially when you consider how youthful and loud the University District (my current nabe) is by contrast.
I wouldn't recommend Eastlake for young people who want to be in the midst of raucous, frenetic energy, but Eastlake is perfect for young adults (and older) with decent income who prefer to entertain quietly at home or to enjoy a drink or two with dinner at one of Eastlake's many wonderful restaurants, from the very romantic Serafina to the very relaxed intimacy of Pazzo's Pizza to club-hopping. The Eastlake Zoo, which happens to be right next door to the 14 Carrot Cafe (PANCAKES!) and the aforementioned Pazzo's, is not a zoo (in the traditional sense) but rather a treasure of a neighborhood bar. The Zoo had 4 pool tables, 1 billiards table, 1 shuffleboard table, a darts board, and at least 3 pinball machines by my last count (and those figures are not likely to change), and some of the friendliest, most down-to-earth bartenders in town.
Eastlake is a wonderful neighborhood for walking, biking, and jogging/running; in fact, I did not own a car for at least 1 of the 3 years I lived there. One of the best perks of living on Eastlake is certainly the proximity [walking distance] to Lake Union. I always felt this most keenly on Independence Day, when I was extra grateful for my reserved parking space, as people came from all over to get the best views of the fireworks and devoured the generally abundant street parking (I also had the extra perk of being able to view the fireworks from the rooftop of my building). I call my Eastlake apartment "the on that got away" because I was lucky enough to rent a 900+ sq. ft. 2-bedroom on Eastlake for around $800 during the mid- to late-1990s, but I was so young then that I couldn't afford it without a roommate (and my pool of roommate choices was awfully small); I have it on good authority that the very same unit rents for $1200+ these days. Before the current economic crisis, vacancies on Eastlake seemed pretty rare. Compared to the rest of the city, this is still somewhat the case, but I know that there are empty condos as well as vacant rentals there currently (like the rest of the city/country). If I were in the market for a new place to live in Seattle, it would be the first neighborhood I'd check.
The only real drawback to living on Eastlake I can think of is the lack of an actual grocery store (but there are some pretty great convenience stores/Mom & Pop shops). Metro buses have several routes that make Eastlake easily accessible to/from other parts of Seattle, so it is not much of a drawback. It's no problem at all if you have use of a car, as there are plenty of nearby grocery stores in the U-District (for northern Eastlake residents), on the burgeoning South Lake Union (for (surprise!) southern Eastlake residents), and on Capital Hill (for residents on either end of Eastlake). Renting a Zipcar or taking a cab would also be good options for large grocery runs.
Anquinette B.
Eastlake: Must Love Dogs
You've just graduated. You've got a decent a job, a steady income, and you've got a dog. You want to live close to downtown or Capitol Hill but want a quieter neighborhood. Or maybe you want to be near the U-District so can go to school but prefer not to live in a hovel with a roommate that has a questionable dreadlock situation happening. Or maybe you're looking to own a home with great views of Lake Union and quick access to the freeway and a school for your kids. If this sounds like you, then Eastlake is the place to be.
I'm generalizing here of course, but after living here for almost a year, these are reoccurring themes that I've heard from many of my neighbors. The people here are a friendly mixture of post-grads, young professionals, and long-time residents who enjoy jogging and walking their dogs (seriously, there are a lot of dogs in this area). There are also many families here, and Eastlake is home to TOPS at Seward, one of the best public schools in the city.
Eastlake is less a neighborhood than a very long street with houses and the occasional shop or restaurant on either side. Still, if you look, you will find few great gems. If you're looking for an upscale night out, there's the wildly popular Serafina, which serves amazing Italian dishes to go along with its swanky atmosphere. If you've got drinks on your mind then head on into the legendary Zoo Tavern, a no-frills watering hole where you have a few beers while playing pool, skee-ball, shuffleboard, and darts, (just make sure you bring cash, this place doesn't take cards). If you're looking for breakfast, visit the 14 Carrot Cafe and their pancakes, or Louisa's Bakery and their giant cinnamon rolls. There may not be a grocery store in this neighborhood (unless you count Pete's and it's giant wine selection), but there are still plenty of great places to get your grub on.
Getting around from Eastlake is easy as there are a number of bus routes running through the neighborhood. Downtown, South Lake Union, Capitol Hill, and the University District are all just a short ride away.
So come, visit, eat some food, or just go for a walk along the water and past the quaint rows house boats that line the shores of Lake Union. Eastlake awaits. Just make sure you clean up after your dog.
Eli S.
[/vc_column_text][vc_separator color="mulled_wine"][/vc_column][/vc_row]