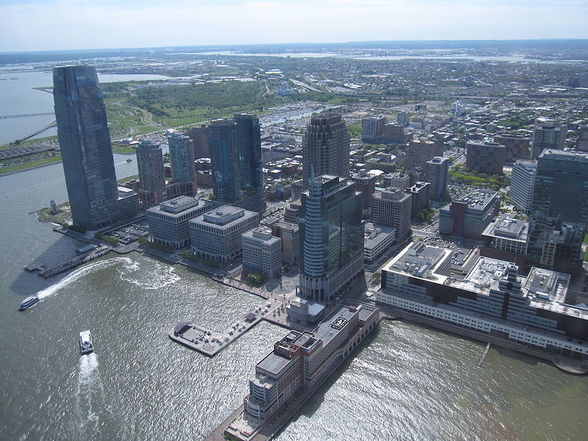 Exchange Place , NJ
by nabewise
Infomation
Exchange Place, sometimes called Wall Street West, lies just across the water from Manhattan, and just to the north of Liberty State Park. Its skyline is dominated by office buildings and its eyeline is dominated by working professionals. Exchange Place offers scenic views, ample opportunity, and a modest but ever-increasing recreation scene. Take the ferry or PATH train to and fro.
Top Votes – Score out of 100
Wealthy* 100
Income 100
Public Transportation 83
Safety 71
Singles 70
Lowest – Score out of 100
Seniors 29
Dining 25
Community 25
Nightlife 21
Shopping 21
Top Reviews from Travel Rentals Neighborhoods
Mini-Manhattan

Exchange place is Manhattan's Mini-Me; It tries to look the same and act the same, but is ultimately much smaller and slightly more awkward.

Coco P.
Eat elsewhere

Its hard to get an honest meal here. I guess there's Milano's deli if you're feeling Italo-American (as i often do), or Au Bon Pain if you're feeling a bit French-Bostonian, but outside of that you'll find cheesy-chic restaurants like Vu, which focuses more on the "View" than the food, or muted-ethnic spots like Komegashi that excel in saketinis and validated parking, but not much else. If you plan on working or living here, stock up on brown bags…

Stacey A.
Good Place to Work

Exchange Place has great views of the Manhattan skyline, some chic waterfront condos, a restaurant or two, and well-dressed people in the daytime. It's right on the water, and on nice days plenty of people are out walking the pier, talking, and enjoying the view. And compared to living and working downtown, it's cheaper, and much quieter.

jon d.
Quiet but stunning views

When I lived in Paulus Hook I walked through Exchange Place everyday to get thePATH train into the city. It has great transportation links into the city (PATH train or ferry) and fantastic views of the city from the waterfront, and that's about it. Exchange Place functions primarily as an overflow for New York's financial district. There are limited dining options and come 8pm the place is dead. There are a couple of high rise apartment buildings but it lacks the charm and character of Paulus Hook and the vibrance of Grove Street.

Leah H.
Exchange Place has always been a great business center for me with many of theNYC financial institutions located right here. A very prestigious area with incredible highrise buildings that rival the class of NYC and with great views of the NYC skyline. More dining and housing options are sprouting up all the time and even some trendy music scenes too.Adam Bickoff