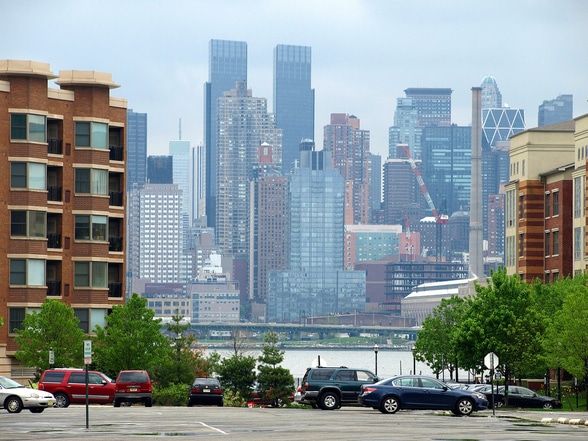 West New York , NJ
by nabewise
Infomation
Don't let the name confuse you: West New York is in fact a Jersey nabe, and isn't at all related to gritty East New York in Brooklyn. Sitting on the cliffs of the Hudson River, 3 miles outside of NY limits, West New York boasts the longest retail and restaurant stretch in the state. Consider it a Jersey version of Chicago's Magnificent Mile. With lots of local sporting events and communal entertainment (think parades and outdoor movies), this nabe totes a suburban tone as well.
Top Votes – Score out of 100
Gentrifying 75
Empty nester 65
Blue Collar 63
Quiet 63
Parking 60
Lowest – Score out of 100
Pet friendly 50
Dining 45
Nightlife 40
Shopping 30
Singles 25
Top Reviews from Travel Rentals Neighborhoods
Best, if you can live off Blvd East:

West New York is pretty clean and definitely has some nice views off Blvd East. The city itself is very latin and overall pretty quiet except for Bergenline Ave.

Transportation + affordability is pretty good. Pretty much everyone in the area is within a 10 minute walk of multiple bus stops into the city.

Dont limit yourself to just WNY. You probably won't notice when you cross the border from one municipality to another. Blvd east is basically Blvd east no matter which municipality you happen to be in. Just keep in mind that the buses from NYC generally go Weehawken, West New York, Guttenberg, North Bergen, and from NJ to NYC they go in reverse, so the further south you are down Blvd East the faster your commute is.

I think the grocery options are a little limited, but you can drive somewhere to get those. There's a crappy A&P. Oh, and there's a starbucks near the waterfront here too, so that's good.

Ann Montgomery
I've driven through here

My impression was that there is a nice waterfront/promenade with nice NYC views. Doesnt seem like there's super easy transportation to NYC, though there are ferries in weehawken. Seemed a little sketchy to me…

Gabriel B.
Just like in Guttenberg, the closer to Blvd East you stay, the better in general. It feels more crowded the further west you go and you may start to feel boxed in.

Traffic can be very bad, but parking is better here than in Hoboken.

West New York is pretty safe near Blvd East and there is another section back near the community college that feels safe. I never feel unsafe when I am here, but there are some very poor sections.

In terms of safety, I would put all the towns in this area in this order:
Edgewater, (best) Weehawken, Guttenberg, West New York, then Union City.Stacey A.