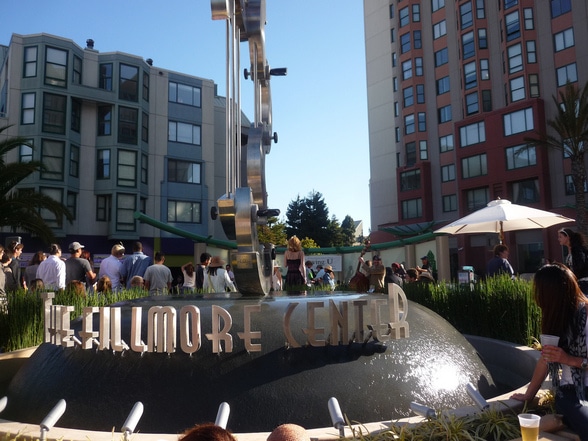 Infomation
Fillmore is a nabe of many names. It's also commonly known as the Fillmore District, The Fillmore, The Fill, The Moe, and Fillmoe. No matter which variation you pick, this nabe is historically famous for excelling at entertaining. With everything from full-scale concerts, to jazz clubs, to karaoke bars, to street performances, beats are bumping here day through night one way or another. While Fillmore's boundaries are a bit blurry nowadays—the nabe's been shrinking for a few decades now—if you find yourself walking down Fillmore Street and there's music in the air, or a view of famous Fillmore Auditorium, chances are you're within this nabe's borderlines.
Fillmore, San Francisco Data : Neighborhoods & Travel – Score out of 100
TOP ATTRIBUTES
Nightlife 82
Dining 82
Singles 79
Shopping 71
Pet friendly 67
LOWEST ATTRIBUTES
Green space 43
Parking 42
Seniors 39
Quiet 38
Families 33
Fillmore, San Francisco Reviews
Love It
Fillmore is an awesome place. Fillmore Street has pretty much everything you could ask for. When it comes to shopping, you can find consignment vintage (such as Crossroads Trading Company) boutiques (such as Cotelac) designer stores, specialty shops, and everything in between. Restaurants come with a plethora of options, from tacos to French bistro's to Bun Mee, where you can get the most delicious vietnamese sandwich your tastebuds could imagine. It's not hard to end up spending your entire day here.
What's awesome
What's not so awesome
Parking is expensive and hard to find
Chloe N.
Anything goes!
Never let negative stigma prevent you from exploring any neighborhood in this city. Although not the most desirable living location, the Fillmore is absolutely the coolest, friendliest, most diverse, vibrant and interesting district you'll ever visit. The music clubs, bars, and restaurants are full of cool locals looking to have a good time with anyone else who's looking to have a good time. During the day there's great shopping, outdoor seating at bars and cafes, and plenty of festivals starting in the spring. At night, the clubs and bars come alive with crowds young and old, often depending on which musical acts are playing at The Fillmore, Yoshi's or the Boom Boom Room.
You'll always fit in in this neighborhood no matter who you are because anything goes in the Fillmore!
What's awesome
Yoshi's Jazz Club and Japanese Restaurant, Sheba Piano Lounge, Rasselas Jazz Club, The Boom Boom Room, The Fillmore, Fat Angel, Dosa, Crossroads, The Marc Jacobs Store, Harry's Bar, The Grove, Farmer's Market, The Fillmore Jazz Festival
What's not so awesome
The 22 bus line, "un"Safeway, the wind
Joey B.
Happy Medium
Kristine J made a great point in her review. Fillmore is completely split. Lower Fillmore is not a place I want to be, and Upper Fillmore is not a place I have any reason to be. Luckily, there's a happy medium where great shopping, great eating, and great music all collide. The shopping is awesome (it's expensive, but it's mostly boutique's and clothes you're not going to find in other places). The food is awesome (I can't even name all the wonderful restaurants, but I will recommend The Grove if it's a hot day and you're looking for a blended latte in what looks like a lodge). The music is world famous, with good reason.
Kati S
Historic
Everyone knows the Fillmore as being one of the most historic nabes in San Francisco due to the classic Fillmore Auditorium. Weekly, you'll see large tour buses and vans rolling up and parking just outside of the multi-level. Overall, the Fillmore area can be a melting pot. Lower Fillmore, it should be noted, can be a little sketchy. The housing is cheaper and the area hasn't been changed by gentrification, which can't be said for the upper part of the nabe. Lower Fillmore is definitely not a place you want to find yourself walking late at night, on your own, but it's got it's great spots. Just near the Fillmore Auditorium and the shopping plaza you'll find several great eateries and night- life spots, including the newly built Yoshi's jazz club, which features famous jazz, blues, soul, rap and RnB performers weekly.
Upper Fillmore is a completely gentrified area and can b a bit surprising, being so close, yet so different, from it's lower counterpart. It's full of lovely little boutiques and some of the most well-known restaurants in the city.
The highlight of the year in the Fillmore is the Fillmore jazz festival. It's one of the greatest live events held in San Francisco. Walk up Fillmore Street as you browse vendors and their goods, nibble on delicious street foods and listen to/dance to live blues bands featured on the stage. It's a fantastic day and a fantastic summertime event.
Mary J.
Fillmore is a SanFran Must-See
Fillmore is a great nabe to visit for sanfran tourists, or for bored locals looking for a good time (it'd help if you had a bit of cash with you—so you could catch a show and indulge in delicious food and divine shopping around here). Even if you don't have any spare cash though, the sights and sounds here are enough to please. You can often catch live music and street performances, and if you every get weary of the atmosphere, Japantown's just a few steps away! This is really one of the most ideal places to spend an evening as well—nothing says classy like a jazz club.
Vickie W.