Five Ways to Enjoy Lewes, Delaware, as a Solo Traveler
by nabewise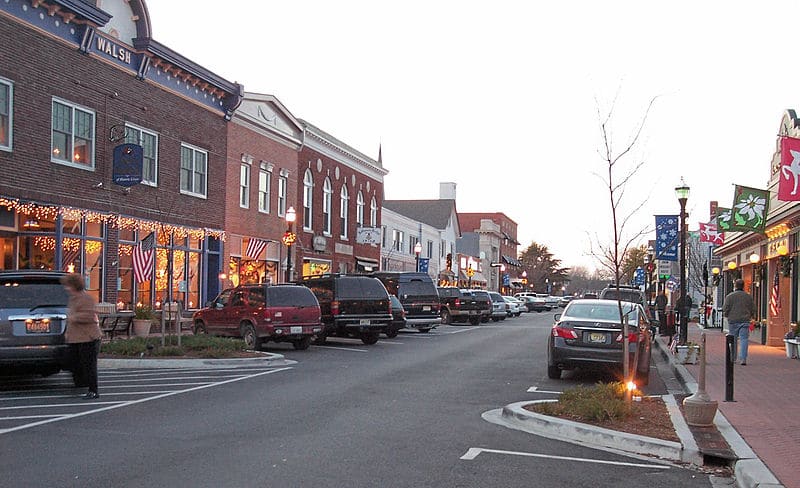 Enjoy a solo seaside vacation in Lewes, Delaware: eat, shop, relax on the beach, enjoy nature and savor the unique history of this safe, quaint town.
I'm not a seasoned solo traveler. Besides the annual conference or two, I rarely travel alone. I wanted to explore Lewes, though, because it sits at the other end of the Cape May (NJ) ferry route and I'd been through the area en route to Virginia many times. While Lewes turns out to be representative of many Mid-Atlantic U.S. seashore towns, it also has plenty of unique attractions to recommend it. I found centuries of history, myriad restaurants, tax-free shopping, and world-class ecotourism. In town, there are easily walkable historic sights, distinctive shops, and fine restaurants. Just outside the town proper, there is a beautiful state park, a plethora of outlet stores down the road, and the popular Rehoboth beach and boardwalk minutes away. No matter what you are looking for in a solo vacation spot, you will probably find it in (or near) Lewes.
HISTORY: Lewes, Delaware's original name,  Zwaanendael, translates to Valley of the Swans in Dutch. Lewes was first settled by 31 Dutch whalers in the seventeenth century but they didn't last long: they were massacred by the native Lenni Lenape! Replacement settlers were sent soon after this tragedy and the town has thrived since. The historic town of Lewes, the first town in the first state, is known for its historic buildings including the Zwaanendael Museum (http://www.destatemuseums.org/information/Museums/Zwan/zwaanendael.shtml). This museum, built in 1931 to commemorate the 300th anniversary of the first Lewes settlement,  is a replica of the Town Hall in Hoorn, Holland. The Lewes Historical Society (www.historiclewes.org) has moved historic buildings downtown creating an easy walking tour. Don't miss the Cannonball House Marine Museum, struck by a British cannonball during the War of 1812. The building now serves as the Lewes Maritime Museum. A walking tour of these historic buildings and the museum will give you a good picture of Lewes's maritime history.
Two interesting seaworthy sites are the lightship Overfalls LV188 and the Kalmar Nickel tall ship. The Overfalls was built in 1938 and retired in 1973 after serving off the coast of New EnglandIt now serves as the Lightship Museum and Resource Center. Knowledgeable guides will tour you around the ship. The Kalmar Nickel is actually a replica of a 17th century ship that brought the first settlers from Sweden to the area we know as Wilmington, DE. It frequently docks at the Cape May-Lewes Ferry terminal. You can sign up for a voyage to learn how to sail a tall ship.
Besides its reputation as a hotspot for ecotourists (more on that later), Cape Henlopen State Park is a valuable historic treasure (http://www.dnrec.state.de.us/parks/chsp/chsp.htm). Situated under a rather large sand dune, near the historic World War II buildings of Fort Miles, is the abandoned bunker used to scan the nearby ocean for enemy vessels (especially U-boats). These vessels intending to wreak havoc on the adjoining Delaware Bay and ports north on the Delaware River would have been discouraged by Fort Miles's extremely large guns (6-inch, 8-inch, and 12-inch), some of which are also on view. Today, the bunker is off-limits, but the view from the top is breathtaking. Also leftover from World War II are six firetowers. These concrete structures, about 70 feet tall, allowed soldiers to scan for enemy ships and get their positions by triangulation. One of the firetowers (#7) is now used as an observation tower. The view at the top is from 110 feet above sea level. I took some great photos from here of the bay, ocean, lighthouses, and ships. Plans are underway to restore the remaining Fort Miles buildings, and instructional signs are already in place. The well-maintained park is a nice place to walk or bike.
NATURE: Cape Henlopen State Park also offers many activities such as cycling, hiking, fishing, swimming, camping, and environmental education programs. Surrounded by pine trees and sand, the first thing I noticed about this park was the desert-like terrain. This is because a large amount of sand collects here and this has created a huge sand dune. The three-mile bike trail is paved and features some challenging hills. The clearly marked Pinelands Trail took me on an educational journey through a maritime forest, once covered by a bog. Plants growing here have to be tolerant of the large amount of salt in the environment. There is a meat-eating plant called a sundew living here! This plant has adapted to the low amounts of nitrogen in the bog by eating insects.
There are also fishing opportunities at Cape Henlopen State Park. A quarter-mile long pier (leftover from Fort Miles) permits fishing in the bay. Surf fishing (in the ocean) is allowed all year long at designated areas. Permits are available to take your vehicle to these areas, or you can get there on foot. A nearby concession has all the supplies you will need to catch tonight's dinner which you will cook in one of 150 camping sites at Cape Henlopen State Park.  (<http://www.dnrec.state.de.us/parks/chsp/chsp.htm>)
The Prime Hook National Wildlife Refuge is a short ten mile ride northwest of Lewes. This refuge was established in 1963 on 9,700 acres in Milton, DE. The Delmarva[1] Peninsula Fox Squirrel, an endangered species, was reintroduced to the refuge in 1986. The forests here are managed especially so that species will flourish. Birdwatching is especially popular at Prime Hook, as waterfowl and shorebirds are attracted by their favorite delicacy, horseshoe crab eggs.
BEACH: Beachgoers will enjoy exploring the area beaches for swimming, sunbathing, kite-flying or relaxing with a book. Closest to the downtown area is the Lewes Beach. Situated on the Delaware Bay, this is a nifty place to hang out in near solitude to watch the boats, lighthouse, and Cape May Lewes Ferry. There are two beach areas in Cape Henlopen State Park where swimmers and surfers can enjoy the rougher waters of the Atlantic Ocean. Donna de Kuyper from Hotel Blue in Lewes tells me that the beaches in Cape Henlopen State Park are protected: "We'll never have a skyline that interferes with the natural beauty".  A short ride to Rehoboth Beach will reward you with an ocean beach, boardwalk, many shops and restaurants, and reveling crowds in the summer. Beaches are fun in almost any season. If it's not warm enough to swim, I enjoy picnics, flying a kite, or looking for shells on a long beach walk. Remember, because of the sea breeze, it is usually a few degrees cooler and slightly windier by the water.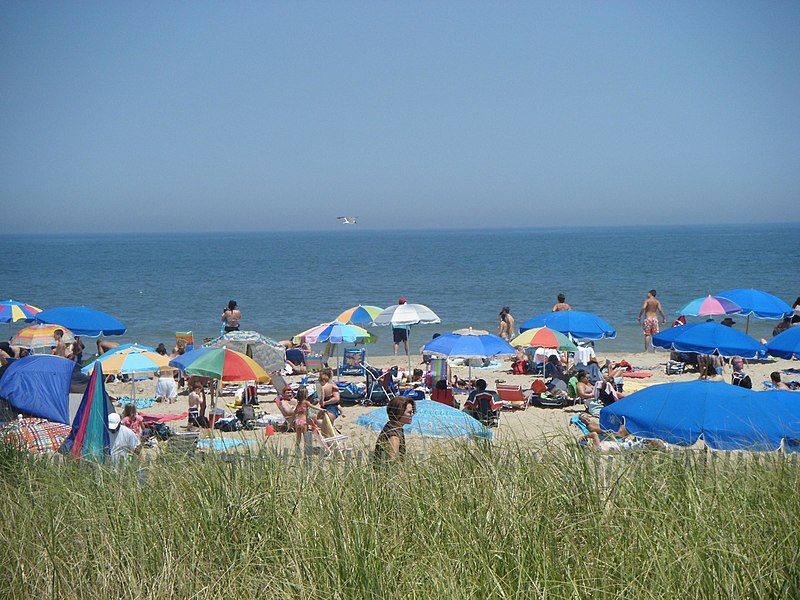 SHOPPING: If you, too, are a practitioner of shopping therapy, you will enjoy the variety of shopping opportunities in and around Lewes. The town of Lewes offers distinctive specialty shops that offer handcrafted items, all levels of puzzles, unusual toys (www.kidsketch.com), chocolate, completely vegetarian soaps (www.soapfairy.com), pet supplies (www.pupsoflewes.com), and other cool stuff. I visit the Puzzles store each time I'm in Lewes to find new challenging puzzles for rainy days and clever gifts. The friendly shopkeeper here advised me that the most popular sellers are puzzles featuring lighthouses and cats, and the intimidating 3-D puzzles.  Sandy Phelan from the Stepping Stone describes her store as "a unique gallery carrying fine American made handcrafts. My customers appreciate the quality and value of the crafts and appreciate the skill required to create these beautiful items". Stepping Stone sells handmade items such as clocks, pottery and ship models.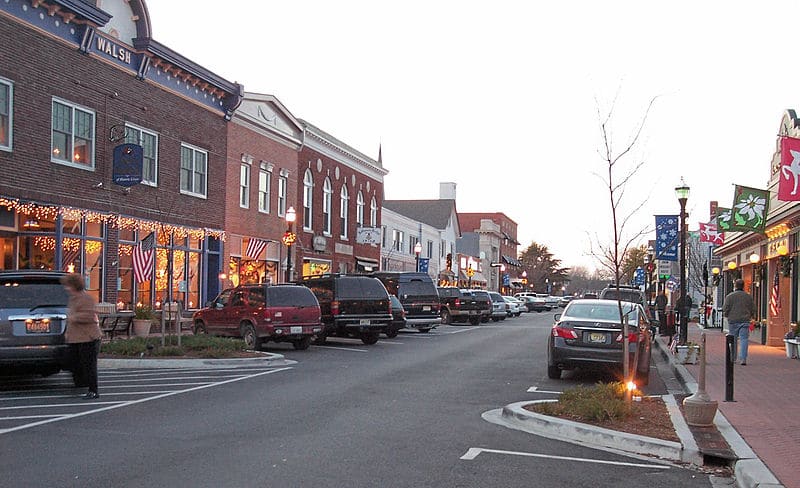 Further down the road and around the corner are the three large sections of Tanger Outlets with a variety of outlet stores (including L.L. Bean, Coldwater Creek, and Lillian Vernon) selling discounted merchandise. If you have forgotten to bring pajamas or unmentionables, or if you just need a new outfit, this is the place to go. I allow an entire day to properly ferret through these outlets. For fun souvenirs and gifts to bring home, try the nearby beach town of Rehoboth and its boardwalk. My favorites here are The Rehoboth Toy and Kite Company (www.rehobothkite.com) and the amazing bookstore that isn't just a bookstore, Browseabout Books & Cafe.
RESTAURANTS: Seafood is everywhere: from the most casual café to the fanciest gourmet restaurant, the seafood lover will be overwhelmed by the abundance of choices. Non-seafood lovers (like me) will be pleased with the alternatives. I thoroughly enjoyed a delicious Veal Saltimbocca followed by an almost sinful chocolate crème brulee at the Striper Bites Bistro on Savannah Road (www.striperbites.com). This is a comfortable eatery decorated with nautical motifs and candlelight. Even less a solo diner than a solo traveler, I was perfectly comfy in this friendly restaurant. The Buttery (www.butteryrestaurant.com), was recommended to me time and time again because of their many delectable choices for lunch and dinner. The Buttery Beach (turkey with tasty accompaniments) is a standout for lunch. Other notable and recommended eateries are Café Azafrain for Mediterranean cuisine, the Second Street Café and Fish On!.
There is in Lewes a variety of lodgings to choose from, and most are open year-round: quaint bed & breakfasts, more upscale inns, and an establishment that will welcome your pet! The Hotel Blue, a casually elegant adult beach hotel, features blue glowing marbled sinks, fireplaces, and a rooftop pool. You and your best friend Fido can lodge together at the Lazy L at Willow Creek, a bed & breakfast resort. (You may also bring other animals, but the innkeeper at the Lazy L tells me dogs are by far the most popular traveling companions.)  The centrally-located Greystone Bed & Breakfast caters to families and serves up scrumptious breakfasts. The luxurious Inn at Canal Square offers balconies with grand views of the canal, large comfortable rooms with wireless internet access, and a European breakfast. Most of the innkeepers I chat with point out the same trend: visitors to Lewes are staying longer and coming from further away to enjoy all the features of this town and its surroundings. Sandy Phelan from the Stepping Stone said it best: "Lewes offers her visitors the opportunity to just relax, breath deeply and recharge their batteries".
Contact the Lewes Chamber of Commerce & Visitors Bureau for an informative Visitors Guide:
P.O. Box 1, Lewes, DE 19958
877-465-3937 or 302-645-8073
www.leweschamber.com