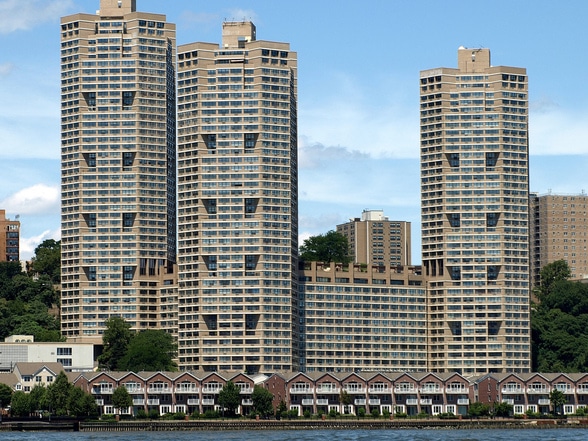 Infomation
Guttenberg may be in Jersey, but this little nabe sure understands big city living. Its population density is twice that of NYC, and its residents understand luxury just as well as any Manhattanite—a claim best illustrated through Guttenberg's iconic Galaxy Towers, three distinctive residential high rises that look over the Hudson River. Translating to "Good Mountain" in German, Guttenberg boasts one of the best skyline views in the state. A large portion of the population commute into the city, which can be reached in mere minutes.
Guttenberg NJ Data : Neighborhoods & Travel – Score out of 100
TOP ATTRIBUTES
Gentrifying 75
Pet friendly 75
Quiet 75
Seniors 70
Clean 70
LOWEST ATTRIBUTES
Green space 56
Dining 50
Shopping 45
Nightlife 45
Singles 40
Reviews
Great views, best to live on Blvd East
The views of the city are incredible. Guttenberg views are the best of the city period, unless you are on a boat or in a helicopter. Guttenberg/West New York is one of the places I was looking at when I was on my apartment search. The closer to Blvd East you stay, the better in general. I personally would have no problem living deeper into Guttenberg, but it does get more crowded the further west you go and you may start to feel boxed in. Houses and apartments go really fast around here and even faster around the blvd so when you find something don't wait too long to move on it. If you do end up having to live more inland(from the river and city) I would recommend NorthBergen or Weehawken. Even though they are both still densely populated, they feel a little less crowded especially than West New York or Union City, but you really can't go wrong with any of them.
I have found places on and just off of the blvd for $1200 to $1400 and those were 2BR, so it just depends on what is available when you are ready to move.
In terms of safety, I would put all the towns in this area in this order:
Edgewater, (best) Weehawken, Guttenberg, West New York, then Union City.
Stacey A.
I have driven through here several times.
Guttenberg is another town that has a nice waterfront and is a good commuter town if you want to drive into the city. There are some gated communities with new construction condos on the waterfront.
Gabriel B.
This town only cares about the money
I grew up and still work in this town. It's so different from what it was then. It used to a place where you could say proudly that you were part of the community. Now, it's just become a sad, pathetic place. All that matters are the rich people who live on the waterfront. The few people who have lived there for years and years and haven't abandoned the town have been abandoned by the town officials who only care about, what else, $$$$$$$$$$$$$$.
Tory
NJ – A Stone's Throw Away…
Ok..in the past NJ got a bad rap. I've lived here my entire life and had the easiest access to Manhattan, even went to college at NYU and drove downtown for two years to get my Master's. During my college years my friends and I went to lots of NYCtrendy clubs and bars all over the City. We especially loved hanging out on Bleeker St. at the small bars where we saw some of the cool unknown bands.
But I have to tell you, as an adult I've seen my small town of Cliffside Park and neighbooring Edgewater grow in population probably due to the affordability and accessability to NYC. For almost half the rent you can share an amazing space! I have a 4-story townhouse where I sit typing on my bed with an amazing view of NYCand the Empire State Bldg. I had a new friend over for dinner last night who kept saying, "this place is amazing!" The same thing I thought when I saw the place for the first time convincing me where I live.
I personally wouldn't want to live in Manhattan because living here in NJ makes visiting Manhattan and all other boros so easy (I drive as opposed to subwaying it) but even if you don't have a car mass transportation is just up the street. . I love NYC for the arts and museums and enjoy taking my five-year-old nephew to Central Park and visiting my dad who lives on the Upper East Side and it's all easy to get to at anytime of the day or night. My area is trendy (and quaint), has great restaurants, nightlife, shopping, parks and anything you would need to enjoy life. There is a mix of people, but mainly I would say it is young professionals and although predominantly white, it is diverse with hispanics, blacks, asians, indians, etc making the area quite diverse.
The difference about living here in Cliffside Park/Edgewater NJ is that the air is cleaner and the peace and quiet I get to enjoy couldn't happen if I lived in Manhattan. So in NJ, which is a stone's throw away, I get to live with the best of both places!
denise n.