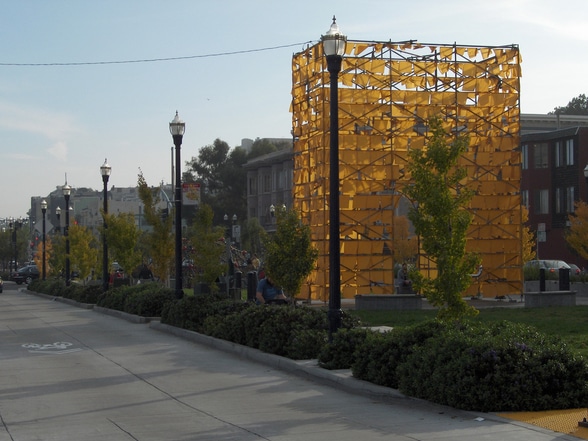 Infomation
Hayes Valley has not always been the chic nabe that it is today. This relatively young nabe has transformed into one of San Francisco's premier destinations. Hayes Street is the main drag, filled with upscale eateries and high-end fashion boutiques. Hayes Valley Park lies at the intersection of Octavia Street, where city dwellers sip their lattes and soak up the sun. The nabe is intersected by Gough Street, providing quick access to South of Market (SOMA) and its freeways, while various Muni Metro lines also service the area. Just to the north lies the quaint area of Alamo Square.
Top Votes – Score out of 100
Charming 86
Shopping 83
Singles 83
Dining 83
Public Transportation 80
Lowest – Score out of 100
Empty nesters 56
Parking 55
Nightlife 48
Seniors 37
Income 22
Top Reviews from Travel Rentals Neighborhoods
GEN-TRI-FIED

In what used to be the bowels of cracktown, the pit of danger, the epicentre of grit, a flower has grown and blossomed over the entire nabe, turning it into a haven for haute couture, modern furniture galleries, and fashionable boutiques. Food and drink are ample and flowing, especially at my personal favorite restaurant in the area, Absinthe. More and more bars and clubs are opening all the time, so the nightlife is superb. The Rickshaw Stop is famous for having awesome shows and concerts for people of all ages! As rent rates rise, so does the gentrification of the area. Like what Michaela Ann M. has stated, gentrification often brings a twinge of sadness, but the gentrification of Hayes Valley is 100% positive.

Chloe N.
Urban Farming

I think it's important to mention Hayes Valley Farm, one of the urban valley farming locations that have popped up recently.

Hayes Valley Farm, a 2.2-acre non-profit community-run farm and urban agriculture education and research center, which birthed from a plot of land lost after the 1989 Loma Prieta earthquake, resides in this gentrified neighborhood.

I must admit that, often times, the word "gentrification" often-times brings me sadness because of the change that often times connotates an "ethnic changing of the guard" that seems like a steam roller coming in and cleaning up the trash — much of what makes a neighborhood what it is and forever changing it. But to see a neighborhood like Hayes Valley constantly improving and, amid the trendy shops and hipster bars, welcome a piece of land that is critical to organic and sustainable cultivation, is wonderful to see.

Michaela Ann M.
Trending up, up and away

It's hard to believe that ten years ago Hayes Valley was a bad part of town. Thanks to gentrification, it is now one of the most fashionable neighborhoods in the city. There are some great Victorians here and many of the smaller alleys are ripe with amazing real estate. Hayes Street is a boutique shopping paradise and is quickly become a foddie hotspot. Hayes still has some grit, which I think adds appeal to the nabe.

Gena F.