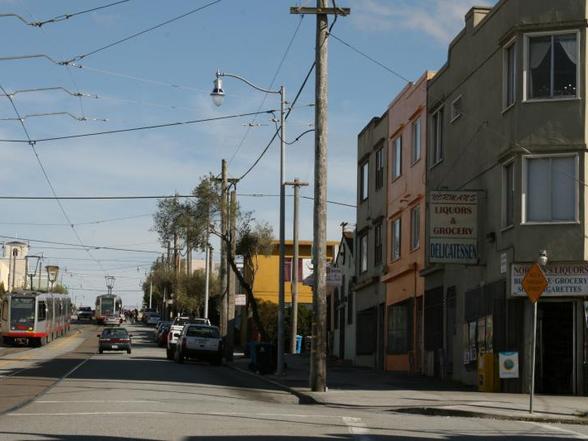 Ingleside Heights
by nabewise
Infomation
Ingleside Heights, sitting at the border of San Francisco and Daly City, feels a lot like Merced Heights next door. Filled with rows and rows of modest homes stretching across the hills, the Ingleside Heights community has an active spirit. The Daly City BART Station is a viable transportation option for residents in this hilly nabe.
Top Votes – Score out of 100
Parking 67
Blue Collar 67
Quiet 63
Public Transportation 58
Public Schools 50
Lowest – Score out of 100
Nightlife 33
Shopping 25
Dining 25
Income 10
Singles 8
Top Reviews from Travel Rentals Neighborhoods
Hidden and Neglected Gem

You might nsub this area if you just drove through—traffic, M car, and some crazy-looking people sometimes, but you miss the "insides" of OMI when you do that. Sure, there was a quintuple homicide one neighborhood over, and yes, the cops do have to come and fetch away badly-behaved parolees—but if you live here, the folks who've been here since the 1960s know you and treat you with respect, regardless of their race or yours. Hard working, stable folks, enough to keep the students and down-on-their-luck folks from taking over entirely. Venice Pizza/burritos doesn't look like much, but the food is good.

What's awesome

What's not so awesome

A bit of crazy during rush hour and at odd times of nigh

Mysti B.
"Eh's" to Go Around

Ingleside Heights is just sort of "Eh" all around. Yeah, housing is cheap for students at nearby San Francisco State University, but that means that there is a constant overturn of residents. The entire nabe seems tired. Ingleside Heights was hit pretty hard by the economic downturn in 2008 and is still struggling to recover, and it's pretty evident. The only school in the area, Jose Ortega Elementary, was rated a 6 out of 10 by Great Schools. Eh.

Ingleside Heights straddles San Francisco and Daly City, and it seems like more of a suburb that a part of the city. The amount of cars is certainly high for an urban nabe. In fact, people who aren't from San Francisco often think that Ingleside Heights isn't park of San Francisco at all, and ask for directions "back to San Francisco." Overall: Eh.

Chloe N.
Eh.

PROS –

1. It's cheap. Houses here are hella on the cheap. A couple of my buddies got together and purchased a 3-bedroom here for an insanely cheap amount of money. Not that that says much, since housing prices have dropped everywhere.

. There's some good stuff comin' in. They got a new library and I hear a Whole Foods is rumored.

CONS –

1. Eh. I get a really unsafe vibe from some of the blocks. Dudes hangin' on the corners during the day. Some parts of the streets look like they need maintenance. Some homes, and houses, look busted. They need some serious work done.

2. You can tell one part is still very rich with ethnic residents while just a few blocks away is filling with young folks and parents. It's weird. That kinda split makes me uncomfortable. The word "gentrify" makes me even more uncomfortable and, actually watching it happen just makes me uneasy.

Joe C.
A great place to live, but I wouldn't want to visit there…

This neighborhood's close proximity to San Francisco State University and the City College of San Francisco makes it a great place for students- and it helps that the M Line goes right through the neighborhood and stops at both

SFSU

and Balboa Park (which is right next to

CCSF

). It used to be a pretty rough area, but that started to change in the late-90's (according to the tow-truck driver who towed me after an accident a couple years ago), and more young families started to move into the neighborhood. There is a very active community center across the street from the nice, new library, and between those and the elementary school, there are a lot of children and parents walking around in the afternoon. Nightlife is basically limited to the small number of parties that would be happening on any given weekend- you're better off taking the M downtown or BARTing into the Mission. Ingleside Heights is a pretty small nabe, so it is easy to get to know it intimately. If you go to Norman's Liquors or Diala Pizza enough, you end up becoming quite friendly with the people there (also, when you're at Norman's, look for the awesome framed picture behind the counter… you'll know what it is when you see it). And when you see a bald, bearded little man walking around in bare feet, don't be alarmed- he's supposed to be doing that. It's his thing. It's not a very exciting place to visit, but it is a nice place to live, if you don't mind having to hop on Muni to get to any sort of nightlife. The rents are pretty low, and it's very close to Daly City

BART

, the M Line, and the 28, 29 and 54 bus lines. I've lived there for four years now, and I still have no desire to move. After all… the city's not

THAT

big. I'm not missing out on anything.

ryan p.
A little TLC goes a long way

Ingleside Heights is a promising nabe but leaves much to be desired. A lot of the property is pretty dilapidated. Most of the homes could use some love. Definitely not going to be wowed but it's a good, affordable starting place. Just layer up because the fog is a factor.

Gena F.