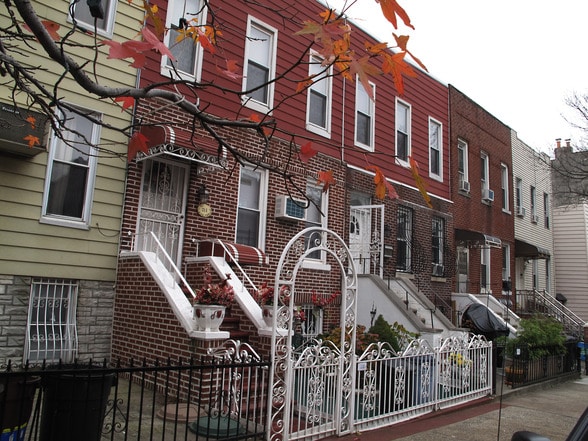 Greenwood Heights, Brooklyn
by nabewise
Infomation
Greenwood Heights is a quiet Brooklyn nabe named after the historical Greenwood Cemetery. Bordered by South Slope to the south and Bush Terminal to the west, the area is known for its eclectic wood-frame houses and a recent influx of condominiums.
Top Votes – Score out of 100
Public Transportation
83%
Public Transportation 83
Clean 75
Gentrifying 75
Pet friendly 75
Safety 75
Lowest – Score out of 100
Income
5%
Nightlife 50
Community 50
Shopping 42
Singles 42
Income 5
Top Reviews from Travel Rentals Neighborhoods
I live near the southern end of Greenwood Cemetery. It's a pretty safe area, and there are a lot of transportation options from the express subways to various taxi services and buses. It's reasonably quiet to the extent that you can usually get a good night's sleep without waking up to loud radios/tvs, people yelling, dogs barking etc. It's more of a chill neighborhood: lots of trees, schools, and little parks scattered around.
Rent prices are pretty cheap – I live in a 1.5 bedroom apartment that takes up the entire top floor of a house and the rent is $1350 a month. I would recommend living here if you want to get away from busier areas of the city – Manhattan is about a 15 minute express subway ride away, after all.
Eryn M.
I moved into Greenwood cause a good friend of mine who lives in Park Slope recommended it. I couldn't afford to buy a house in PS so I got a great fixer-upper here instead. The area is out-of-way and still has it's Polish charm. The only problem is that it's hard to find a good restaurant (best to go to park slope) or even a proper pharmacy. The area is changing though so it's getting better. More people are moving in everyday! I would definetly recommend Greenwood to anyone looking to move to New York but wants a quiet and funky area to live in that's getting better.
brklyn g.
Greenwood has changed dramatically since I got here 5 years ago! Every month there is a new boutique, organic grocery store, or bar. It's great that the area is finally getting the recognition it deserves… It's super close to the city but up until recently it was hard to find a good restaurant!
Denny J.
NEARBY NABES
Windsor Terrace
Kensington
Red Hook
Carroll Gardens
Borough Park
South Slope
Gowanus
Sunset Park