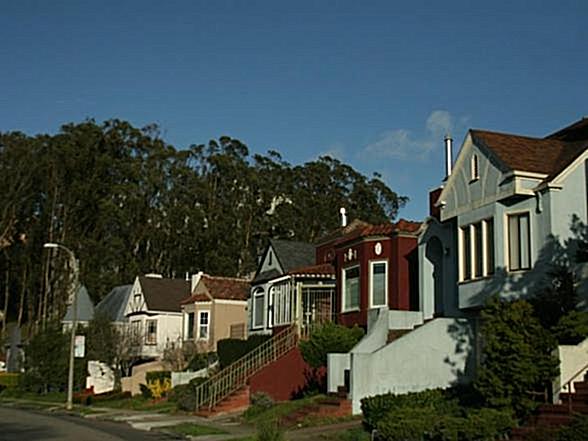 Infomation
Laguna Honda is a small, well-kept nabe betweenForest Hill and Mount Davidson. Tree lined streets typify this nabe, where front and backyards offer residents plenty of green space. Dewey Boulevard has a few shops and restaurants while nearby West Portal is a hub for commercial activity. Laguna Honda Hospital and Muni Metro's Forest Hill Station are located in the northeast corner of the nabe.
Laguna Honda, San Francisco Data : Neighborhoods & Travel – Score out of 100
LOWEST ATTRIBUTES
Community 50
Shopping 44
Nightlife 42
Dining 42
Singles 0
Laguna Honda, San Francisco Reviews
Nice and Quiet
Laguna Honda is really less about the neighborhood itself, and more about what it's surrounded by. Like it's neighbor Forest Hill, it's a rather quiet nabe, perfect for people with money who are looking for a nice place to raise a family. Front and back yards set this nabe apart from nearly every other nabe in the city. Within the nabe there isn't much more than Laguna Honda Hospital. But surrounding this nabe you have Forest Hill, convenient for the busses that run through the station. Nearby isWest Portal, which is full of great restaurants and shops.
Kati S
Way Quiet
Probably most known, by all residents, for the Laguna Honda Hospital and Rehab Center, which has gotten some pretty bad press over recent years. I know it mostly because it's close to West Portal and Forest Hill and, some days, I just end up taking a long walk after my commute to clear my head or get some exercise. I love living in this city because it gives me the opportunity to just start walking and seeing the landscape change every few blocks.
Laguna Honda is WAY quiet. Not much going on there except good ol' family living. There's a French Restaurant I've heard about, ChouChou, but haven't had the chance to try. I don't know. It just seems way more upscale an area than I'd feel comfortable doing more than walking through. I'm sure it suits moms and dads and their kiddos just fine, but it's not really the height of awesomeness for singles.
Peter T.
Shh!
There's really not much going on here but it's a quiet area and has great public trans. There are a few shops and restaurants on Dewey but they are always changing, which doesn't bode well. Five minutes away and you're in West Portal, which has more options and some solid ones at that.
Gena F.