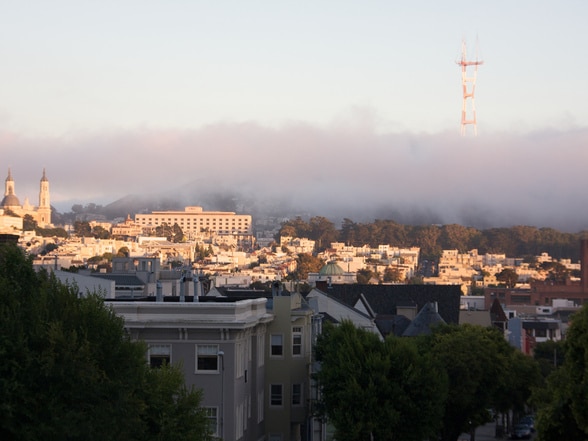 Laurel Heights
by nabewise
Infomation
Laurel Heights is a well-kept nabe bordering thePresidio, where stately homes line finely manicured streets. Laurel Village, the nabe's shopping center, boasts specialty grocery stores, cafes, and boutiques catering to cultured tastes. A few blocks north is Sacramento Street, which offers up an even more exclusive shopping experience with some elegant dining options. Laurel Heights is home to both the California Pacific Medical Center and a UCSF campus, which keep the nabe bustling at all hours of the day and night.
Laurel Heights, San Francisco Data : Neighborhoods & Travel – Score out of 100
TOP ATTRIBUTES
Shopping 95
Safety 86
Families 80
Trendy 75
Public Transportation 75
LOWEST ATTRIBUTES
Empty nesters 59
Seniors 54
Income 53
Quiet 50
Singles 25
Laurel Heights, San Francisco Reviews
Joan Whitebook
Laurel Heights
I lived in Laurel Heights for many years. It is a wonderful neighborhood and is close to everything. I especially enjoyed all of the wonderful shops, boutiques and restaurants on trendy Sacramento Street… Nearby on California Street one can shop at the wonderful markets, do banking and stop in for Peet's Coffee located in Laurel Village and visit with neighbors (sorry Starbuck's fans).
aurel Heights is a neighborhood just to the south of the Presidio and east of theRichmond District. It is bordered by Geary Boulevard or the University of San Francisco campus to the south, Arguello Boulevard to the west, California Street to the north and Presidio Avenue to the east.
Laurel Heights is close to Golden Gate Park and it takes no time to get to Marin County if the fog rolls into the City!
Hospitals are nearby. The California Pacific Medical Center is located on California between Arguello and Maple, and the UCSF campus is located in the north eastern corner of the neighborhood.
I left a piece of my heart in Laurel Heights when I moved to New Hampshire. It is a great place to call home.
Chloe N.
The Whole Package
Laurel Heights….really, what a nice little nabe. Everything you could ever want is right there; schools, playgrounds, housing, markets, boutiques, coffee shops, banks, and a whole lot of medical care. The locals are genuinely friendly, and it's easy to get pretty much anywhere else in San Francisco from here. Laurel Heights would be a really awesome place to raise a family, provided you don't mind sudden and frequent fog.
Gena F.
Stately and stiff
Pretty conservative and a little stiff but Laurel Heights is a beautiful part of town. Being so close to the Presidio is a major plus and Laurel Village is an amazing shopping center.