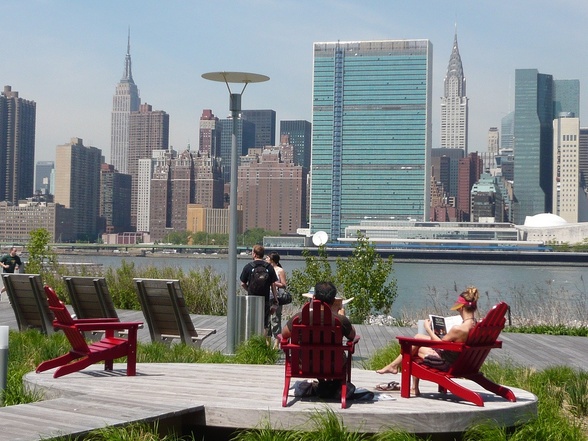 Long Island City, Queens
by nabewise
Infomation
Once a predominately industrial nabe, Long Island City (a.k. LIC) has quickly become a popular home for artists and professionals looking to live close to Manhattan without the many stresses of the big city. Notable art spaces include MOMA P.S. 1 and ScupltureCenter. Be prepared for big spaces here: Real estate in Long Island City includes many warehouses and newly developed condominiums, most of which enjoy views of the East River and Manhattan.
Top Votes – Score out of 100
Quiet 92
Students 85
Families 84
Gentrifying 83
Artists/Creatives 82
Lowest – Score out of 100
Seniors 48
Community 46
Empty nesters 44
Shopping 34
Income 6
Top Reviews from Travel Rentals Neighborhoods
easy breezy

LIC sits just across the 59th St. bridge or only a few subway stops from mid-town, and just like that you're out of the metropolis and in an up and coming, yet quiet and quaint artist nabe. Iconized by the giant Pepsi-Cola sign shinning across the East River, LIC remains a stylized pocket of NYC's industrial past.

With classic four story brownstone lined streets, many of the residential blocks could be mistaken for (and are often filmed as) the West Village. But the development is jumping across the river, with high rise condos springing up and bringing more youth to the nabe.

One of my favorite LIC events that I didn't get to enough, is the weekly party at PS1 all summer long. Guest DJ's mix all afternoon, providing an outdoor dance party alongside the current, often interactive, installation art. The party moves at sundown to Taxi beach, where they truck sand in to continue the rave late into the night.

luke f.
LIC: Top Ten Prettiest Streets in New York City

With a name like Long Island City, it's no wonder this hood is still cheaper and less uber-trendy than Brooklyn. But don't let the name fool you; there is nothing about this artsy, culturally diverse area that is anything like Long Island. The old brownstones and tree-lined streets make for a quaint, old world vibe, and the artist studio at Crane St and Jackson, with its famous wall of graffiti, has attracted lots of creative types. They usually have an open studio day a couple times a year and there's always the modern art museum, PS 1, to check out. Some of my favorite nightlife spots inlcude Taxi Beach, which boasts a giant outdoor eating area with trucked-in sand and Saturday night rave/disco parties, and LIC Bar, 45-58 Vernon Blvd, with an amazing beer garden that can get pretty crowded—but never annoyingly so. For deliciously cheap Thai food, try Tuk-Tuk, at 4906 Vernon Boulevard. And of course there's the historical Waterfront Crab House, a sprawling seafood joint crammed with tchotchkes. There's also a nice little farmer's market in the summer.
LIC is low-key and family friendly, but great for twenty-somethings, too. Just three stops past Grand Central on the 7 train makes for a convenient commute to Manhattan. Experience the views and understated life on the other side of the Coca-Cola sign.

Nina B.
i actually like it alot, bacause althaugh there is little else but transportation as far as convience, it is just a couple train stops away from astoria AND midtown east, so i can easily get anything i need anyway. there are no other blacks but me in my building, and indeed, on my block, but that doesn't bither me. lots of indians and hispanics with small children, dating propects abysmal, but everyone's quite nice. lots of cat calls from every guy who passes me in a car. lots of hotels nearby. since i've been here, in the past year or so, 2 posts have been put up (one on my buillding front door, one in the laundry) about muggings and theiving. nearby projects on 21rts ave. rent's cheap eanough i guess.marise jean-louis
Long Island City

In LIC there is museum of the moving image. http://attractions.upt…
And LIC is home to Silver Cup Studios.http://www.silvercupst…/
And the first ever Queens film festival!
http://www.womanaround…
Astoria is home to Astoria Park and Athens Square Park.
http://www.nycgovparks…
And Astoria Park. http://www.yelp.com/bi…
LIC is home to the famous sculpture park. http://www.socratesscu…/
LIC has become an artists community. http://queens.about.co…
LIC is becoming more and more commercial as businesses and apartment buildings go up.
LIC is home to the Water Taxi beach. http://www.watertaxibe…/
LIC is also home to City ice Pavilion. http://www.cityicepavi…/

Long Island City is currently home to the largest fortune cookie factory in the United States, owned by Wonton Foods and producing four million fortune cookies a day. Winning numbers included on fortunes in the company's cookies led to 110 people across the United States winning $100,000 each in a May 2005 drawing for Powerball.

Online grocery company Fresh Direct, serves the Greater New York area via deliveries from a warehouse and administrative offices on Borden Avenue in LIC. A customer can also order online and come to the warehouse for pickup.

Long Island City is the new home of independent film studio, Troma.

Both neighborhoods are changing constantly. Right now unlike Williamsburg ,Brooklyn it still has a little NYC flava!

Pinky P.
The LIC waterfront is an NYC gem

A quick subway ride from Midtown, Long Island City has quickly become the suburbs for people who don't want to move to the suburbs inside NYC with the best view of the famous Manhattan skyline. Summer days and sunsets at sprawling, green Gantry state park are always breathtaking. The park is surrounded by boardwalks, seating, hammocks and shady trees and it's usually not too crowded, making it a wonderful warm weather oasis.

Long Island City is flanked by the Midtown Tunnel to the south and Queensboro Bridge to the north. It runs along the East River waterfront runs and extends inland to 51st/Hobart Street. Quaint shops, trendy bars and a surprisingly good selection of restaurants have got it covered with a range of atmospheres from cozy to contemporary. A major cultural center, LIC is replete with museums, artist lofts as well as many outdoor and indoor galleries.

The history of Long Island City is part of its intrigue. In 1898, 28 years after the original villages and hamlets consolidated themselves into one, Long Island City officially became a part of New York City when the city expanded its borders to include Queens. The opening of the Queensboro Bridge and other transportation additions made this area even more accessible, which furthered industrial growth here. The decline of manufacturing in the U.S. in the 1970's helped begin to turn this area into a major cultural center with world-class art and working artists. This trend continued in the 21st century with the renovation of warehouses into luxury condos. Today, businesses and residents alike seek out the convenience of Long Island City.

What's awesome

The laid back old meets new feel, the delicious restaurants, the huge park and new playground.

TF C.
Great Business Location

My family and I had an Electrical Contracting Business there for 20 years and it is a great area for someone that has business in the 5 boroughs – you can hop on any means of transportation in a matter of minutes. The Grand Central, The Long Island Expressway, the subway, the 59th Street Bridge and the Tunnel to name a few. I also lived there until I was 10 years old and have great memories of the neighborhood. The City took over our neighborhood and 23 years later, built a school……then we moved to Astoria!

Debra Parisi