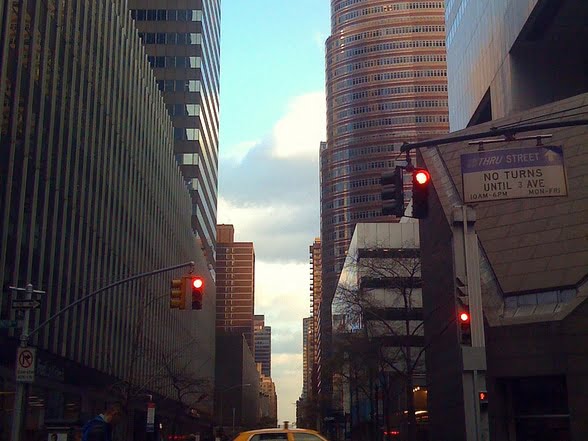 Infomation
While "Midtown" is a blanket term for everything that isn't downtown or uptown in Manhattan, this nabe's boundaries are generally understood to be from the streets numbered in the low thirties to Central Park South. Midtown is Manhattan's central business district, and as a result the majority of skyscrapers lie within its borders. It boasts famous buildings such as the Empire State and the Chrysler Building and is home to a litany of big-name hotels, department stores, and tourist hotspots. This nabe may be filled with corporate headquarters, crammed streets, skyscrapers, and honking horns, but it also hosts an endless number of residents and visitors and a vibe that's filled with life and distinctly NYC.
Top Votes – Score out of 100
Shopping
95%
Shopping 95
Public Transportation 88
Safety 81
Conservatives 80
Tourists 80
Lowest – Score out of 100
Pet friendly
17%
Families 40
Community 28
Quiet 19
Parking 19
Pet friendly 17
Top Reviews from Travel Rentals Neighborhoods
Businesses and Shopping
Midtown, like many NYC nabes, is very busy. This nabe is known for being a big business neighborhood, but there is plenty of shopping to be done.
The areas between park and madison are going to be your touristy and shopping areas, while from 3rd and 2nd eastward you're going to find businessmen.
If you know where to look you can find great niche shopping like Rizzoli bookstore, Bond No.9 cologne or teuscher chocolates (right next to Barneys).
Places like Bloomingdales, and Barneys are still good bets for clothes and gifts. The Apple Store is also always tourist filled, but it's 24-7 so take advantage.
Also, if you have a chance, don't miss PJ Clarke's for one of NY's finest burgers. It's more popular with locals than Houston's (south a few blocks) and in my opinion more genuinely Manhattan.
What's awesome
food, shopping, businesses
What's not so awesome
busy, skyscrapers, tourists
Richard H.
The area below 42nd~ Ktown
If you want to be in the middle of everything- next to every train, person, bus, tourist, taxi cab and don't care about cleanliness, This may be the place for you. If you also want to be able to walk home after eating at Koreatown at 5 am in the am, want delivery of Korean food during the weekend, access to karaoke and bars at anytime during the week, this area is where you need to live. It's expensive to rent, let alone to buy a place, but the convenience of the area is amazing. Next to Path and walkable to almost any train, there will be no long commute.
What's awesome
Korean Food! Late night Food!
What's not so awesome
Tourists in the summer, the crowds, and the rent
Wendy
The Big Engine That Could
Eclectic, Fast, Diverse and Energy mixed with some neighborhoods are some thoughts that come to mind when diagnosing Midtown Manhattan. I've lived inMurray Hill, Midtown East, Midtown West, worked in Gramercy, Times Square and Midtown East and constantly spending my days throughout here for my profession. Whatever your level of comfort is, whether a visit, spin around the "Nabe", daily grind or just being in the scene…Why not experience the New York that makes the city Famous?
Have you ever been so wrapped up in your own day to day you didn't know what's around you? If you can juggle the midtown crowds, flow with the pace and by the end of your day all the noises just sound like peaceful waterfalls then you have truly earned your Midtown stripes!
For these New York souls their energy thrives on this and is drawn from this area. Midtown is truly too broad and ever changing to be categorized so simply. From big financial centers, MTV, Broadway, NBC, The Empire State Building, Grand Central, Carmines, Dylan's, Times Square to FAO Schwartz these are all some of the most recognizable names to most people around the world! But have you ever walked on 32nd between Park and Lexington? Or how about 51st between 1st and 2nd? I bet you didn't know these are beautiful, peaceful and tree-lined blocks nestled so close to all the drama. There is some great real estate for both renters and purchasers a like in these parts to reside in.
New buildings, restaurants and activities are always being put up and put on. In Hell's Kitchen you have the most restaurants per square foot in the entire country! I spent a summer working at one in Times Square and what many forget is that even Movie Stars and Famous folks can be tourists too…;-) Oprah, Fabio and TI were just a few of the names I saw on a weekly basis.
Forget about it! (pronounced: Fuggeddaboudit) The opinions on this location are about as Diverse as the neighborhood itself. If one word were to summarize it, I would say: Eclectic. Love it or hate it, it is the heart of New York City and its Energy is what drives this city! Now I'm no mechanic and don't go sticking my fingers in an engine because they look too hectic, but I know the car needs an engine to run and some folks are better equipped than me to handle engines. Same thing with Midtown. Cherish it for what it is….but for you visiting out of towners make sure you are walking Fast while you are Cherishing it…;)
Ben Willig
The Sunshine Spot
You can feel when you're getting closer to Midtown on the subway. It's strange, but true. Take the subway from around Bedford-Nostrand in Brooklyn to Midtown and you will notice that more and more people are boarding with each stop, and as you transfer you'll find that you have to pick up your pace to keep up. I'm in Midtown at 10AM most days, and right as I take the first step into the daylight from the subway, I feel like I just had an espresso shot. Boom! New York City explodes in front of you. Of course there are places like Times Square and Broadway where you can see the giant LCD screens and buy one of those "I (Heart) NY" shirts, but the place I really like is around 3rd AVE and 50th ST. That's where people in nice suits dash across the street avoiding an endless stream of Taxis. You feel it pumping – a steady beat of business. Someone's on their hands-free cell phone cursing about weekly reports, and someone else is trying to grab an egg sandwich from a vender before his lunch break is over. It's brutal and it can be overwhelming, but it's alive.
On my lunch break one day, I walked to a vender and bought a falafel sandwich for $3. It was excellent. I sat in an area outside of some buildings and banks. It was a kind of communal sitting area with two fountains on Park Avenue. It was cold, but people were still outside, and I noticed that the sun was starting to peak through the clouds. The sunlight grew and soon there was this line of warmth shooting down onto this sitting area. I saw some people sit still with their eyes closed – just enjoying their little ray of sunshine in the bustling city they live in.
It is for all these reasons that I love coming to this area. I don't know if I could live here, and for those who need a quiet place to come home to, I don't recommend it for you either. But if you're passing through New York, I encourage you to stray slightly from the tourist traps and find your way to a place where the everyday New Yorker spends his or her time. You won't regret it.
jade S.
Heartbeat of New York City–Midtown Manhattan
Midtown Manhattan is oftentimes exactly what you think about New York City from what you see in the movies: Exciting, sophisticated, and the center of everything!
You would certainly have a hard time finding a neighborhood that could top Midtown for excitement or for things to do. There are so many offerings that are "staples" of New York City than even a Native New Yorker can spend the day in Midtown and feel like a tourist in their own city. From Hells Kitchen to Broadway and Times Square to Central Park South and down east over to Sutton Place, Midtown offers a little bit of everything.
Midtown offers some of the most fabulous luxury apartments that New York City has to offer. There are many tall, sleek and sexy buildings to choose from with high floor apartments offering what could possible be some of the best skyline views in the world! To go along with these fabulous luxury apartments there is also some of the best shopping in the world along 5th Avenue or at world famed apartment stores including Bloomingdales, Saks, and Tiffanys. For upscale dining I can't think of a better location!
While much of Midtown is on the more expensive and luxurious side , there are certainly some lesser expensive options both on the East Side as well as the far West side. For one thing, Hell's Kitchen—just west of the Theater District—is one of the more popular neighborhoods in Manhattan the young artsy type. Hell's Kitchendefinitely has some of the best dining options in the area for those on a budget and some of the better Thai food restaurants in the city.
Further East in the Turtle Bay area you have what I call the "Happy Hour Crowd" with lots of young suits lining up at the local bars for drink specials, but there are also some fabulous long time neighborhood options for those of us who may not look forward to a loud and noisy bar night after night.
all in all, if I had to pick my dream apartment in New York City it would most definitely be something in Midtown. A High in the Sky condominium, sleek and modern with expansive views of the city…just that quintessential New York City experience.
Janine Young
Midtown Manhattan…Where the Stars Aline!
Ever since I was a kid, I was always enthralled with the GE Building. For those of you who don't know, this skyscraper is the headquarters of NBC Studios. This is where many of the late night hosts such as David Letterman and Conan O'Brien held their shows.
But my fascination was built around one show, Saturday Night Live. In this building, the greatest actors, comedians, musicians and celebrities came to provide late night entertainment to all of America. Having the opportunity to be inside the building where all this history could be found was quite an experience. Remembering the great sketches from the generation of actors was a memory that I will cherish. The feeling you have once you realize what this building means counters anything negative about the city. Whether it is the tourists always taking pictures, the loud sounds coming from the city, or even the fact their is little night life. That one value of the GE Building will always be the most important for me. So if you are an SNLFan, a Jimmy Fallon Fan, or even just a fan of television history, check out Midtown and make sure to get over to Rockefeller Plaza. You will see a lot of familiar shots of statues and buildings and you just might run into some of the actors!
Nick B.
Corporate and tourist haven, but is it residential?
The term "Midtown" may be the most ambiguous in all of Manhattan's nabe network as renters, visitors, and city folks as a collective wonder – what exactly is Midtown? Yes, Midtown is indeed the home of Grand Central and a hub of major financial, legal, and retail branches, but besides corporate mishmash and tourist eye candy, is there really something cohesive that defines "Midtown"? While Williamsburg may be known for its hipsters and the Upper East for its Park Ave trust fund shoppers, Midtown seems like floater territory.
Which is when the demystifying begins. Midtown is essentially a medley of corporate quarters, tourist must-see locations, and residential blocks (as you walk towards the east). And the rumors about Midtown being a cradle of corporate canoodling is true as well. Everything from JP Morgan to Met Life to Morgan Stanley has a glass building and an army of cubicles here so any 8 AM walk from Central Park South down to the New York Public Library on 42nd and 5th will be sure to include at least two dozen sitings of men in full-bodied black suits and Hermes ties. I'm also placing my bets that this stretch of road witnesses the highest number of Louboutins in the city during workday hours (besides Wall Street, maybe).
And this is not to include New York's Apple store headquarters a stone's throw away from Central Park as well as Saks, Bergdorf Goodman, and Louis Vuitton which all showcase their main storefronts in the area. It's a brand-name shopper's mecca for sure, but also a place native New Yorkers must share with throngs of tourists. And literally, throngs. I've walked past the Abercrombie & Fitch at least a dozen times by now and EVERY time there is always a line that winds down and around the block, reputedly out-of-towners.
Which gets to the ultimate question – is this actually a good place to live? Yes and no. If you're envisioning the "Midtown" around 6th, 5th, and Park Ave, you're likely to find a lot of street traffic and expensive housing (usually purchased by folks like JP Morgan's Jamie Dimon as opposed to those who just want to find a decent two-bedroom flat to raise their kids and get on with their life). Further eastward towardMurray Hill and the northern tip of Gramercy, rental and mortgage rates start to really curve downward. And the stretch of buildings by 1st Ave that should all be flagged by those living in New York on a budget.
Betty J.
As far as living goes, Midtown probably is not the best bet for someone who does not lead a corporate life (unless you're really in to being super closer to work). The neighborhood shuts down pretty much after 6 p.m. There isn't much in the way of nightlife, nor family activities. However for the professional who plans on being at the office late, or wants to walk to work, the neighborhood is ideal. There are countless lunch spots to choose from and a handful of bars for a good happy hour or business lunch. But mostly, this neighborhood is populated by office buildings and a 9-5 crowd.
bbb
I am not a big fan of Midtown. I'll go there every once in a while if there's something I need to get, or on the rare occasion that I'm seeing a show, but I hate dealing with the crowds. Plus, it's ridiculously expensive. Just a very gaudy, obnoxious place. Everything that's wrong with New York in my eyes gets summed up in five minutes in Times Square.
bbb
Keep me away from here
Midtown is about the kitschiest, loudest, most annoying place in the whole wide world I think. I am not thin and I am not fast but walking behind the slow tourists in Midtown is EXCRUTIATING. Obviously, as a New Hampshire native whenever my family comes they want to go down there and I won't pretend like there aren't some nice restaurants in Midtown but I would rather eat at McDonald's most days than brave the crowds in Midtown.
Nick G.
NEARBY NABES
Murray Hill
Roosevelt Island
Tudor City
Sutton Place
Chelsea
Gramercy