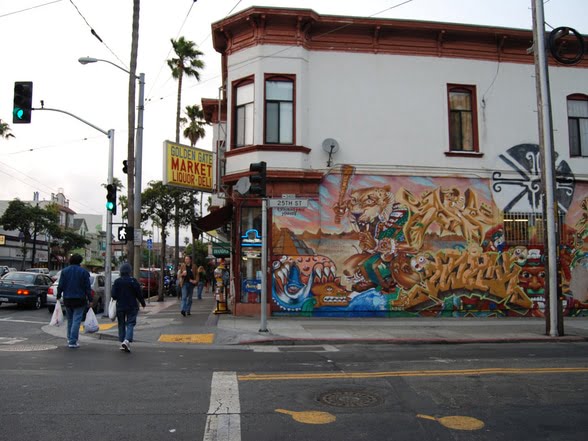 Mission District
by nabewise
don't forget the infamous bacon wrapped hot dog carts. Just do it, it's 2 am, you're hungry and in the Mission. They are well worth the calories.

Where to drink/party:

If you like Reggae and dancing:
Little Baobab-
I love this place! If you dig Reggae, hard core dancing and a culturally mixed vibe-COME HERE! Plus, Beauty Bar is right next-door for when you want to switch scenery/vibe/music. There is also good African food here when the place isn't a dance club and is a restaurant.

If you just want to have a good time: 16th Street/ 24 Street-

Head to 16th Street and check out Dalva and Thieves Tavern. Both have a mellow vibe, good music, cheap drinks and decent bathrooms. BEWARE there are a lot of hipsters in both of these bars. If you are looking for a change of vibe on 16th from the hipsters, head to the German bar, Gestalt Haus. I like the selection of beers they have on tap here, and the staff all are very interesting to converse with. Usually a fun vibe going on here every night of the week.

After 16th…brave the semi sketchy late night 8-block walk over to 24th Street. On your way stop at 22nd and hit up the Make-Out-Room. This place has $5 24th and head to The Attic Club and Thieves Tavern. Trust me, go to both of these bars and you will have a great time, no questions asked.

Last and not least: check out the graffiti, it's really amazing artwork and a day walk in itself.

Bottom line:
If you learn to love the Mission for what it is; a place that is slightly dirty, culturally diverse, has great bars, and contains delicisous Mexican food and markets— you will fall in love with it as much as I have.

Krista N.
The Mission is in the midst of its second culture clash in less than a decade. The first came with the dot-com boom, but retreated with the burst of the bubble. Round two has come about from a new wave of entrepreneurs and starts-ups seeking low rents. The forces of gentrification are palpable. On a weekday morning, a flood of white commuters approach the 24th and Mission BART from Valencia to the west, the obvious newcomers to the area. All along Mission street are restaurants and services for the Latino community, while just over on Valencia a new restaurant comes in almost every month, at prices inaccessible to the minorities who were here first.

The area has an incredible selection of food, with lots of chef-owners venturing in to try new concepts. In the last six month, Blue Fig and Mr. Pollo have garnered loyal Yelp followings. Mission staples like Revolution Cafe and Elbo Room are among the best night spots in the city, and of course Taqueiras El Farolito and Cancun regularly contend for best burrito in SF.

Coffee enthusiasts draw battle lines over Philz, Four Barrel, Ritual Roasters and more than 40 other coffee shops. An eclectic mix of high end artisan shops complement the thrift stores on Valencia, drawing dressed down Marina and Pac Heights money to mix with broke hipsters.

Fi-Di types will feel out of place in business attire, surrounded here by tats and piercings and white girls with dreads. All types are welcome but leave the pretension on Market. The artist's scene is exceptional, if you can find it. Poetry slams, dance, and experimental art abound, and hopefully won't be driven out by tech start-ups driving out specialty book stores.

The Mission is, without doubt, the most dynamic neighborhood in the city. It will continue to rapidly evolve. In midst of the recession, housing values in some areas rose as much as 25%. As the next real estate boom ramps up, expect to see dramatic changes here in the near future.bbb
Ex Missionite

Used to live here and we loved it. The food is great the drinks are strong, life is vibrant and the weather is some of the best in the city. Our only gripes were the lack of shopping within walking distance for food, goods and stuff, and the slight isolation of the neighbourhood from the rest of the city. There is always the slight concern about safety late at night but if you are sensible it is perfectly safe. We moved to Polk Gulch which just felt more like our kind of hood, but look back on our time there with fondness.

Alex H.
Mission, Mission.

Ah, the Mission.

A lot of people underestimate how big this neighborhood really is, so it's hard to write a review that encompasses all aspects of it. The cleanliness/sketchiness factor of the neighborhood also varies dramatically street by street — for instance, while Valencia's filled with bike lanes, vintage boutiques, and trendy restaurants, Mission St next door is filled with Mexican bodegas, taquerias, and sketchy folk. For a broad generalization, I'd say that the neighborhood can be split up between 16 St.-Mission and 24th St. Mission.

The 16th St. Mission area (in this case, I'm talking about the area around the 16th StBART stop, Valencia, Dolores Park) is definitely more gentrified than the 24th Street area. 18th Street is so hip and happening with its trendy restaurants — BiRite Creamery, Pizzeria Delfina, Tartine Bakery — that you'll be lucky if you have a wait that's less than 45 minutes. 24th Street side is definitely more colorful, more ethnic, and tends to be a little less touristy and ritzy than 18th Street.

The Mission was a great place to live in San Francisco — happening, fairly central, great food — but it also had its downsides. When I left last year, gang violence was at an all-time high — there was at least a shooting in the neighborhood once a week. The area can also be filthy — trash everywhere, homeless men sleeping in apartment doorways. And because the scene ss so happening, bars and restaurants tend to be so unpleasantly crowded and loud. Bars almost often exceed their allowed occupancy limits.

This was a great place to live for a year and a half, but ultimately I ended up leaving because the hustle and the bustle and the grind of the neighborhood/city ended up being too much. You feel like you're always on all the time, and I really couldn't find the peace and rest I needed while living here.

Michelle L.
First stop. . . the Mission!

I was terrified of the Mission. It was the very first place I lived in San Francisco, and despite the many inspiring murals and little Hispanic ladies that I wanted to hug, I felt a little wary. I had my share of sketchy encounters at the BART stations and walking home to Harrison and 24th. Once you hit up the Haight, though, you realize the Mission has some of the less aggressive crazies and it's totally the coolest place to hang out, thrift shop, and dance to 80s music.

What's awesome

The bars, Dolores Park, rent prices

What's not so awesome

taking the 14, parking, cell reception at Dolores Park

Jenna P.
Viva La Misson!!

Loved the quiet calm of the neighborhood all the while you are surrounded by a great sense of Latino pride. The murals are amazing!! Everything you need is within walking distance, shops, food, bars and everyone is very friendly. Love this neighborhood!

What's awesome

Murals and the friendliness of the locals

What's not so awesome

The upset stomach you get from eating all that latin goodness!

Niki B.
It's own kind of beauty

Food. Food. Food. Ethnic food, check. Farmers market, check. Bacon maple apple donut, check. (I'm serious about that last one. If you haven't been to Dynamo Donuts, it's a must.) The Mission is home to the best Mexican food North of San Diego, and the atmosphere is electric. Though certainly not the cleanest of neighborhoods, nearly every wall is covered in vibrant murals, and it gives the Mission a beauty unlike anywhere else in the city. Transportation to the Mission is easy, with both underground and above ground busses. It's dog friendly, though it lacks an off leash park as far as I know. My favorite spots, aside from Dynamo, are La Taqueria, where the quesadillas are to die for and the agua fresca is just sweet enough, and the Mission Cultural Center, where you can take silk screening classes from Calixto Robles on Sundays for just $15 (there are tons of other great classes to take there too, from dancing to guitar to drawing and more). The Mission has something to offer everyone. And plenty of coffee shops for the hipsters.

What's awesome

kati
Mission the new place to be?

The Mission is the most hip neighborhood in the city, and I'm not just saying that because I live in the heart of the Mission, Valencia street is packed full of great bars and restaurants. The bar scene is the most packed any day of the night. The bars in the Mission go from the shared picnic tables of Zeitgeist (Great for Bloody Mary drinkers and greasy grilled bar food, to upscale clubs like Medjool. The Mission is a great place full of life and electricity that will keep you coming back for more

Timothy C.
The Mission's mission

It's dirty, it's loud, it's smells of bacon wrapped hot dogs. There's bars. There's beer. Hipsters everywhere. But it's two different worlds depending on which street you travel. Get the dirty gritty feel like an amble down the streets of Santa Ana or some parts of Mexico (MEh-hi-co) walking down the main drag. Lots of bar and dogs. Or get the swankier upscale feel, walking down the trendier boutique-esqe Valencia.

Kelly S.
Color and Light in the Misson

The Mission District offers a balanced mix of grit and sophistication: hole-in-the-wall taquerias meet trendy, polished bakeries and coffee shops. But more than anything, the area is a magical place for anyone who has a particular interest in art, architecture or photography.

Every day I go wandering from my doorstep over to 16th and Mission to catch the BART downtown, and I always take alternative, zig-zagging routes, just for the experience of color and light, of which there is plenty (weather-dependent, of course).The Mission is knowingly imbedded with great linguistic and cultural diversity. The artistic manifestations of this are awe-inspiring and evoke a sense of community as palpable as the artwork itself. Even the subtle, colorful philosophical writings on the street serve as a brilliant addition to the Mission's robust array of street art. Something as simple as the phrase "good nite," painted on a sidewalk in bold red cursive, can be comforting for the lone walker to read as they briskly walk home while dusk falls. Keep an eye out for it!

In the Mission, catchy little artistic displays of self-expression pop up and surprise you everywhere you walk, and this can be quite inspiring on some idle Tuesday afternoon when you are experiencing equal cravings for a strong coffee or a glass of red wine, grudgingly trotting back to work.

I can think of no better place for an artist/ photographer/ creative type to live, and for those who speak Spanish, it's even more exhilarating.

And… it's a book-lover's paradise (new + used book stores along Valencia). And a coffee-lover's paradise. 1- The Summit, at 780 Valencia; 2- Ritual, at 1026 Valencia, and 3- Dolores Park Cafe, at the corner of Dolores and 18th. On a sunny day, Dolores Park is flooded with sun-seekers, musicians, and all kinds of activity. Free tennis courts are a plus.

So art, color and light it's the sunniest neighborhood in San Francisco (!) and much, much more, this is the ideal place to be.

Emily S.
El Mission the Capitial of Mexico

Oh the Vatos locos, the fixies, the Hells Angels, the Ice cream carts, the Tamale lady, the Empanada dude, the after hours Absinthe speakeasy's, the Warehouse party's, and of course the Homeless.

I left San Francisco with my GF, Tony Bennet left a heart and mine as well in San Francisco—and the only time a dude should have a flower in his hair is if you just fought a hippie btw—as I long for drunken stoney days—Mr. Nice guy Dispensary around the corner—in the yard at the Zeitgeist and grabbing a organic humane kill cheeseburger for 6 bucks. Tumble down to Delores park on some sort of wheels. It's one of the few places in SF that is flat and hangout on Gay Beach—near the top away from 200 or so hipsters. Enjoy they view of downtown and the bay as well as Mission High. After the sun sets and the cold fog rolls down the hill stumble on to the 500 club for free sunday bbq and 5 beer and shot.

RENT, not cheap but worth 24/7 Camelot weather folks. The closer you get to market street or SOMA the rent will be higher and less junkiefied. Did i mention the drug markets of 16th and Mission as well as 24th and Mission? The further south you go the cheaper the rent SHOULD be but that is all relative. Past 30th street might as well be L.A. to some but the mission extends far into the excelsior. All serviceable by BART—subway—and MUNI—bus light rail. Over by general hospital Potrero area is not the greatest but like i said is all relative.

Food is kinda pricey compared to the rest of the Country so if you are visiting go straight to Safeway and stock up on cheap food and wine. Grocery Stores are great in the hood numerous local Mexican owned grocers, organic worker owned Rainbow and Safe way is a block out of the hood up market and Valencia and another on 24th and Potrero. Oh word of advice w/ rainbow 20% off coupons in the yellow pages but shopper beware of coupon day at rainbow is a Technicolor dream-coat of funkers vying for foodstuffs.

Cabs = The most expensive in the USA. if your visiting longer than a week buy a bike for 100ish bucks and be stoked. As dropping the flag in a cab here is close to 4 bucks. Or rent a bike. OR OR, go to http://www.bikekitchen.org/ and build a bike for 40 bucks if you can turn a wrench… if you cant somebody will help you. I used to.

Overall minuses of the mission are as follows, if your not watching yourself and have had a few in the wrong alley alone. You might get robbed. There I said it, so beCAREFUL.
If you have a rental car lock your shit in the hotel, crackheads are crafty not like quilting.

Peter H.
Park Life

In San Francisco in general, the lifestyle of young 20-somethings centers around the city's beautiful parks. This holds especially true in the Mission. Daytime on the weekends you'll find huge gatherings of people chilling out at Dolores park. Smile, throw up your deuces, say "park life" and you'll fit right in.

bbb
Live and Die in the Mission

Mission residents are die-hard Missionites. I don't think they could easily live elsewhere in the city, and forget about them setting foot in the Marina…EVER. That said, the Mission is a wonderful village within the city—with great murals, food, and culture—but has a tendency to be an self-incubated.

bbb
Mission accomplished

If you can get past the hoards of hipsters who have chosen to populate the Mission in great numbers, you can discover a culturally vibrant nabe with some amazing architecture. The Mission is perhaps best known for being full of dining options where the farm to table aesthetic is in full swing. Nightlife is hopping and there never seems to be a dull night. Check out the alleys that local artists have covered with artwork and murals. Balmy and Clarion are two of my faves.

Gena F.
Burritos and Hipsters unite!

The Mission is very eclectic. You'll often hear of, and see, the Hipster crowd in this nabe. If you're looking for a quiet hood to live in, this isn't it. Noisy streets include: 16th, 18th, Valenicia, Mission, and Guerrero. However, if you are looking for a younger, hipper, artistic nabe with a lot of magnetic night life, this is your place. Must eat a burrito when you are here! Rainbow Grocery is a really great co-op grocery store if you're looking for local, organic, and healthy nutrition. Looking for a morning bun? Tartine, on 18th and Guerrero, has a line that goes around the block on the weekends. Unfortunately it's hard to tag this nabe with a solid rent range: it varies enormously.

bbb