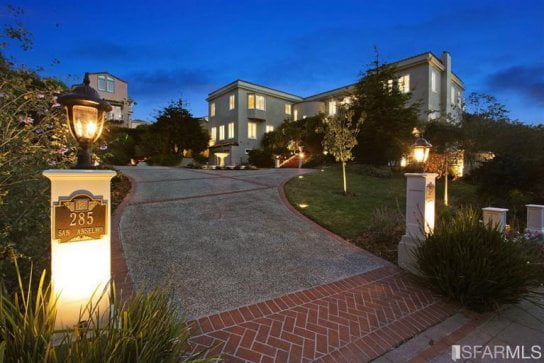 Saint Francis Wood
by nabewise
Infomation
Marked by attractive pillared entryways, St. Francis Wood is an exclusive residential nabe in central San Francisco at the foot of Sherwood Forest. Originally conceived as a residence park, palatial homes are the norm here and European style fountains pepper the landscape. The green space is noteworthy for San Francisco with each home having a front and backyard.
Top Votes – Score out of 100
Wealthy 100%
Families 99%
Clean 97%
Safety 94%
Quiet 94%
Lowest – Score out of 100
Dining 44%
Green space 42%
Nightlife 31%
Shopping 19%
Singles 0%
Top Reviews from Travel Rentals Neighborhoods
Livin the Life

It's ritzy. It's glamorous. It's as suburban as you can get within a city. Saint Francis Wood is different from the other upscale neighborhoods in San Francisco because if there are famous people living there, you don't know about it. That, and the houses are different. Not only are they overwhelmingly huge, but they tend to have front and backyards as well, a rarity in the city where most houses share walls on either side and have no yards. When people think upscale neighborhoods in San Francisco they think Sea Cliff,Presidio Heights, and Pacific Heights, but Saint Francis Wood does a good job of flying under the radar. Though it doesn't have shops of its own, it is close to West Portal which provides dining and shopping options.

What's awesome

privacy, quiet, shortcuts

What's not so awesome

Kati S
Life in The Wood

This neighborhood has a very low profile among most people in San Francisco, and the residents prefer it that way. There are no businesses here — to go shopping or get something to eat you could cross Portola and go to the West Portal strip, which also has a Muni rail station. But residents here enjoy a park-like setting with multiple fountains, and the houses are unattached with front and back yards.

bbb
Prince of Saint Francis Wood

Now this is a story all about how
My life got flip-turned upside down
And I'd like to take a minute, if you would
To tell you how became the Prince of Saint Francis Wood

It was South of Market, born and raised
On the playground was where I spend most of my days
When a couple of guys who were up to no good
Started makin' trouble in my neighborhood
I got in one little fight and my mom got
And said, "You're movin' with your aunty and uncle in…Saint Francis Wood

I whistled for a cab and when it came near
I saw that it was a Range Rover and had an "O" parking permit in the mirror
Perfect for driving kids to prestigious private schools if I could,
So I hopped inside on to Saint Francis Wood

I pulled up to a house about seven or eight
And I yelled to the cabby, "Yo holmes, smell you later"
Looked at my Italian Renaissance style home with a huge yard, what a beautiful 'hood,
To settle my throne as the prince of Saint Francis Wood

What's awesome

This prestigious community boasts some of the most beautiful homes in San Francisco, where 85% of residents own their homes. If you're living here, you're pretty much got it made. The yards are giant, there are beautiful trees everywhere, it's clean and there's a low crime rate.

What's not so awesome

SO EXPENSIVE
no nightlife, no renters.

Chloe N.
Exclusive

A very exclusive, quiet and beautiful neighborhood. Most residents can only imagine living here in their dreams. If you're one of the ones able to live here in reality, you're incredibly lucky.

Michaela Ann M.
Expensive Saint Francis

You don't find many younger folk living in this area, unless living with their parents. It's on the other side of the city, so not much of a night life (think: Upper East Side of SF). If you are commuting to the FiDi, public transportation isn't great, though it is close to the M at the West Portal Station.

Jessie W.