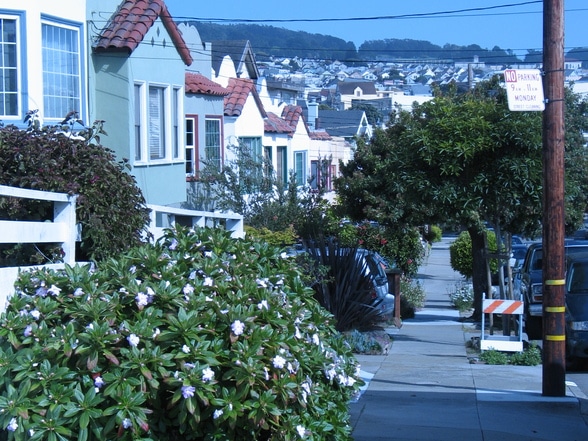 Mission Terrace
by nabewise
Infomation
A cohesive community thrives in Mission Terrace, where residents seek to beautify and maintain the intimate quality of this San Francisco nabe. Built in the 20s and 30s, the nabe has undergone many transformations as major transportation corridors have impacted the community. It's bounded on the north and west by Interstate 280, on the east by Mission Street, where low-key Excelsior begins, and to the south by Geneva Avenue. Balboa Park and its BART station are located in the southwest corner of the neighborhood.
Mission Terrace, San Francisco Data : Neighborhoods & Travel – Score out of 100
LOWEST ATTRIBUTES
Green space 50
Nightlife 42
Singles 42
Shopping 19
Income 11
Mission Terrace, San Francisco Reviews
Family Living in San Francisco
Mission Terrace is a family-friendly place to live. As San Francisco real estate goes, housing is fairly affordable and the streets are safe and quiet. It has excellent transportation access with two BART stations on its north and south border (Glen Park and Balboa respectively), the J-Church line, quick access to I280, and quick access to US101 via Alemany.
There are also many restaurant options on the Mission st. border with the Excelsior, including Sushi, Thai, Philippine, Mexican, Chinese and too many others to list. For lunch Roxy Sandwiches is right on San Jose.
Balboa Park is a large feature of Mission Terrace and includes a city swimming pool, four baseball fields, a Soccer field, and a refurbished playground.
In terms of weather, Mission Terrace is sunnier than the western neighborhoods and even at the height of fog season tends to have sunny afternoons.
Mission Terrace is entirely within the attendance area of a single public elementary school: Monroe, which includes a Spanish immersion program and has an API of 808, with scores rising every year. The current plan is for Monroe students to feed into Hoover middle school, one of the best in the city. Balboa high school in Mission Terrace is also a school on the rise, now boasts a waiting list every year, and has passed Lincoln in terms of test scores.
Scott O.
Friendly Folks
When I lived here for a spell my friends were super jealous. There isn't much goin' on, but it's gotta certain… what's that french word I should be usin' here?
A lot of people give Roxy Market props, but my favorite was always Red Sea Market. Dude, I mean, c'mon… they have a pizza shop INSIDE. They deliver. I don't mean they deliver just pizza. If I needed a razor, a bag of chips and some Mary Ellen grape jelly (Don't ask what it's all for. That's top secret) my boy Marcos would deliver on his pizza route. They're friendly folks.
That's kinda the feel you get all over in Mission Terrace. Friendly folks, just goin' about their buisness, makin' it in life, playin' softball at the park, doin' laps at the pool, kickin' it on the corner in front of the market, fixin' up the ol' jallopy in their driveway. Just friendly, good people in this hood. It was kinda hard to move away.
Joe C.
Loving it at Mission Terrace
We recently moved here and so we love it! The lovely sunny afternoons, the tree-lined streets, and the friendly neighbors. We've been loving how close everything is – the Bart, the Red Sea market, 2 libraries (one at excelsior and one at Glen Park) the stretch of Balboa Park. even though the freeway is close, allowing us to get to the Penninsula easily, we dont hear any freeway noise at all.
What's awesome
Walkability, sunshine, pretty streets.
Oompa L.
Next up to gentrify
You're not going to be blown away by Mission Terrace. It's in a rougher part of the city and 280 runs overhead, which is pretty noisy. Having said that, there are some good deals here and I'm sure it will follow suit and gentrify like the rest of city.
Gena F.