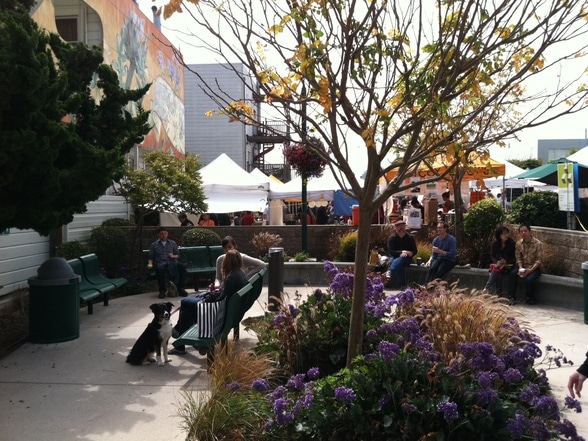 Infomation
San Francisco living doesn't get much better than life in Noe Valley where the sun almost always shines and the Victorians along the tree lined streets steal the show. Recently, Noe Valley has become a highly sought after locale to newcomers attracted to its streets and serene lifestyle. 24th Street marks its commercial corridor, where neighbors stroll and congregate at its many cafes and restaurants. Above 22nd St., the Castro and Mission Dolores offer colorful nightlife while the popular Mission Dolores Park and neighboring community is rich with history and culture.
Top Votes – Score out of 100
Clean 90
Safety 87
Quiet 83
Families 83
Community 82
Lowest – Score out of 100
Green space 58
Income 55
Parking 52
Nightlife 44
Singles 31
Top Reviews from Travel Rentals Neighborhoods
Noe Valley: Refuge in the south part of San Francisco

I've lived in Noe for the past 12 years. I'm actually located on the Noe-Mission border, which means I can walk to the Church Street corridor and hit all the restaurants there, or over to Mission/Valencia. Public transportation is no more than a ten-minute walk away, and the freeway is a couple minutes' drive.

Noe prices home prices remain high, but rents have stabilized somewhat. The weather is typically much better than in other areas of the city.

The sense of community in Noe is excellent. I'm on the board of the 30th Street Senior Center, as well as the Upper Noe Neighbors. I've made good friends through these groups, and there are plenty of other ways to connect.

You generally will want a kid or a dog to live in Noe. But they're not requirements. 🙂

Eileen
Strollers, dogs, and pregnant women, oh my!

Strollers, dogs, and pregnant women are never in short supply in Noe Valley. One of the premier neighborhoods for raising a family, visitors can tell right away that there is a strong community here. Residents of Noe Valley have pride in living there, pride that is often represented on the 100% cotton "Noe Valley" shirts they tend to be seen sporting around town. With several schools in the area, in the afternoons 24th street becomes the stomping grounds for the teeny bopper crew, who feel independent wandering around without their parents. At night there is a constantly flow of policemen, making sure they get to Starbucks before closing time.

What's awesome

What's not so awesome

Kati S
Noe Valley: In the middle of the action

Noe Valley is for the most part a high end residential area. Noe Valley is close to the Castro a world famous part of the town which is decorated with gay flags on all its main streets. On the other side there is the Mission District, a place where if you're looking for the best Mexican food and night time Jazz clubs it's where you should be. If shopping is your thing then you should start on 24th street and never make a turn. You will find everything you need from organic fruits and vegetables to clothes from Eastern Europe. In the middle of all this commotion Noe Valley is a peaceful place which can be represented best by Dolores Park. Whether it's Walking your dog or just going for a mid-day run, Dolores Park is always a sunny place. It's also the only public playground in SF that has night lights in place for its tennis courts.

Gary P
Brunch for Noe Valley

Noe Valley residents are serious about their brunch. Great views of the fog coming over Twin Peaks, and sweeping views of the Bay to the south. You see a lot of strollers and golden retrievers in this nabe

Jessie W.
Stroller City

If you wait until the sun goes down and the strollers are safely away at home, and not taking up half of the sidewalks, you'll actually find some pretty nice dining and drinking options in Noe Valley.

Kristine J
Family Friendly

I don't really visit Noe Valley much. It isn't really a place a single girl like me will make pit stops unless I'm just passing through. The cost of visit and cost of living are just too high.

It's certainly a family friendly area. For moms and dads in charge of a brood of kids during the week, the area has some pretty nice upscale restaurants to get away and enjoy some big people time during the evenings and on the weekend. It's the perfect little oasis for parents looking to raise their children in a safe, sunny and fairly quiet environment AND have a little getaway time to themselves.

Michaela Ann
Steep streets and prices in Noe Valley

Not far from the Castro and the Mission, making Noe Valley a quiet, clean neighborhood with close proximity to vibrant areas of the city. There isn't much character to Noe Valley, and a pricey neighborhood at that. Best to find older friends who live here and visit often for cocktails and brunch.

emily W.