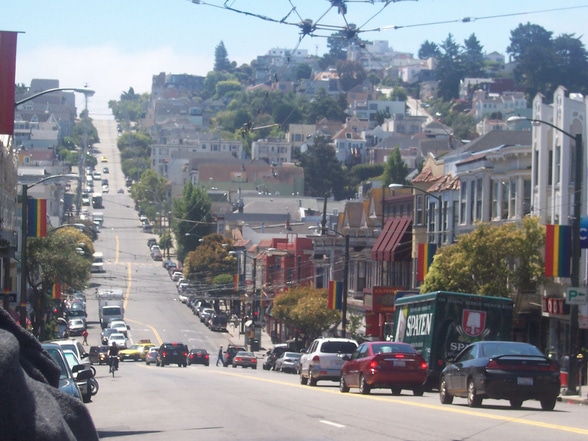 Infomation
The Castro is a vibrant and trendy nabe cradled by the Eureka Valley. Liberally minded activism has long nurtured a cohesive community identity in the Castro. Beautifully maintained Victorians line its residential streets and the Castro theatre with its neon marquee stands as the nabe's most well known and loved landmark. Crowds fill the cafes and nightlife buzzes near the intersection of Market and Castro Streets. The nearby Mission Dolores is known for its great restaurants and popular outdoor destination, Dolores park.
Top Votes – Score out of 100
Nightlife 97
Public Transportation 88
Dining 86
Community 86
Singles 85
Lowest – Score out of 100
Green space 50
Empty nesters 49
Parking 43
Quiet 34
Seniors 29
Top Reviews from Travel Rentals Neighborhoods
Disneyland for adults

My friends and I loooove visiting the Castro. Hungry? Why not go to the Castro- there's food for all types. Chinese? Indian? Burgers? No problem! The Castro has it all!
This review is sounding like a sales pitch- but thats just how great the place is. Anything you want or need is at the Castro. Plus, during June its THE place to be. Pride Weekend (the last weekend in June) is the most exciting thing you've ever seen. Everyone's happy and sharing their love. It really is Disneyland for adults.

Jane D.
The flag flies proud

Which ever way you get to the Castro, walk, bus, muni, or drive. You cannot miss the huge rainbow flag that invites you in. Castro is the gay/lesbian neighborhood and home to our beloved Harvey Milk, first openly gay politician. Castro neighbors the mission, downtown, and corbett heights neighborhoods and is arms length to so much good food and exciting bars/night life. The main street, Castro Street, holds the historical Castro Theatre, restaurants, bars, and retail stores. The convenient muni enters the Castro, right on Castro street and Market. You turn the corner and you are greeted with more restaurants from bottomless mimosas and hip hop music for brunch to a delightful 4 star restaurant. The always sunny neighborhood of San Francisco is always a great place to visit, I personally do no live here but visit quite often. The people who live in the neighborhood are more than welcoming to tourists and other natives who enjoy the great coffee of Philz on 18th street and Noe and other great exciting spots.

Tipay C.
I heart the Castro

Who doesn't love the Castro? I'm sure there are some who don't but I am not one of them. Most importantly, the residents of the Castro love the Castro and you can tell. It's a beautiful part of town where the houses are nearly all impeccably cared for. The commercial streets are lively while the residential ones are quiet and peaceful. My only complaint would be the lack of great restaurants but just hop on the bus and head for the Mission.

Gena F.
Pride!

If you don't know much about San Francisco, you probably have still heard of the Castro District. Starting at Market, the main circle where you enter the Castro is proudly adorned with a giant, fluttering rainbow flag. The Halloween celebration here is legendary, with people spilling out of bars and into the streets throughout the night. The old Market Street cable car will take you to the Castro, and Muni lines make the Castro very accessible. The people are friendly and the shopping is great!

Jessie W.
There's No Such Thing as Too Much Rainbow

Do you like fun? Do you like feathers? Do you like food? Do you like dogs? The most colorful (literally) neighborhood in San Francisco is both a tight-knit liberally minded community and a welcoming spot for outsiders. Famous for being San Francisco's epicenter for gay pride, The Castro lives up to it's reputation with bells and whistles.

The lovingly maintained Victorian residences and clusters of fun stores and café's construct a necessary destination for the relatively open-minded tourist (though those with small children should be cautious, as there are quite a few adult-themed stores). Shopping is definitely fun, but women aren't going to take home a huge haul, unless you are looking for a plethora of raincoats for your chihuahua. The lively nightlife provides a unique experience and endless opportunities for fun. Visit the famous 1920's-era Castro Theatre to catch a classic or kitschy movie, or to just marvel at it's charming beauty. In fact, the entire nabe is a charming beauty, and most of the residents are pretty charming and beautiful as well.

What's awesome

It's charming, and beautiful! So much variety in food and entertainment.

What's not so awesome

Some stores are a leeettle inappropriate for children and grandma's

Chloe N.
Cocktails, Cuties, Castro

My first San Francisco apartment was in Duboce Triangle, on 14th Street, very near the heart of the Castro. This little nook of gay pride remains one of my favorite neighborhoods as we share a love of a good happy hour deal, dance music, and a toned bod.

Many Castro bars feature two-for-one drinks for happy hour, making it a great nabe to start any night out. The music, in my opinion, is usually pretty good, too, featuring all the newest dance/pop hits and the 20 different house remixes of each one. Having lived a long time in a house with two gay men in their early 20's, the ambiance of any Castro bar often brings back fond memories.

It's a charming neighborhood; clean and safe while still maintaining a local vibe, without too much gentrification. There are a good amount of cute, local cafes and shops to pop into if you're wandering the area (though shopping is much better for men than women in the Castro, for obvious reasons).

I also love the appreciation for health and fitness in this neighborhood. Having moved to SF from Southern California, I've been slow to adjust to NorCal's definition of "fit," which seems to place more importance on organic food and holistic health than flat abs and a toned tush. The Castro seems to maintain a good balance between the two, and I'm glad I can visit the Market St 24 Hour Fitness and be among my fellow-gym rats. Though the men may be off limits, I still appreciate their hard work ; )

Some may be a bit uncomfortable with the Castro's flamboyant vibe, the fun and sassy attitude is what I love most about this neighborhood.

What's awesome

Cheapest happy hours in the city! Brunch Brunch Brunch

Candace L.
The Grabby's

Once upon a time, I had just gotten off of the 24 bus line and was walking into Castro station to take the underground. I noticed a horde of people standing outside of the famous Castro Theatre. "Excuse me," I said, stopping a gay couple about to cross the street. "What's going on today?" "It's the Grabby's," they told me. "It's like the Emmy's, but for gay porn." I thanked them, told them to have a wonderful time, and they squeezed my arm and wished me a great day. It wasn't until I saw the look on my cousins face (she was visiting from Oregon), that I realized this type of interaction isn't normal anywhere else but the Castro district in San Francisco. To me, the Castro represents what it means to be exposed to San Francisco. It's a place you can't help falling in love with, and in exchange it opens your mind without you ever noticing. Castro is home to some of the friendliest people you will ever meet. If you're going to San Francisco, you're going to meet, some gentle people there. In the Castro, the day never ends. The bars are raging into the wee hours of the night, and Orphan Andy's 24 hour diner is open, well, 24 hours. When you regularly visit the Castro, you find yourself making friends with the people who work there, and the people who live there. These relationships are unlike relationships you're going to encounter anywhere else but in San Francisco. Yes, the Castro is known for being a gay neighborhood, and it's great that the city offers such a utopia, but really the Castro is just a place for friendly smiles and conversations among strangers. There is nothing better on a sunny day than shopping around Castro, walking to Dolores Park, and making your way back to Orphan Andy's for a late night snack. And admit it, who can resist Sing Along Sound of Music?

Kati S
The Castro

Below the bold rainbow flags and overwhelming stance of Sutro tower lies the collection of familiar faces and eclectic shops and restaurants famously known as the Castro. Known to host the likes of gay rights advocates such as Harvey Milk, this neighborhood still represents one the city's most open and friendly group of San Franciscans. Still relatively new to its identity, the neighborhood adopted its claim to fame as a gay center during the Summer of Love in 1967. Dotted with large Victorian homes and verdant parks, the Castro is still responsible for hosting many LGBTevents such as the Castro street fair. One of the most famous events held in the Castro was the annual Halloween party, which sadly ended in 2007 due to street violence. While in the Castro, make sure to lunch at Chow, a personal favorite, which displays an impressive menu of organic fare such as vegetable lasagna, burgers and freshly squeezed fruit juices. If you have an appetite for something mystical, get an extensive tarot card reading from Louise at Crystal Way on Market Street. Don't forget to visit the famous Castro movie house, a landmark that can be spotted miles away from its large rouge lettering atop the marquee. There are also countless coffee shops to visit, including Castro Coffee Company, which offers a wide variety of blends. With its fun atmosphere and gorgeous surroundings, the Castro is one of San Francisco's destination that is surely not to be missed.

amy v.
Pride of The City

There are so many reasons to love the Castro. Not only is it home to some of San Francisco's most beautiful people, it's just a really great place to be. Walking around the Castro, you can feel the strong sense of pride residents have for their community. Streets are somewhat busy during the day and extremely busy during the evening and night hours. It's always a hub of activity, with some of the finest shops, restaurants, bars and clubs bars known in the city.

The Castro's annual Halloween celebration (woooo!) was recently shut down by city officials (boooooo!), which, to some residents, was disappointing. It's understandable, I guess. As much fun as it has always been, residents and shop owners got a little tired of drunken partiers in Spiderman costumes (or, the ever popular, naked as a jay bird costume) peeing on the street in front of their property.

Kristine J.