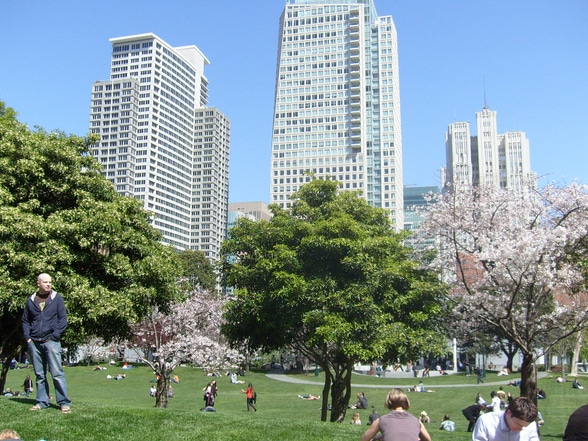 Infomation
Just on the edge of bustling Union Square, SoMa (a.k.a South of Market) is a sprawling swathe of the city where years of redevelopment have created a booming, unique nabe. Because of its size and mixed use, SOMA can be hard to navigate as blocks of desolate warehouses often obscure the gems hidden in between. Popular nightclubs and upscale residential hotels pepper the scene along with art spaces and chic restaurants. Similar to neighboringSouth Beach, lofted style apartments have sprouted up here where young professionals mix with artsy bohemians attracted to the thriving art scene in and around Yerba Buena Gardens.
Top Votes – Score out of 100
Dining 80
Nightlife 76
Trendy 75
Singles 72
Public Transportation 66
Lowest – Score out of 100
Community 42
Green space 36
Seniors 25
Income 25
Families 23
Top Reviews from Travel Rentals Neighborhoods
Mature Calls

For those more refined, age-ing hip folks, SOMA provides a low key and high fidelity atmosphere for saavy professionals in the late 20s to early 30s range. There's comedy night at Brainwash, a cafe with laundry on site and free beer during happy hour. Cat club is home to the infamous bondage a-go-go and many other sunken-cheeked, darkened eyed dance nights. A plethora of wine, beer, and designer cocktail bars with an inviting, modern-rustic look can be found all down Folsom in this nabe, along with a few bondage gear/leather daddy stores. Throw in some cute fine dining-esque brunch spots and organic food markets and you have the perfect recipe for a healthy and well fed rebels becoming wise in their summer years. For those who like their adult alternative lifestyle to be more polished and refined, this nabe is the key. Alterna-teens be damned, its time to grow up just south of market.

Michael C.
It's only getting better

In the beginning, there was nothing. Then there was the Dot-Com Boom, then there was the Ballpark, then there was the Dot-Com Bust, then the Ballpark changed names 3 times, and eventually, SOMA leveled out. Now, it's one of San Francisco's genuinely cool neighborhoods and the city's tech pulse.

The beauty of SOMA is that it's full of hip, young web companies. As a result, there are lots of hip, young restaurants, bars, clubs, and events. Unlike the Marina or Union Square, most of the bars in SOMA sidestep attitude in favor of authenticity. Go toCOCO 500 for some of the best drinks and appetizers in town, and check out 333 Ritch for a club that books new, trendy bands and hires DJs who know how to pack a dance floor. Blue Bottle Coffee in the Mint Plaza near Market Street is packed at all hours of the day, but die hards will make the trek down 4th street to the Creamery by Caltrain for a cup of Ritual Coffee. San Franciscans will hotly debate the issue of Blue Bottle vs. Ritual; head to SOMA and decide for yourself.

In the past, SOMA wasn't easily accessible by MUNI, but the ground beneath 4th street will soon be home to the new Central Subway extension of the T Light Rail. This new MUNI extension isn't slated for completion until 2016 but will eventually connectSOMA with Union Square and North Beach. For potential buyers, this could make property in SOMA especially appealing.

Of course, it's impossible to talk about SOMA without mentioning the Giants. AT&T park is one of the best stadiums in professional sports and really brings a lot to the neighborhood. Bay Area sports fans are a different breed and SOMA reflects this. Wine Bars outnumber Sports Bars and the game traffic that could be a burden in some cities is actually mild-mannered in San Francisco. The Neighborhood also offers the Museum of Modern Art, LIMN (a gallery in its own right), and the Moscone Center– home of all of Apple's product launches. Is there anything more San Franciscan than an iPhone? SOMA says "no".

Cole S.
SOMA Style

SOMA has a lot of warehouse spaces, museums and nightclubs. You'll notice a vibrant gay scene here too. It's becoming more expensive to live in. If you're looking for an immensely entertaining evening, I absolutely recommend Asia SF: all waitresses are gorgeous transgenders, serving tasty Asian Fusion food. Very sexy surroundings, and a fun time!

Jessie W.
SoMachFun

When I think of SoMa, I think of museums. The Museum of Modern Art is one of my favorite museums I've ever been to, and I've been to museums all around the world. Housing both a remarkable permanent collection and always interesting exhibits, theSFMOMA is definitely worth a trip. The Yerbua Buena Center offers an interesting adventure in visual arts, performing arts, and media arts, a fun excursion for both artists and techies alike. And, the Contemporary Jewish Museum is extraordinary as well. Though somewhat dicey at night, between the warehouses SoMa provides a bustling nightlife chock full of bars, Irish pubs, live music venues, and a few really great gay bars as well (there used to be a prominent gay/lesbian scene in SoMa before it all moved down to the Castro). However, do make a note to be careful here at night! Travel in groups because SoMa can get gritty after-hours.

There's nothing better on a sunny day than seeing a San Francisco Giants game at what is currently AT&T Park (the stadium has changed names about 1 bazillion times). It's right on the water, and people pull up their boats and kayaks in hopes of catching a home run that lands on the water. It's such a unique baseball experience.

What's awesome

Museums
Nightlife
AT&T Park
Shopping

What's not so awesome

Dicey at night
Expensive
Touristy

Chloe N.
So much to choose from!

SoMa is so jam-packed with different features that it's hard to even attempt to categorize this neighborhood! On one hand, you're bound to see plenty of warehouses and not-so-attractive car shops along the streets of SoMa, but for every warehouse there's at least three hip restaurants, two museums, and a theater to even it out. Home to many young professionals and lots of tech companies, SoMa definitely has a trendy vibe to it. Add in a handful of artists (and a lot of museums!) and you'll start to see how diverse this nabe really is!

Overall, SoMa is a nabe of many faces. Admittedly some parts are not as attractive as others, but convenience and entertainment more than make up for it. Residents of SoMa have everything at their fingertips, not to mention, easy access to AT&T Park!

What's awesome

So much to do! Favorites include SF MOMA, AT&T Park, Yerba Buena Gardens

What's not so awesome

Can be seedy in some areas, and it's pretty loud!

Anna H.
LOVE LOVE LOVE South of Market

Lived in South of Market for a large portion of my life and have loved living here with out oo many complaints. On the whole I recommend it for it's nightlife, shopping.

Janet K.
South of Market; Live Music Haven

As a music-obsessive, South of Market is defined by its excellent live music venues. No matter what your musical passion, SOMA's clubs will host events that suit your taste. There are so many can't-miss shows consistently happening you may find yourself show-hopping throughout SOMA, desperately hoping an opening band at one venue finishes in time to catch the second act or headliner at another. So in that spirit, let's take a look at some of the top spots:

Mezzanine

With one of the city's best sound systems and crowds that feed off the venue's late night energy, Mezzanine comes closest to embodying the raucous party vibe East Coast transplants might find themselves yearning for. While San Francisco shows tend to start and end earlier than their New York or Miami counterparts, Mezzanine is the exception, with headlining artists often first setting foot on stage just around midnight. The venue boasts a spacious dance floor, a bar toward the back that doesn't interfere with the show action, and a cozy upstairs area perfect for chilling out before the artist you came to see hits the stage.

Mezzanine's glorious sound system and late night vibe make this the spot you hope your favorite hip-hop, dance, or electro artists are booked. And the venue's promoters usually comply: The club has hosted countless artists such as Justice, Robyn, and Cut Copy right before they make the move to the city's larger theaters. Artists clearly appreciate the venue too as it is not uncommon to see Mos Def announce a last minute show or for Questlove or Pete Rock to drop in for a DJ set. In recent years the club has stretched beyond its beats and synth-oriented roots, hosting artists as diverse as Dinosaur Jr. and Saint Vitus.

Slim's

If Slim's was located in any other city my feelings for it would be much fonder. But given the absurd number of wonderful venues San Francisco is home to, I've developed a lukewarm opinion of it. While the sound is usually good, the venue layout creates a sometimes awkward experience. Accurately described as a big rectangle, your best bet is to make it toward the front half (or better yet, quarter) of the venue. Much more than at other venues, there is a feeling of being extremely removed from the action the further back you get. In addition to this, you risk interruption from patrons trying to make their way to and from the lengthy bar that runs along the side of the venue stage left. The good news is that there is often room to slip to the front sides of the stage even when the venue seems totally packed. And if you can make your way to front stage right, you have easy access to the spacious downstairs restroom and coat check.

Despite my misgivings about layout, the venue's promoters do such a solid job of booking artists that I frequently find myself packed in the front quarter of the club. The booking is extremely eclectic, with everyone from classic punk bands to alt-country artists to up-and-coming MCs taking the stage. A given month might feature stoner-metal stalwarts Torche, Alabama's Yelawolf, and punk legends The Damned. Find your favorite area to watch the show and Slim's can provide a great experience.

DNA Lounge

If your taste leans toward the goth, industrial, or metal end of the spectrum, DNA will likely be your favorite place in the city. In addition to their regular goth/industrial nights, Meat and Death Guild, the venue hosts the genre's current and reuniting live acts, a wide spectrum of metal bands, as well as a variety of pop and dance nights. With a spacious mezzanine area that overlooks the dance floor, DNA Lounge is great for hanging out even if you don't intend to mix it up on the main floor.

DNA also serves as a home to the legendary drag night, Trannyshack, as well as a variety of burlesque performances. Its commitment to supporting underground culture and embracing a diverse variety of artists and performers feels uniquely San Franciscan and warrants a visit from tourists and regular attendance from those living in the Bay Area.

330 Ritch

Attending 330 Ritch shows is a must if you value seeing artists in small settings before they break big. Curated by Popscene SF and a handful of other creative promoters, 330 Ritch is a spot where you could have caught Amy Winehouse, Curren$y, Robyn, and Wale before anyone else in the city. The venue also has a reputation for holding after parties, so when an act is playing a larger venue or in town for a festival, make sure to keep your eyes peeled for a possible DJ Set at 330.

The vibe is somewhat similar to Mezzanine, but scaled down. The smaller stage and dance floor allow for a more intimate show, but the audio remains big. While not as potent as Mezzanine's sound, I've never had a complaint.

Michael B.
SOMAny things to choose from

SOMA is so many things to so many people. It's a warehouse district full of live/work lofts, happening nightclubs, a renowned museum, trendsetting restaurants. And even though there is so much going on here, some blocks feel completely abandoned. Regardless, it's on the hip map and it's not going anywhere.

Gena F.