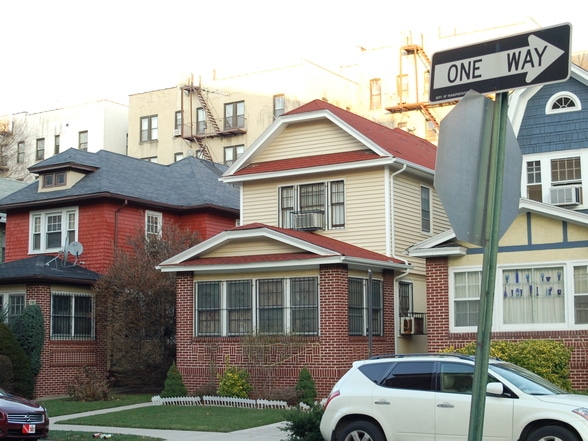 South Midwood, Brooklyn
by nabewise
Infomation
South Midwood is a moderately-sized neighborhood in the southern central area of Brooklyn, bordering the larger neighborhood of Midwood. Home to very little nightlife, South Midwood is a quiet area with most of the businesses in the area closed on weekend nights. The homes in South Midwood range from medium-sized family to large family homes complete with lawns and driveways.
Top Votes – Score out of 100
Clean 68
Quiet 68
Parking 64
Trendy 50
Green space 50
Lowest – Score out of 100
Empty nesters 10
Income 8
Dining 8
Seniors 5
Families 0
Top Reviews from Travel Rentals Neighborhoods
Better than Maspeth isn't saying much.

Although my address is apparently South Midwood, I've lived on the border of SouthMidwood and Flatbush proper for about a year now by the junction (where several nabes meet) so this is more concerning that intersection. The area is predominately West Indian with some Chinese, Jewish, and Arab presence. There is also an influx of college students from nearby Brooklyn College and they tend to create a rowdy atmosphere during the afternoon.

Although the junction is dotted with several small chain and independent fast food joints throughout, none of them I've been to have a friendly, laid-back vibe suited to catching up with a friend or going on a casual date. No friendly neighborhood bars either.

The main benefit is not having to take a bus to get to the subway or do most kinds of shopping. However, the 5 train is a myth outside of a typical morning-5 PM schedule, so be prepared to factor in a 50 minute commute to get to midtown to allow for the slowness and construction issues with the 2 (can be worse on weekends!). Reconsider the area for transportation if you work weekends and after 6 PM or so.

While I've never felt "in danger" here, I've encountered a certain shadiness factor, particularly at the wee hours of the morning (a man in my personal space trying to get my attention, prostitute workin it on the pole of the McDonald's awning, etc). No regular gunshots, break ins, or needles in the street. NYPD puts in regular rounds.

In a spirit of full disclosure I will say I am a visible minority in this nabe. Although I am mixed (Hispanic, Asian, white), I have fair skin and look different things to different people. A couple of times strangers have commented on my perceived "whiteness" ranging from curious to less than polite. This is just something to think about if you are used to a community that doesn't typically verbalize differences among strangers, or if you will be considered a visible minority.

I moved here from Maspeth, Queens, seeking someplace more vibrant, closer to transportation, but still affordable. It is a step up in that sense, but still exhaustively far from just about everywhere and the lack of community has me considering packing up again.

What's awesome

Living within walking distance of a Target, basics within easy reach, tons of unique shopping options further up Flatbush, very busy and bustling.

What's not so awesome

The 2 train, lack of take-it-easy restaurants/coffee shops, hobos, dirty, crazy drivers, lack of community.

Julia B.
I heard this area was really suburban before I moved here and I thought it would be a nice transition as well as dealing with my family's safety concerns. I also loved the Cosby show and I heard it was filmed here so I was interested because they seemed to have a pretty sweet place, same with the Squid and the Whale. It was nice to be in a pretty, tree-lined area but I am single, 28, and outgoing so the complete and utter lack of things to do in South Midwood was bothersome. I moved to Murray Hill and gave up a little space.Dave H.
Safe, quiet, clean, close to Manhattan…. This is a great neighborhood to consider. It can make great financial-sense to buy here, fix a place up and then you can own a full renovated home in the middle of Brooklyn! -This is what a friend of ours did. I'm fond of this area. Here you can have a front porch and a driveway in the middle of NYC. There are great schools nearby and you can get a plot in the community garden.Nick K.
I have lived here with my family for a few years and we love it. It is nice to be in a large community of similarly-minded people. Our family is of Russian descent as well and it is nice to here some Russian spoken in the streets. The area is real safe and our house, as well as those around ours, is just beautiful.Josh B.