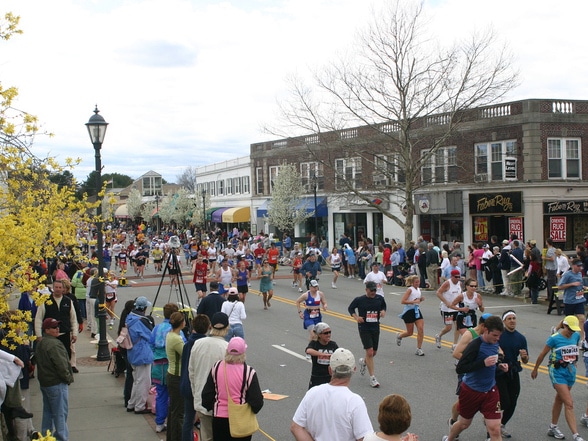 Infomation
Wellesly Hills, has all the charm, and high repute of Wellesley proper, but it also boasts such conveniences as its own commuter rail station, a big organic grocery store, and an historical library with comfy window seats. Wellesley Hills' numerous parks, reservoirs and country clubs are populated by designer-donning high-end stroller pushers and club swingers who enjoy the town's suburban conveniences but also its close proximity to DowntownBoston.
Wellesley, Boston Data : Neighborhoods & Travel – Score out of 100
LOWEST ATTRIBUTES
Dining 55
Shopping 52
Public Transportation 52
Nightlife 34
Singles 25
Wellesley, Boston Reviews
Max C.
a town with a college, not a college town
Quiet, charming, and very Main Street, USA. There actually is a "Main Street" (well, Central Street) with most of the restaurants and shops, where you're bound to see packs of middle-school kids in soccer uniforms and moms with double strollers. Wellesley is a WASPy, family-centric town, no doubt about it. The public schools are widely considered some of the best in the Boston area.
Don't move to Wellesley if you're looking for excitement. Despite having multiple college campuses the town is still pretty sleepy. Over the past year the town seems to have woken up and realized it was close to Boston, with local favorites Upper Crust (pizza) and J.P. Licks (ice cream) both opening stores on Central St. The town is still "damp," though, meaning no liquor stores or bars except for on the college campuses. The commuter rail is close by, but the nearest T (subway) stop is inaccessible without a car.
Wellesley College is my alma mater, so it's where I've spent most of my time. Aside from a few students looking worn-out in the local coffee shops, the college doesn't leave much of a mark on the town. Lake Waban is beautiful, though, and plenty of town residents walk, jog, or walk their dogs on campus when the weather is nice. The college is also a great resource for families looking to hire babysitters, tutors, or general help.
Joe L.
Great place to raise a family!
Wellesley Hills is extremely safe and a great place to raise a family. The public schools are tremendous and there are great opportunities for kids to supplement their learning outside of schools. There are not a lot of restaurants, but all the ones that I have been to are very good. The shops in Wellesley are exclusive and nice, but most of your shopping will be done in other towns where there are more options.
It is easy to catch the T or the Commuter Rail into Boston, but it is also only a 20 minute drive (without traffic) and you can be at Logan Airport in 25 minutes.
Wellesley Hills real estate will be expensive and you should consider that the "Wellesley price" for services (lawn, snow removal, handyman, etc) will be higher than in other suburbs.
Bo
Swellesley Hills
Wellesley Hills is a section of Wellesley, a suburb about 15 miles outside of Boston.
The Hills features its own train station, library, post office, church, park (Warren Park) and a handful of stores and restaurants, including the popular Maugus diner, which is frequented by power breakfast eaters as well as locals.
Wellesley Hills' landmark is a stunning clock tower built in 1928 that sits in a small park outlined by busy roads.
The residents include a mix of long-timers and newcomers, typically well-to-do financially like much of the rest of Wellesley.
While cars are the main mode of transportation in Wellesley Hills, the area is walkable and bike-able as well. Sections of Wellesley's 25 miles of maintained trails traverse Wellesley Hills, allowing for off-road walking and biking. And of course, Wellesley Hills is great for running, as evidenced by the annual Boston Marathon that stampedes through town.
Mallory C.
Picture Perfect (yummy mummys included)
I LOVE that one of the tag clouds was yummy mummies with strollers! That is so true in so many of Boston's nabes (I'm thinking the South End right now) but Wellesley really is their home base. They also all drive Volvos, Saabs, or Jeeps. This is the waspy of Boston's suburbs and easy to understand why: there's a very old school all female college, Wellesley College, out here attracting some of the best and brightest professors and their families. Aside from the college types, several commuters live here and enjoy the suburban bliss that Wellesley has to offer. Unlike New York's suburbs, Boston's suburbs are green and wild, and offer open space not just homogenous houses and square lawns.
Let me paint a little picture of Wellesley: The houses are fairly large and historical (this nabe has some history to it), imagine large, rambling Victorians, the Main street is about as charming as it gets—tidy brick buildings, neat sidewalks, the works—and Main Street is full of boutiques, book shops, cafes, bakeries and restaurants (the bonus of living in a college town)
All in all, everything is neat and tidy here. Mummys are always racing from yoga class to the grocery store in their Lululemon, kids are happy and smiling, and beautiful, smart college women sit in the sun, sipping coffee studying from vast text books.
Jackson
Wellesley Hills is perfect!
Fabulous for families; schools are magnificent.