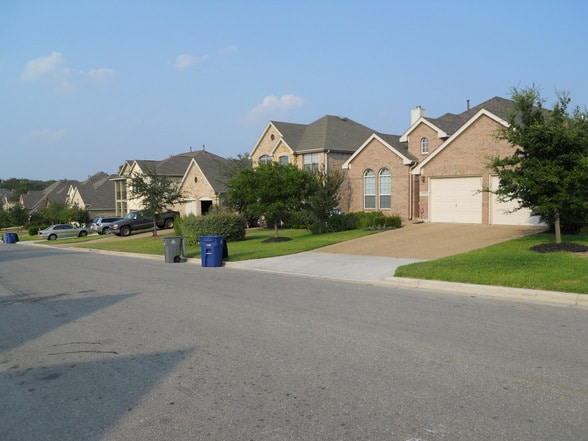 West Oak Hill
by nabewise
As you travel west down 290, the raised highway comes to an end in West Oak Hill. Many hill country farmers and ranchers travel to this thriving city entrance to sell fresh vegetables and flowers, firewood, iron art, hides, rugs, and a variety of countrified knick knacks. This nabe has streets full of cookie-cutter houses, an area of trailer homes, some woodsy ranch-style houses, a few big, elegant homes, as well as business centers, shopping, parks, and sports fields.
West Oak Hill Data
Lowest Attributes
Public Transportation

2.0
West Oak Hill Articles and Reviews
The Anti-City
If you don't like the city life, but like to have access to it just to say you can, this is the neighborhood for you. If you live here, you will get nothing that is city except for some traffic in certain areas. There are no hipsters here, there is nothing trendy here, there is a lot of Texas here though. The wilderness in this area will surprise you or eat you so you may want to watch out. The houses have large yards because there is so much space out here. If you want to drive to the city it will take you at least ten to twenty minutes. If you want to go shopping you will have to drive down William Cannon to some of the shopping centers there. This neighborhood is bare bones and many people want to keep it that way.
Adam K
West Oak Hill is HUGE!
West Oak Hill must be the biggest nabe in (or almost outside of) Austin. West Oak Hills has recently seen a large influx of residents who want large space without paying an arm and a leg, and that's exactly what West Oak Hill offers.
Don't mind the fact that you're on the outskirts of Austin, all the things you need can be found near home if you live there. All the big box stores are close as well as small specialty shops scattered around.
The far western edge of West Oak Hill is literally touching the hinterlands. Yes, that's the hill country over there and a good reason to live in the area if you like the countryside feel more than the urban environment. Instead of bums, loud mouthed drunken students and hippies, you can rub elbows with the deer and coyotes out in West Oak Hill.
Craig W.
Changes
Oak Hill (and SW Austin in general) are in the midst of a true sea change.
As Austin's population grows and spreads, the idea that Oak Hill's suburbs such as Lantana, Travis Country West, and Covered Bridge are "far out" has begun to dissipate. Among other reasons, the dining, shopping, and grocery options are becoming exponentially better. There are two Whole Foods Markets scheduled to open within 10 minutes of the area within the next 12 months, and recent additions in the William Cannon and Bee Cave areas include P. Terry's, Chuy's, Kerbey Lane, Iron Cactus, Mandola's Italian Market, Little Woodrow's Pub, Five Guys Burgers, Wholy Bagel, Pei Wei, and Jack Allen's Kitchen.
The primary suburbs in and around the Oak Hill area are Lantana (near AMD on SW Parkway), Travis Country West (just west of Lantana), Covered Bridge (on Hwy 71 toward Bee Cave), Westcreek (just South of 290), Loma Vista (SW of Oak Hill) and Legend Oaks (off of Escarpment.)
The landscape of the area is beautiful, with rolling hills, oak trees, and sloped lots with hill country views in some areas. The area is served by Austin ISD.
Tom T
Livin Out West
I used to live here. My roommate was a whiny princess, but the house was nice. The street was full of cookie-cutter houses, literally, I couldn't tell my own home apart from the others. I ended up putting a huge tree stump in the yard as a marker. ha.
Cookie-cutter houses aside, this nabe came alive the first night, as a huge pack of coyotes came howling through the back yard (on the other side of the fence). That was my favorite part of living here. I could listen to the coyotes all night. They didn't seem to mind the neighbor dogs either. They would be playful and then move on. Of course, if the neighbor dogs were to follow, they would probably get eaten. That's what I've heard about coyotes, they'll come up and act like they want to play, lead you into the woods, and then attack with the force of a full pack.
An elementary school was walking distance, with a nice basketball court and soccer fields that were open to the public when school was out. So that was cool. My neighbors were a mix of families, young couples, and garage bands that played horrible music.
Sammy J
And they all look just the same.
The houses all look just the same. I hate that. But, there's some woodsy areas, I love that. Not to mention road-side veggie, firewood, and knick-knack vendors and trailor eats. That's always good.
There are some very reasonably priced houses, duplexes, apartments, and even a trailor park around the area. The traffic at the end of 290 gets pretty ridiculous, but there are plenty of back roads to travel around here.
There's not really anything to do in this nabe. But, it's all highway to downtown, which will get you there in about 5 or 10 minutes… 20 if there's traffic.
Will B.