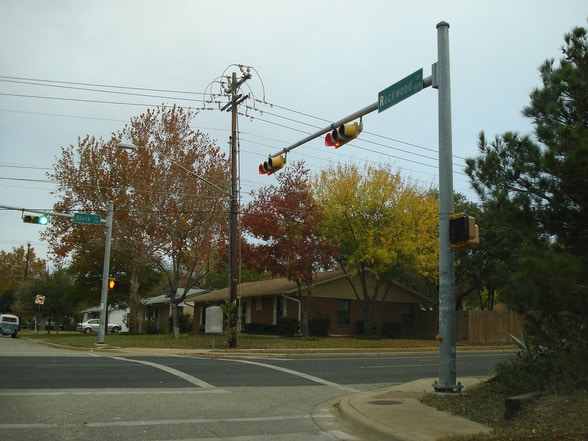 North Shoal Creek
By Nabewise
North Shoal Creek lives up to its namesake with a location far north of the city center. This nabe is mostly residential. Real Estate's composed of homes built in the 1960's and newer apartment complexes. A quiet nabe with kind neighbors and convenient retail and shopping options, North Shoal Creek is an ideal nabe for all walks of life.
North Shoal Creek Data
Lowest Attributes
North Shoal Creek Articles and Reviews
Being one of the more affordable nabes in 'Central' Austin (inside 183-MoPac-I35-Tx71) this neighborhood is a great area for young couples to own a home. Many of the 1960s homes are being bought and renovated, so the neighborhood is definitely improving.
North Shoal Creek is located near MoPac and 183 so getting around Austin from here is a snap. Being close to a major intersection might make one think traffic and noise would be an issue, but this is not a problem.
Nightlife choices are limited but the Alamo Drafthouse, Common Interest Karaoke, Playland Skate Center and Cover 3 Sports Bar are available. There are also many great dining options within a few minutes on Burnet Rd. or at The Domain.
Pillow Elementary has a nice public playground for kids, dirt track for walking/running, and fields for sports. The neighborhood is very walkable for dogs with lots of sidewalks and shade.
North Shoal Creek is definitely slower paced than the trendy Austin neighborhoods. However, it hits a nice sweet-spot of being close enough to the action when you want some fun yet just quiet enough for when you want to escape the hustle and bustle.
What's awesome
– Alamo Drafthouse, Trudy's, Madam Mam's
– Near The Domain
– Quiet
– Up-and-coming area
– Car2Go service
– Public library
Mike
Another Typical Suburbia
North Shoal Creek is a great place to start a family. The schools are good, there is plenty of shopping, and everything is very walkable. But everything is also very bland and boring. There's nothing to do here. There's an Alamo Draft House but that's about it. The fun is in the city.
What's awesome
What's not so awesome
The Shoal Creek Burbs
Live the easy life, with an environment of coffee shops, creeks, daycares and libraries. This nabe is located along the scenic Shoal Creek and puts on a suburban, child-rearing vibe on the outskirts of Austin's urban life.
You can find plenty of eats and activities along the borders of the neighborhood, and the residential area is full of leafy streets and mature, well maintained homes. It's just a very relaxing atmosphere.
Katy G
Attention Mama and Papa Bears….
If you are looking for a nabe where you can bunker down for quite a while and raise those babies of yours through their high school years, North Shoal Creek is probably a great place to be. If you are a North Austin kind of family and like that concrete jungle feel, then it definitely is. North Shoal Creek is home to Anderson High School and it is a terrific school.
Anderson High School is top 10 ranked academically in TX and the only AISD school with the International Baccalaureate Program. Some other people have things to say about the school as well..
-Washington Post names it 250 High Schools in country
-Newsweek names it top 500
-Texas monthly says its top 10 in Texas
Bridget D.
Typical Austin Suburb
North Shoal Creek is a lot like Allandale and Crestview…except there's less to do. Are you ready to settle down? I mean really settle down? I'm talking about planning trips to Bed Bath and Beyond on Saturday. I'm talking about trimming the Azaleas in the afternoon while the kids are at TaeKwonDo class. I'm talking about matching your living room furniture with your new sea foam green wallpaper. Those are exciting things to do in North Shoal Creek.
Craig W.