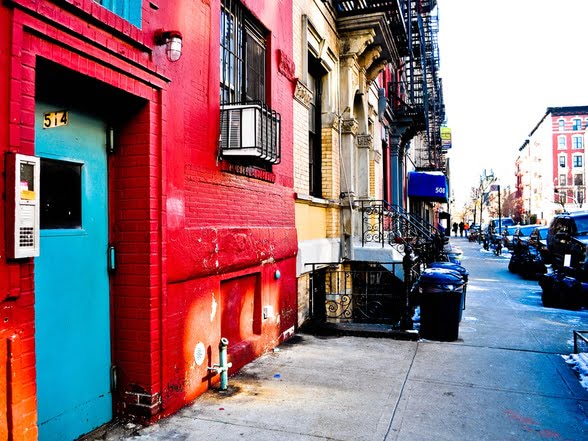 Alphabet City
by nabewise
Infomation
This pocket nabe in the East Village gets its name from the single letter monikers of its avenues. Renowned for being a grittier bohemian enclave in the already super-bohemian East Village, Alphabet City was once home to thousands of struggling artists and musicians. Currently overflowing with trendy bars and restaurants, this nabe has lost much of the shabby nature that it became known for in the later part of the twentieth century. This nabe is now home to some of the best nightlife in the city, and has fully embraced the East Village vibe.
Top Votes – Score out of 100
Singles 91%
Gentrifying 86%
Nightlife 83%
Dining 77%
Shopping 55%
Lowest – Score out of 100
Empty nesters 30%
Community 25%
Parking 18%
Families 18%
Seniors 15%
Top Reviews from Travel Rentals Neighborhoods
Not quite Sesame Street

This post sponsored by the letter 'B'

Alphabet City is where you go to throw down. My impression is that every block is required to have not less than 3 bars, all of which are expected to be packed at all hours. I highly recommend making friends who live here, as the roof parties in what appear to be converted tenement buildings are unbelievable. If you don't mind your night taking a turn for the weird, you can't beat them. On the rooftops here, I've met relatively well known DJs, abortionists from the Bronx (I'm not joking), jersey hipsters from Bayonne, as well as all sort of entertaining freakshows.

I'm forced to assume that every night I have partied in Alphabet City where evidence has leaked onto Facebook or Foursquare, lowers my chances at future employment.

What's awesome

Rooftops, Tenements, Parties

What's not so awesome

Fairly pricey and cramped, too loud and crazy to make living here healthy

Ben Hughes
Know your Alphabet City

From Max's on Avenue B, to the Kennedy's Fried Chicken on East 14th and Avenue A, there's a whole lot going on here. You've got hip bars on Avenue A, a pseudo-ghetto on Avenue D, college kids bunking together on Avenue C, and a growing population of young professionals starting their lives in NYC on Avenue B. Why go here? Because it offers a much more raw and unadulterated feeling of New York than points west of 1st Avenue.

What's awesome

What's not so awesome

John Spalding
Alphabet City: Quintessential New York, or just another gentrified ex-neighborhood?

I currently live on 3rd between C and D for over a year and now and I can absolutely say its been quite the experience. The best thing I would have to say is that I am in walking distance of some of my favorite places to go out, not only the ave a and b bars but we're also a ten minute walk from the LES bar scene. Also a great number of good and cheap restaurants, but there are also some new classy venues as well.
As far as the people go, I would have to describe myself as almost the new quintessential alphabet city resident; a recent college graduate that keeps his hipster roots, yet has recently entered the big bad real world of the office grind, not very fond of the people and places in midtown and other parts of manhattan, but is still not at the point that he would want to move to East Williamsburg. There are loads of young hipsters, old school punks, and at night there is a great inflow of bros and wanna be trendsters. Yet, behind all this remain, at least by me, past ave b, an old school puerto rican and dominican community that seems to be anchored by the numerous NYCHA settlements around here. Many of my midtown and hoboken friends say this place is sketchier durring the day than at night, and if you cannot deal with a decent load of grit and real world atmosphere, this place is not for you. But to me, this just adds historical and cultural dimensions that makes this almost the quintessential new york neighborhood; a true mix of cultures, people, and scenes

What's awesome

most of the people, the nightlife, restaurants, proximity to some of the most fun places in the city

What's not so awesome

a small minority of the people, soooooooo far from the subway

Robi C.
Ave C is A OK

I moved to East 8th street between B and C back in January 2011, and before that I lived on 7th and A. The neighbourhood is great with a real mix of people from every walk of life. Ave A is probably the most gentrified and the main driveway through the alphabets. Ave B is the party avenue with some good bars and some awful bars. Tompkins Park provides the grass and trees, along with the dog park and two playgrounds. Ave C is gentrifying but still has a strong Puerto Rican ethnicity. New bars and restaurants are popping up all over C at the moment and as a results the prices are going up. Ave D is still a little rough, and yet to be touched by the gentrification thats sweeping through. That said, give it 5 years and that will no doubt change. In terms of greenery there's the east river park with excellent sports facilities, bike paths, and community areas. There are also community gardens littered all around Alphabet City, in fact there are more here than in any square mile the world over.

What's awesome

It's the true New York, still alive and breathing in it's diversity and growth.

What's not so awesome

When the bridge and tunnel kids come into town on a Friday or Saturday night.

rob w.
Hip, Gardens, Artsy

This nabe gives you the hipsters that you may find in the Lower East Side or Williambsurg, but a more essential art community exemplified by the famous Nuyorcian Poets Cafe.

Tompkins Square Park is a popular attraction in the nabe, serving as a public escape to anyone in search of greenery.

This nabe has a very strong cultural background, one that is passionate and diverse. There is a strong hispanic community here.

In the past this nabe has suffered a bad wrap for being a dangerous and crime-infested area. Recently, though, it has undergone great gentrification that have seen this nabe transform from sketchy to poppin'.

There are great places to go out, to eat, and to shop in Alphabet City: endearingly known as Losaida by the Hispanic community.

Richard H.
Heaven on a Dirty Bun

Great for artists and hipsters of ALL ages.

What's awesome

What's not so awesome

bbb