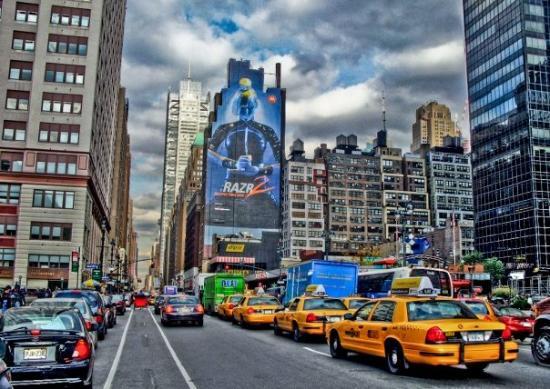 Infomation
SoHo, short for "South of Houston Street," has long been transformed from an historic warehouse district into the city's destination for high-end shopping and residential lofts. SoHo is home to celebrities and because of this reputation and the shopping, the streets are packed with tourists on the weekend. However, during the week the nabe calms down and affords a scenic view of some of the most beautiful, restored buildings of New York. SoHo's side streets are more peaceful and residential and often offer charming cobblestoned streets. SoHo sits centrally in downtown Manhattan and is surrounded by Tribeca,Greenwich Village, NoLita, and Little Italy. The nabe is accessible by several subway stops.
Top Votes – Score out of 100
Shopping 100%
Singles 90%
Dining 88%
Public Transportation 83%
Safety 80%
Lowest – Score out of 100
Families 38%
Seniors 33%
Quiet 28%
Green space 27%
Parking 26%
Top Reviews from Travel Rentals Neighborhoods
SoGo

It's easy to divine what kind of neighborhood SoHo is by the people who flood into it each day: artists, hipsters, the elite, anyone with an affinity for Custo Barcelona, of which there are now two, H&M alternative-seekers (i.e., Uniqlo), and the trendiest Japanese folk you'll ever come across—I've tried, on several occasions, to figure out just where they get their beautiful studded leather jackets, to no avail. In short, SoHo's charm rests in the fact that it's somewhat dicey; on the one hand you have high-end shopping like Bloomingdale's and Atrium (Diesel, Taverniti So, and True Religion galore), and other, fair-priced stores, Steve Madden and Aldo, among a few others. Some of the streets are cobble-stoned, which adds a certain old world appeal most effective at night with street lamps granting them luster. There are many hidden treasures. Seven New York, not to be mixed up with Seven Jeans, is located down a flight of stairs out of sidewalk-sight, as if it's trying to be kept a secret; its clothes are painfully ahead of their time and, admittedly, a bit odd: House of Holland, which re-popularized the message tee a few years back, seemed to only dwell here; this alone made Seven New York worth finding, for saying "I'll Show You Who's Boss Kate Miss" out loud simply wasn't as effective as it was written in brightly colored letters on an oversized tee. The milieu is fast-paced: eateries, like The Corner Cafe, a personal favorite on Broadway, shut down regularly and fleetly, as do distinctive stores like Lounge, which perhaps was fated to close due to overly priced glistering tees and a sales clerk who trailed you like a predator.

If you don't like to shop, or eat, or find yourself enmeshed in a culture of liberal-minded, oftentimes homosexual, tourists, inhabitants, and "bridge-and-tunnelers," then SoHo isn't for you. But I recommend it endlessly; after all, how else are you to experience the greatest Chinatown in the nation?

Peter C.
SoHo

SoHo is a neighborhood where you need to struggle to find the old character. It's nearly hopeless on the weekends when throngs of tourists take over, but go during the week and wander along Thompson street. You might find some of the old Italian Americans "sitting out" and taking in the scenery. The architecture hasn't gone anywhere, and the lofts that originally attracted artists to the neighborhood have gone upscale. Stay off of Broadway if you want to keep your sanity.

What's awesome

Great Coffee, and you can still find some of the old character

What's not so awesome

Very Expensive, a lack of grocery stores

Edward C.
Soho is my go-to place to stay when I visit New York City. By Chinatown, hotel rates are reasonable and subway stations are easily accessible. Not to mention, McDonalds in New York delivers and there is always a McDonalds by a hotel in Soho! Keep in mind shopping here is not ideal for those on a budget.Kerri L.
Rent is extremely high in this neighborhood, especially when you look at the little amount of space you get for it. If you are lucky it is possible to find a deal. My girlfriend found a deal I couldn't believMargie H.
Shopping and Hipsters

There is a real trendy crowd in Soho. It is a place you must stop by, especially if you are searching for up and coming fashions and more independent stores than you'd find in the midtown area.

The social scene here is pretty young, 20s and 30 somethings find Soho a great place to rent a pad, a one-bedroom or a loft style apartment.

There are definitely lots of hipsters in Soho, and it is one of the places in NYC that is busy in the day and in the night.

If you're looking for great shopping and tasty eats, you've got to make a trip down to Soho.

What's awesome

hip, trendy, fun, fashionable, tasty

What's not so awesome

may be too loud for some, younger crowd

Richard H.
An Upscale Mall Meets an Old School Marketplace

Having only been to Soho once (briefly in the dead of winter, mind you) before my most recent trip to New York, I never really got a good feel for the area. I just returned from the city this morning and loved exploring Soho with my friends. As a native of Detroit, it's rare that I get to experience such a lively urban environment.

Soho really captures the hustle and bustle of a farmer's market (something we do have in Detroit, believe it or not) and combines it with the trendy feel of a high-end mall.On the weekend the streets were packed with all kinds of people — some in skinny jeans, some in pleated khakis. It's quite an array. You have the hipsters in Wayfarers and you have the supermodel wannabes with Dior sunglasses that cover their entire faces.

There's a lot of walking to be done in Soho — shops and restaurants are scattered all over the place. If it's hot out, be prepared to get a little sweaty and gross while looking for that elusive next great piece of gear to add to your wardrobe.

The restaurant we ate at was packed. My girlfriend and I were cramped but the delicious Italian sandwiches made up for the close proximity to our neighbors (they were a little sweaty and gross as well). It seemed that there were a lot of places to choose from in Soho — you can get a cheap bite at a hot dog stand, enjoy foreign food, or go to a Mexican bar for 5:00 happy hour. We did a bit of all three.

In the two days we explored Soho we didn't buy anything but still had a great time browsing. If you can deal with the cramped feeling on weekends, you'll have fun in Soho.

Adam R.
The SoHo Effect

Although this neighborhood went through a rough patch during the 1980s, when SoHo was mainly used for commercial purposes, SoHo has reclaimed its title as one of New York's trendiest neighborhoods. The vast amount of shopping, great nightlife and restaurants, and ever-present celebrities make this a go to place when visiting Manhattan.

Aileen P.
Night Life

Getting supremely sick of visiting the same club over and over? Me too. Finally someone got creative in ironically stagnant lower Manhattan and opened his apartment as a high-class celeb hang out. If you can't get in, which well, no one can, it still creates a ton of fun on the standard Saturday night. You might find little groups of people walking around looking for a red door with a #9, the only info out there about the infamous Mike's little studio. Hey, beats hitting up a bar full of college kids.

Polina M.
A formerly artist-centric nabe has given way to boutiques and fancy chains, and potentially, even a Trump Tower.bbb