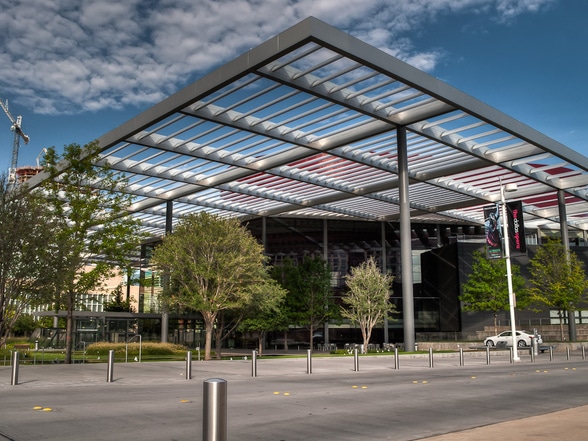 Arts District
by nabewise
[vc_row][vc_column][vc_column_text]
Infomation
One of the most visible examples of Dallas' ongoing redevelopment, the Arts District is already becoming the go-to area for live entertainment and performing arts. On any given night there might be a Broadway performance, an opera production, or a smaller play from up-and-coming theatre companies. While residences are strictly limited to high rise lofts, any self-respecting Dallasite will make trip down here at least once a year to enjoy the culture of this nabe, if not the new food trucks that are making their rounds through its streets.[/vc_column_text][vc_separator color="mulled_wine"][vc_column_text]Arts District, Dallas Data : Neighborhoods & Travel – Score out of 100[/vc_column_text][vc_progress_bar values="%5B%7B%22label%22%3A%22Gentrifying%2083%22%2C%22value%22%3A%2283%22%7D%2C%7B%22label%22%3A%22Singles%2063%22%2C%22value%22%3A%2263%22%7D%2C%7B%22label%22%3A%22Public%20Transportation%2061%22%2C%22value%22%3A%2261%22%7D%2C%7B%22label%22%3A%22Clean%2053%22%2C%22value%22%3A%2253%22%7D%2C%7B%22label%22%3A%22Dining%2050%22%2C%22value%22%3A%2250%22%7D%5D" bgcolor="sky" options="striped,animated" title="TOP ATTRIBUTES"][vc_progress_bar values="%5B%7B%22label%22%3A%22Green%20space%2033%22%2C%22value%22%3A%2233%22%7D%2C%7B%22label%22%3A%22Income%2032%22%2C%22value%22%3A%2232%22%7D%2C%7B%22label%22%3A%22Parking%2025%22%2C%22value%22%3A%2225%22%7D%2C%7B%22label%22%3A%22Families%2017%22%2C%22value%22%3A%2217%22%7D%2C%7B%22label%22%3A%22Seniors%208%22%2C%22value%22%3A%228%22%7D%5D" bgcolor="bar_turquoise" options="striped,animated" title="LOWEST ATTRIBUTES"][vc_separator color="mulled_wine"][vc_column_text]Arts District, Dallas Reviews
Satisfy your cultural cravings
For a taste of Broadway in Dallas, the Arts District is the place to go. Plays, ballets, symphonies, art shows – they're all here in this bustling strip of Downtown. It seems like the nabe is constantly being modernized and updated – a perfect example of urban and cultural entertainment. This is a favorite destination for evening outings and nice dates, but not many people want to actually live here. That's because it's very pricey and there's not a lot of options besides high rise apartments. Luckily, getting to the Arts District is easy by freeway or DART, and if you want to explore the many other facets of Downtown, the Arts District is only a couple of minutes away.
One of the cooler new additions to the Arts District is the recent influx of food trucks, so after a full day of admiring fine art and culture, you can indulge in some NY deli-style sandwiches or tasty Korean BBQ.
What's awesome
Centrally located, easy to get to, and plenty of entertainment options
What's not so awesome
Not the best place to live due to high prices and limited apartments
Steve R.
The Nabe of Art
Style? This place is oozing it. Located on the outer edge of downtown Dallas, the Arts District is where you'll see all the artsy people of big D. Even if you don't have an ounce of artsy-ness in you, you'll immediately feel an overwhelming wave of creativity when stepping foot on the arts plaza. It's a beautifully designed plaza sandwiched between the Winspear Opera House, Wyly Performing Arts Theater, and Booker T Washington High School. And then one giant step away from the Nasher Sculpture Center, the Dallas Museum of Art, and the Fashion Industry Gallery.
Right next to the Arts Plaza is a hip and urban high rise where the rich and the young like to call home. You'll see them zooming around in their shiny black escalades or freshly polished BMW's. Downtown Dallas is beaming with life; and that's precisely why those yuppies like to live there.
What's awesome
Loads of museums & performing art centers.
Smack dab next to the major freeways of Dallas.
What's not so awesome
Not a lot of places to live. The high rise in this nabe is quite a pricey investment! It's more of a place to visit and soak up beautiful art.
Meredith L.
A Place to See.
(To the tune of "Anything Goes")
"Here you shouldn't live, not much to see,
but if you want to see some Broadway shows,
well here you go!
There's not all that much else to do, you know,
but if you want see downtown (kinda boring though),
it's a stone's throw."
What's awesome
Beautiful new performing art facilities, proximity to downtown
Samuel A.[/vc_column_text][vc_separator color="mulled_wine"][/vc_column][/vc_row]