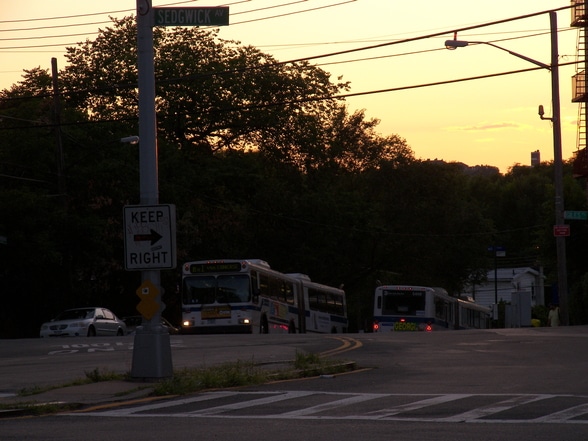 Kingsbridge Heights
by nabewise
Infomation
Located just south of Van Cortlandt Park, KingsbridgeHeights sits at the Bronx's northern edge. Green all around, the area is dotted with three parks, and is in close proximity to the Jerome Park Reservoir. Nature may abound in this nabe, but Manhattan's still only 40 minutes away on the 4 train for urbanites.
Kingsbridge Heights, The Bronx Data : Neighborhoods & Travel – Score out of 100
TOP ATTRIBUTES
Green space 75
Quiet 70
Families 68
Clean 65
Safety 65
LOWEST ATTRIBUTES
Nightlife 50
Singles 50
Community 50
Parking 45
Income 3
Kingsbridge Heights, The Bronx Reviews
In The Heights…of Kingsbridge
Kingsbridge Heights is a sort of middle-ground neighborhood. It's sandwiched between areas of the Bronx that slightly lean towards fitting a Bronx stereotype and on the other side, are quiet, lovely and generally well off. The public transportation options are numerous and it's quite easy to get basically anywhere you want or need to go. The people are friendly and it's not uncommon to start a conversation with a stranger at a bus stop but they are also not nosy, and know how to mind their own business.
It's rather cheap compared to many places in the city rent-wise and has a nice variety of food options, ranging from mainstream American to Hispanic cuisine and a few other choices in between.
While I don't live in this neighborhood, I live nearby and am frequently in and around it, it's a nice place for people with older children, although sometimes the school kids can be noisy it's generally not a bad place to live.
Andisha S.
If I ever decide to move again, this is one of the places I'd like to end up. Its quiet, but not out of the way, residential but not suffocating. I really enjoy how close it is to the park and reservoir, and, were I resident, I would visit these places regularly.
Paul N.
Kingsbridge Heights, on the opposite side of the Jerome Park Reservoir from Bedford Park is a quiet retreat in comparison to Kingsbridge proper. Rather than apartments,Kingsbridge Heights is comprised of mostly old homes atop several hills. There are also old apartment buildings, boasting beautiful lobbies and impressive architecture.
The neighborhood is chiefly residential, save for a few small stores and restaurants along Sedgwick Avenue. Residents typically travel to Broadway, Kingsbridge Road, and 231st Street for their shopping and dining needs.
The neighborhood is between subway lines, and residents depend on buses such as the Bx1, Bx2, Bx3, and Bx10 for their daily commutes. Walking may also be a challenge as the hills of Kingsbridge continue into the Heights, hence its name. Homes are typically situated on hills and steep streets are not uncommon.
This neighborhood is ideal for a subtle family, or even an older couple seeking a quiet retreat in a diverse neighborhood.
Amelia Z.