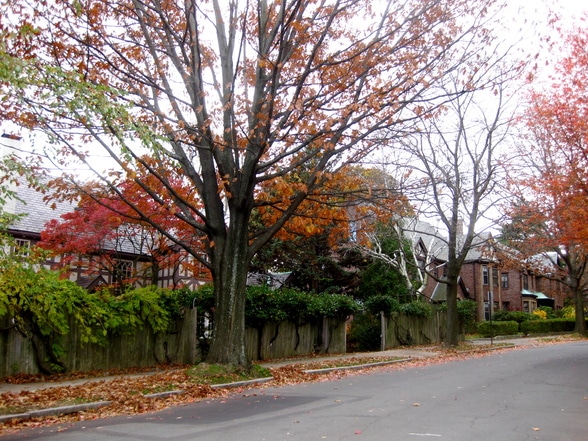 Aspinwall Hill
by nabewise
Infomation
Though it is bound by Brookline's busy Washington and Beacon Streets, Aspinwall Hill is a quiet hilltop nabe with a mix of modest homes literally built into the hill, and large estates built atop the hill. The design of the curvy, slowly ascending roads is attributed to 1800s landscape architect Frederick Law Olmstead whose vision was to foster a rhythm between open and intimate views throughout the neighborhood. There are seven pedestrian paths on the hill, and it was the Aspinwall family (a Brookline family name dating back to 1650!) who insisted on their inclusion. The paths facilitate direct foot travel to the nearby shops of Washington Square and the Beacon Street "T" stops, avoiding the longer trip on Olmsted's gently rising circuitous roadways.
Aspinwall Hill, Boston Data : Neighborhoods & Travel – Score out of 100
TOP ATTRIBUTES
Families 94
Clean 94
Quiet 88
Safety 83
Public Transportation 75
LOWEST ATTRIBUTES
Nightlife 50
Singles 50
Seniors 46
Green space 42
Shopping 33
Aspinwall Hill, Boston Reviews
A Wonderful Place to Live
I currently live in Aspinwall Hill and I can say without a doubt, this has been my favorite place to live in Boston. Before this, I lived in Coolidge Corner which I adored but felt a bit claustrophobic and before that, in my college days, I lived in both Brighton andAllston. It was fun then but I think I'm ready to move up in the world and out of apartments that use the bathtub to store kegs (like I said, it was fun then).
I now live in an actual house, a great big old Victorian that has some serious history, like much of Aspinwall Hill and Brookline, with a big old yard complete with a vegetable garden. I know all of my neighbors and I interact with them on a regular basis, particularly in the warmer months when the neighborhood tends to mingle outside. The neighborhood is literally steps away from Beacon Street and all of the amenities it has to offer: the recent fad seems to be Gastro Pubs and imported beers (ok by me!) with the recent opening of The Abbey, adding to the pre existing yumminess of Publick House across the Street. The block on Beacon that is technically Apsinwall also boasts Chinese, Thai, and Indian restaurants as well as a Starbucks and a Star Market. It really doesn't get better than this! Also on Beacon Street is the C Green line, and the D line is just around the corner! For those of you with kiddies, Schick Park is right in the middle of the neighborhood and has a cute little playground. For the more grown up kids, Brookline High is also a couple of blocks away and is one of the best public schools in the city boasting all sorts of unique programs, athletics and extracurricular activities.
This all being said, homes are quite expensive in this area both to buy and rent but you really get what you pay for in this neighborhood and that includes everything from your own driveway (no more worrying about street cleaning and snow plows!), a backyard (how many Beacon Hill-ites can say that?), feeling completely safe 24 hours a day and having super easy access to public transportation and being walking distance from the city and just about anything you could want.
Mallory C.
Aspinwall Hill has all the charm you could want from an elevated Boston community, even with less elevation than nearby Corey Hill. Most reasonable people would agree that, in this case, less may well be more in the long run. After all, the thrill of climbing hills does wear off after the second or third trip.
Ryan B.