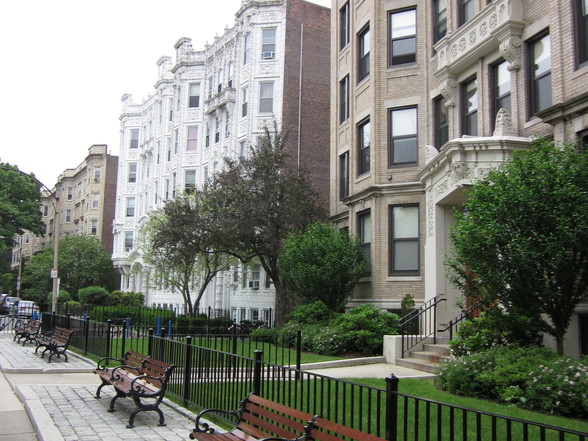 Infomation
Fenway's most famous for its historic and charming baseball stadium, but it's also home to various colleges, medical centers, and art museums, making it one of Metro Boston's most-visited nabes. People live here too, you know! Lots of college students, artists, and medical residents settle in this nabe. Big box stores line the major thoroughfares and several top-notch eateries (La Verdad) and music venues (House of Blues) appeal to folks who might not even own a Red Sox T-shirt. Fenway is served by the Green Line T.
Fenway, Boston Data : Neighborhoods & Travel – Score out of 100
TOP ATTRIBUTES
Nightlife 82
Public Transportation 80
Dining 77
Students 75
Safety 75
LOWEST ATTRIBUTES
Families 44
Quiet 36
Parking 36
Seniors 31
Income 13
Fenway, Boston Reviews
Fenway – Not just the home of the Red Sox
Everyone who knows "Fenway" associates the term with the 100-year-old Boston baseball team, but this particular neighborhood holds more than meets the eye. Home to more bars and restaurants one can count on two hands, it packs a punch with the variety of activities and services available to people of all shapes and sizes. The amount of hospitals on hand as well as convenience stores and pharmacies, this neighborhood has everything anyone could possibly need. The old brownstone style apartments are not the cheapest, but place you right in one of the most upbeat areas while only being a T or bus ride from the downtown area. A great place to live and a greater place to hang.
What's awesome
Tasty Burger, Berryline, Regal Fenway, Absolut Clubhouse, Fenway Health
Jessica R.
Student and Sox Central
For the year that I lived in the Fenway area, my best party trick/conversation starter was "I can see into Fenway Park from my room." It got 'em every time. Although I am possibly the worst Boston sports fan, it was pretty darn cool to be able to hear the Fenway crowds, smell the peppers and onions from the sausage cart and live in this vibrant neighborhood.
Thanks to the Sox, there are a ton of sports bars and restaurants in the area like Jillian's, the Landsdowne Pub and Boston Beer Works. But there's also the House of Blues for live music and a movie theater down the street. The Shaw's is extremely convenient too.
The Victory Gardens, a community garden project, are pretty rundown and not very well taken care of, but they're still nice to walk through and the Fens is a great place to throw a frisbee around. You can also cut through here to get to the Museum of Fine Arts and the Northeastern campus.
I would really avoid parking here. Take the frustration of trying to find a typical parking spot in Boston and then multiply it by 1000 and you know what it's like to find a space during Sox season. You can take of the many stops on the Green line and be in downtown in minutes.
There isn't much of a community feel because students from three colleges live here, but it's a safe area and a fun place to live.
What's awesome
nightlife, Red Sox, convenient
What's not so awesome
The Fenway…Now we're up in the big leagues, Gettin' our turn at bat.
The Fenway is an ever evolving neighborhood. I rented in this area for a couple of years in 1997 and bought a condo here almost 10 years ago. So much has changed and for the better. The parks are cleaner and safer. The Fenway Victory Gardens has a strong community and a good relationship with the Emerald Necklace Conservancy, which maintains the surrounding Olmsted park areas, including the Kelleher Rose Garden (a hidden gem!). You can't beat this community that has world class museums, top notch restaurants, a historical ballpark, a movie theatre, good retail, bus/T accessibility, and more interesting and active green space than any other Boston neighborhood. And the people – all races, ages, gender, religions, etc. This is a neighborhood that invests in itself and its future (and the property values reflect the trend)…a great place to live!
Kristen M.
Sox Fans Unite!
I always forget Fenway is its own nabe but when you go there, oh, you'll remember! Even when its not hosting a baseball game, Fenway is a really fun nabe. When there is a baseball game…well, that's a whole other story!
Fenway is home to some great little apartments, that are very conveniently located near the Kenmore T stop. Rent here isn't quite as cheap as Allston-Brighton, but apartments are also in much better shape and there are more options such as lofts, studios, etc. (A lot of them also have roof top decks for the best view of the game) The nabe also boasts some of the best sports bars in town (um, duh) and they're not all just beer, babes, and Sox fans. They also offer some pretty decent bar food, particularly Boson Beer Works. For those that are seeking a quieter alternative to a bar, there are some smaller restaurants and a movie theater, for date night. The nabe is also close to Beacon street where there are several delicious restaurants and grocery stores.
Now for game nights. Living here during baseball season must be a real hoot. It's not quiet. it's not clean and there will be hooligans. Now, I find this sort of thing entertaining and it certainly gives the nabe character but I'm not sure how I would feel living in the thick of it. If you're a die hard Sox fan, this is the nabe for you. Even if you're not (then what are you doing in Boston?) and you don't mind noise, this is a pretty fun nabe.
Mallory C.
If you love the Red Sox, wait that's not right, if you go to BU, raise your hand.
Let's face it, the best part about living in Kenmore is the proximity to Fenway Park. Whether you're a baseball enthusiast or not, it's hard to resist the sense of excitement that permeates the area during the months of April through October. Even as a native New Yorker with no real passion for baseball, I enjoyed seeing the lights of Fenway burning from my apartment window, it always made me feel as though i was in the center of all things Boston.
Unfortunately though, if you don't like baseball Kenmore can be a relatively boring place to live. There are only a few bars (some of the better ones being Cornwall's inKenmore Square or Jillian's by Fenway), and most of the places to eat are chains such as Uno's or Panera. Living there I often felt I was stranded in the middle as most of my friends either wanted to hang out in Allston or Downtown Boston. It was like pulling teeth trying to get people to come over. To be fair, this may have had something to do with the size of my apartment. Despite the exorbitant rent, I lived in a tiny apartment. Comfortably, my roommates and I could fit maybe 4 people in our living room, with 2 more in the kitchen.
This is pretty much standard for Kenmore. Because of the location you can't really expect to get a large living space, especially since most of the better spots are taken by BU student housing. Indeed, the student population of Kenmore is somewhat overwhelming. Don't get me wrong, it's great if you're in school to be surrounded by that atmosphere, but out of school it can be frustrating. Once classes commence bars are packed, causing lines and sometimes covers at normally quiet bars (take An Tua Nua- on dollar draft Thursdays). The green line as well as the 57 bus are usually overcrowded, and can be extremely irritating to use on weekend nights.
Overall, Kenmore is a great place to swing through to catch a ball game at Fenway, or play a game of pool at Jillian's, but not the ideal place to live. Unless of course, you go to BU!
Marissa H.
Beard Beer
The Red Sox do draw in a tremendous amount of loud, drunk fans but these gamegoers represent a range of people coming from all over New England to visit the historic area and to have some good ole American fun. While its easy to hate on the crowds, traffic and noise, a little understanding goes a long way, and these folks can oftentimes provide classic entertainment. I'm tickled pink when I see a family with young children dressed in miniature Sox attire, the son sporting a glove in hopes of grabbing that flying ball, and even moreso when I see two beligerant 30 something year olds with 8 dollar beer dribbling down there beards. Yes, Fenway is jocky, what do you expect? I see more Bros than I can stomach sometimes, speaking in that esoteric sports language but they're always down for a pick up game, so if you're short a few guys…Now, I know its hard to imagine Fenway without thinking about baseball, but the area was named not after the park but instead after the topographical state that the park is in. The way of Fen, or low land covered wholly or partially with water; boggy, is exactly a marsh in the city! How cool is that, how dynamic Boston is! NYC has central park, well we have the Boggy fens, where its rumored that couples demonstrate their love behind the cat o nine tails. Now, I've never seen this nor have I ever felted threatened but you may want to avoid traveling through this swampy nook past sunset, who knows what type of creatures reside in there. Ok, but on to more practical details, like a 24 hour Shaws. Perfect for buying sketchy grocery store sushi at 2 am. Theres also a gas station that whores itself into a ludicrously overpriced parking lot for games, best buy, REI, Bed Bath and Beyond all make up the landmark center. Restaurants line Boylston and Brookline, Jillians and the House of Blues are ultra convenient if you need more entertainment. Northeastern, Boston University and Berklee are all within reasonable distance. Fenway is a nice neutral zone, a nestled local where a mobile man or woman can start from and satisfy all his/her Boston needs. But what will endure in your heart over all this flashiness are the neighborhoods. The streets coming to an end on Park Drive and all the others in between create a beautiful homey layout. The fans don't typically penetrate this protected area and therefore it is quiet and respectable. I'm not by any means a baseball fan and yet I still love living in this area.
Colin B.
Feeble Fenway
Fenway is known for baseball. There's not a ton to do no non-game nights except drink at a few bars, talk baseball (or the Celtics) and walk around. The area is accessible by public transit however including the T (green line) and busses and is just minutes from Boston University and Northeastern.That being said, when the Sox are in town, it's a great place for pride and prejudice. It's a haven for Sox fans and a trap for opposing teams (especially the Yanks).
You can find a few clubs, including the House of Blues, which is right behind the green monster, and brings in a ton of good names, some indie, some bigger names. The overall feel is "urban". Don't let this review get you down, but don't expect a whole lot more from the area. It's close to everything though, which makes for a nice walk to Copley, Back Bay, the Sout h End and even Beacon Hill.
Dave B.
Po-tay-toes, Po-tah-toes, Fen-way, Fun-way
My best friend has lived in an apartment on Park Drive for the past three years. As such, I have also lived in an apartment on Park Drive for the past three years. In my opinion the Fenway neighborhood rocks. The park alone (The Fens) boasts a new track with Astroturf field in the middle, basketball courts, rose garden, city garden plots (The Victory Gardens), veterans memorial area, children's playground, and the circumference is a not-too-long-not-too-short 1.6 mile jog.
Of course the main draw/fear about the nabe is THE STADIUM. Though it might seem like a prime reason to avoid living here, I find that it increases my love of the area (Yankees fans excluded). Yes, it is the reason for astronomical parking lot/garage prices in the area, although generally the truly absurd rates are only applied on game days. You can expect the fans, local or otherwise, to be generally good-natured on their way in and drunk on their way out. This makes for great crowds in the bars on any given game night. Having just graduated from a five year career at Northeastern University I know the bars very well. They are lively every weekend and every game night. There are many great options – Bleacher Bar offers a window that looks directly into the stadium, Jillian's has bowling and pool tables, The Lansdowne Pub great live music, and Tequila Rain never fails to deliver foreigners looking to dance. Top this off with a movie theater and an amazing new concert venue called The House of Blues, which already has a reputation for booking a pleasingly wide genre of excellent acts, and what more can you ask for?
Beyond entertainment: shopping and necessity! Shaws Supermarket is the closest grocery store (although Trader Joe's on Boylston is a 15 minute walk, as well as the Whole Foods off of Mass Ave), CVS, Upper Crust Pizza, 711, Subway, Bed Bath & Beyond, Staples, Cold Stone Creamery, a bundle of yummy restaurants and two gas stations. Convenience is the name of the game my friends.
Parking outside of game days generally isn't bad. Most apartments come with at least one designated spot. Most garages at $10 overnight weekday, $20 weekend and visitor parking, though usually full, is available. As far as public transportation it is a 10 minute walk to the E train on the Greenline (Northeastern campus/ Museum of Fine Arts stop) or the D train also on the Greenline(Fenway stop). The Orange line, Ruggles station, is also available about a 15 minute walk, located on Northeastern campus.
So what's the catch. As you might have expected, the area can be a bit pricey in terms of real estate, depending on your budget (bear in mind that this comes from a recent graduate who is, in fact, unemployed at the moment). In terms of population, there are a lot of recent grad/yuppies in the area and ethnic tweens wandering around the Fens. And of course, don't be fooled: you ARE still in a city though you might not feel like it. So please, do yourself a favor and (a) don't walk through the Fens alone at night and (b) if you feel the need to do so at least figure out where the blue emergency lights are in advance.
Packed yet?
EttaAnn729
For any true Boston resident, you know you're approaching Fenway when you see the giant Citgo sign looming overhead. A dominating feature of the neighborhood, that sign is almost as iconic as Fenway Park itself, which lies only a few hundred yards away. Home to the Boston Red Sox, Fenway Park is the oldest MLB park still in use. While tourists flock to the green walls of the park as if it's the only photograph-worthy aspect of the Fenway neighborhood, there is so much more worth exploring.
Fenway offers some of the best nightlife in all of Boston. Sports bars line the streets of Yawkey Way and Brookline Ave, often filled to capacity with avid sports fans and local college students (of which there are many, with Northeastern University, Boston University, and Emmanuel College nearby, just to name a few). National and local bands showcase their talents nightly at the renown House of Blues Boston, one of the largest concert venues in the city.
During the day, the Fenway Plaza Shopping Center has all the retail shops one would need. The Fens offers an escape from the busy city life with wooded trails along a river, and the Boston Commons and Public Gardens are only a few minutes walk away.
Parking is always a hassle in Boston, but in Fenway there are numerous parking lots to choose from. Be prepared to pay up to $30 if there's a Red Sox game that day/night, but the usual charge is $10 for all day parking. Both the Green Line and Orange Line MBTA subway service the neighborhood, and bus stops are easy to find.
Derek S.
Historic Fenway
One of Boston's greatest qualities is its rich history and Fenway is no exception. Any real Sox fan would be sure to tell you that Fenway is the home of the oldest ball park in the country, but the historic feel of the neighborhood goes much farther than Fenway Park.
As a student at Wentworth Institute of Technology on Huntington Ave, I spent most of my time in Fenway and I can tell you that there is no other neighborhood like it. After a short walk down The Fenway, you find yourself virtually removed from the hustle and bustle of Huntington Ave. As you pass the Fens on your right and the century-old stone buildings scattered throughout the many Fenway college campuses on your left, you come upon Landmark Center. This shopping plaza has everything you need from groceries to electronics to a juicy steak from The Longhorn. Further down the road you'll find yourself outside the great Fenway Park. As a college student, I couldn't afford to spend my money on Sox tickets, so during home games I found myself at the House of Blues restaurant where a hungry fan can purchase a hot dog and a heaping pile of french fries for only a dollar (or a few hot dogs and a few heaping piles of fries for a few dollars). There is certainly no shortage of entertainment to be found in Fenway between tossing a frisbee in the Fens, catching a Sox game or even a concert at the House of Blues.
Just like any other neighborhood in Boston, driving and parking is a hassle. Public transportation is somewhat lacking in comparison with other neighborhoods in Boston. However, in some cases I consider this to be a plus because Fenway is a good place to go to escape from the busy city lifestyle. All in all, Fenway is a great place to live and visit because of its unique feel and the variety it has to offer.
Matt W.
Sweet Caroline!
Fenway is a sprawling area full of colleges, Clubs, & of the grand ole Fenway Park, Home of the Red Sox. Sports pride here is very strong as well as all of the Sports bars nearby. You also have Newbury and Boylston St. nearby full of amazing shops and boutiques. its the 5th avenue of Boston. They also have amazing restaurants nearby in Kenmore Sq. and one of the biggest colleges in the states, Northeastern University. You will see lots of people here from college students to sports fans to fashionistas. I definitely recommend checking out the Boston Museum of Fine Arts and the Museum of Science. Although this area is one of the best its definitely not known for its peace and quiet and you will probably pay some of the highest prices to live there. The transportation is very good with bus, train and T station very close by. Overall a great area to live if you are an on the go person and if you can afford it.
Tom S.