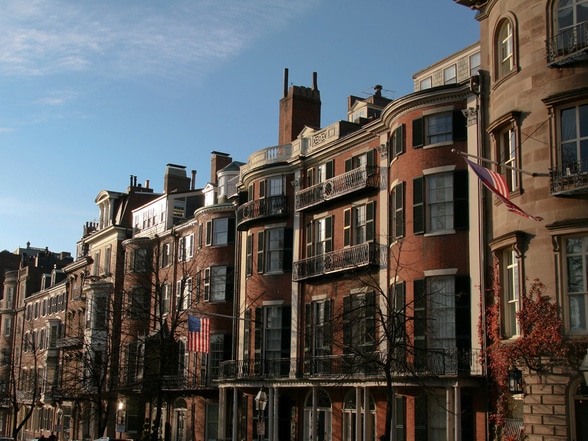 Infomation
Residents of Beacon Hill enjoy walks to work along narrow streets lined with gas lights and brick row-houses from the Federal, Greek Revival, and Victorian periods. They sip Cape-Codders on rooftop decks with views of the State House's copper dome just a stone's throw away and they run into their state senators at the corner bakery. Over 10,000 residents, all represented under the auspices of the Beacon Hill Civic Association, live on the hill. The BHCA works to protect the historic residential character of Beacon Hill; it keeps the pride alive with block parties for its residents, an up-to-date website detailing the many intricacies of zoning laws and trash collection, and even, get this…an annual window box competition! Beacon Hill is close to downtown, bordering Boston Common and the Public Gardens, and is served by the Red Line T.
Beacon Hill Data : Neighborhoods & Travel – Score out of 100
TOP ATTRIBUTES
Safety 88
Dining 86
Quie 86
Clean 85
Public Transportation 84
LOWEST ATTRIBUTES
Community 61
Nightlife 56
Seniors 55
Pet friendly 50
Parking 18
Beacon Hill Reviews
Jessica C.
Trick or Treat

Walking down the streets of Beacon Hill, with its brick brownstones and sidewalks, old-fashioned lampposts, and well-maintained secret gardens, makes me feel like I'm strolling the streets of old London. Located right near the Boston Common and Public Garden, and a stone's throw from the red and green lines, this nabe is a quiet sanctuary from the bustle of downtown.

While Beacon Hill is the epitome of old Boston money, students from nearby colleges (Emerson and Suffolk) live here as well. Which is surprising, considering the steep rent prices. Though Beacon Hill is mostly a residential area, cute shops and restaurants on Charles Street make it worth a stroll. The Upper Crust, though small, is great for a slice of pizza. And Café Bella Vita is good for coffee and dessert. The original Bull & Finch Pub (where everybody knows your name) can be found on Beacon Street, usually surrounded by a gaggle of tourists. You'll know you're a local when you start walking through their pictures.

On Halloween, Trick or Treating in Beacon Hill is a pleasure. You don't even need to knock on doors, because residents get dressed up and sit on their doorsteps with big bowls of (often full-sized) candy bars. There's also usually at least one cotton candy machine to be found. Neighbors chat and laugh, and you can really feel the sense of community here. (Sure, by my sophomore year of college, residents started giving me a hard time about my trick or treating habits. What's wrong with a 20 year old trick or treating anyway?)

While this nabe is pretty safe, I would advise against walking through the nearby Boston Common and Public Garden late at night. A lot of people get mugged that way. Walk around the perimeter instead, or even better, across the street.

All in all, Beacon Hill is a lovely place to live. But be prepared to pay through the nose.
Megan J.
Down and Out in Beacon Hill

Beacon Hill is my neighborhood, and I'm happy to say I've lived here for over three years. To make this easy to, I am going to lay out the good and the bad of living/visiting the Hill. So behold: My un-official Beacon Hill Starter Kit.
Positives:
-If you're a young professional, Beacon Hill is located within walking distance of the financial district, back bay, and pretty much any other commercial area, which means you won't have to foot the bill for expensive T passes.
-It's historic and drop dead gorgeous. If you're a history buff like me, living in the same neighborhood that once housed Louisa May Alcott/Sylvia Plath/Robert Frost/Anne Sexton is a major draw. And the buildings are beautiful, brick strictures that that make the area look like something out of a Dickens novel.
-Charles Street, the "main drag" of Beacon Hill, has great restaurants and (some pricey) shops, and LOTS of character. This means you'll run into people you know all the time, and you'll notice regulars in the neighborhood coffee shops (like Clark Rockefeller, who was a regular at the Starbucks on Charles/Beacon.)
-Depending on which part of the hill you live on, public transportation can be close by or about a 10 minute walk. However, you do have the choice of all the different color lines depending which area you're in.
-Some really great restaurants, some not so great ones. But there's multiple bars if you're interested in boozing, mostly neighborhood joints and after-work hangouts for young professionals. The Whole Foods is expensive, but beautiful and located right next to a CVS.
– If you're a college student, don't let anyone make you think there won't be any apartments for you on the Hill. There's actually a huge student population, and there are TONS of crappy apartments waiting to lease to you, particularly up on the super steep streets.

Negatives:
-If you are a senior citizen, I cannot IMAGINE living in beacon hill. In the winter time, walking around the brick streets is basically a death trap due to steep hills and some irresponsible homeowners/landlords who don't shovel right away.
-Practice your parallel parking. That is, if you can find a parking space, which you probably won't be able to. Not only is there very little parking for non-residents, but you'll have to park on steep hills which is REALLY fun. If you don't have to have a car on the Hill, then resist it.
– While the buildings are historic and wonderful, if you're a hater of old things that break easily, look elsewhere. Many of these homes have old plumbing/heating/etc, so stuff tends to break often. Also, you may find yourself with some rodent houseguests…mice tend to sneak in when things are old. But if you learn to plug up holes correctly, you should be okay. At night, rats tend to come out of the woodwork and skitter around through the garbage, which is an issue because many college students leave trash on the sidewalks in a big pile. But don't worry about rats going inside, because they prefer the dark streets.
– Carrying groceries uphill and then up multiple flights of stars can make you want to kill yourself.
-Occasional drunk college students yelling in the middle of the night, but that's Boston, I guess.
– If you're looking for a place that is alive and loud 24/7, this isn't really the neighborhood for you. It gets pretty quiet by 10pm.
Jeanette M.
Cutest of the Bunch

The award for cutest place in town goes to Beacon Hill, hands down. Also, cutest 7-Eleven. Yes, the main drag of Beacon Hill – Charles Street – is so friggin' cute, what with its impeccable Victorian/Federal/Greek Revival row houses, seasonal flowers in window boxes, decorative iron work, and narrow brick sidewalks. 7-Eleven, want to stay on the block? Just change your sign to stylized gold lettering and tell us you sell "Sundries" (then please define those for us).

Really, though, stepping into Beacon Hill feels like a trip back 200 years, and it's simply beautiful. History left and right. Definitely a spot to take visitors – friends and grandparents alike. All you have to do is wander up a couple of streets and they'll be sold on Boston, not just this one neighborhood.

Being such a darn beautiful place, it has attracted important figures from Louisa May Alcott (well, probably not the most famous historical figure to live there, but I have spent a lifetime loving Little Women) to John Kerry. Come to think of it, they both live(d) on Louisburg Square, just off Mt. Vernon – a good street to head up for that quick intro to the area. Young professionals and grad students who manage to have money also find their way to Beacon Hill, getting character-filled apartments with access to roof decks that overlook the other charming roof decks, as well as the Charles, the rest of Boston, and plenty of Cambridge.

To accommodate these fine folks, the neighborhood has a range of restaurants, a couple of great consignment stores nestled among all the boutiques, and a big park – you know, the Common. There's also incredibly easy access to the Charles River Esplanade, and a couple of red line stops (Charles/MGH and Park, which the green line runs through too). There's Figs (don't even look it up – just go), Charles Street Liquors (most excellent local and foreign beer selection), and Second Time Around. Did I mention the roof decks?

The drawbacks? Well, most objectively, the amount of money you must pay to live here. Ha. We're talking up to 50% more per month for a tiny one-bedroom place (with or without roof deck option, zero storage) than what we pay for a Davis Square large two-bedroom spot that comes with parking, basement storage, free laundry, a backyard/garden with a patio for BBQing, and great neighbors, all situated just one block from the T and Johnny D's. Oh, and on top of rent, you have to pay an exorbitant amount per month to get a parking permit in Beacon Hill, and then give up 30-45 minutes each night trying to find a spot.

Less objectively, the other drawback I've come to see in Beacon Hill is that it doesn't seem to have nearly the same feeling of community as, say, many of the squares on the Cambridge side of things. Charles Street – again, the main thoroughfare – feels like it has stores and restaurants that most please a few wealthy visitors, and not that it's aimed at a range of residents and what they actually need. I don't have any friends here who know their neighbors. The Beacon Hill website claims just the opposite, though, so please judge for yourself. Just, in my humble opinion, while the neighborhood's filled to the brim with historical character, not sure how much modern, livable character – at least for a young person – it offers up.

Both the positives and the negatives in mind, I have quite a few friends who live in Beacon Hill and love it. And, honestly, I'm pretty sure I would be over the moon to get me a roof deck there, or to be so close to the Charles and the rest of Boston in general. Still, for now, I'm thrilled to have signed on for another year in a spot that, for me, has felt like much more of an immersion in local culture and community, and with quite a bit more diversity and creativity. And though we don't have a roof deck out here, a backyard garden patio on a warm night suits me just fine.
Megan S.
A Stroll on the Hill

Beacon Hill is one of the oldest neighborhoods in Boston. It's full of gorgeous brownstones and tucked-away gardens, well-dressed socialites and strolling tourists. The selection of yummy cafés, art galleries, old print shops, thrift stores and knick-knack havens has something for just about everyone. Charles Street is a lovely series of blocks where I spent a recent Saturday morning browsing teacups, animal lithographs and second-hand dresses with a vanilla latté in tow.

It's far less bustling than Newbury or Boylston, two other up-scale shopping streets in the heart of the city, so you can enjoy some peace and quiet while admiring shop windows, peeking into sumptuous rose gardens and learning who inhabits some of the most expensive real estate around. It's definitely an old-money corner for the most part, but peeking in some of the agents' windows, I did see a few one-bedrooms up for rent — not cheap, of course, but doable if you've got a solid income or a padded trust fund. It's not hard to imagine why this is one of the more coveted neighborhoods in the city.

I recommend a bite to eat at Upper Crust, a peek at the funky gifts in Black Ink and a perusal of the racks at Second Time Around, a thrift store whose selection ranges from J.Crew and Lilly all the way up to Versace. When you've had enough of the shopping, make sure to wind your way down one of the shady residential lanes for a glimpse at how luxury lives.
Jeff S.
Old money. And college students.

Situated in downtown Boston, the neighborhood is an intersection of families, students, tourists, and medical staffers from the Mass General hospital. Packed with charm, Beacon Hill is mainly residential – lots of tree-lined, one-way streets, perfect for strolling. Also great for seeing how The Other Half lives, open windows offering a glimpse into the plush brownstones that fill the neighborhood. In the non-mansion realm, the area apartments are full of quirky charm, sloping floors and crooked stairs, and prices do tend towards the more expensive side. Fancy boutiques line Charles Street, the main thoroughfare, but there are still great deals to be had. Brunch at Paramount isn't too badly priced for the city, and you definitely get what you pay for – top notch and delicious food. Likewise, Savenor's, a little grocery store at the end of Charles is your place if you're looking for iguana or rattlesnake meat, or, you know, decently priced and top quality pork chops. And just across the street is Charles Street Liquors – some of the best prices in Boston, and with the widest selection I've seen anywhere. And a discount rack to browse through, too! Getting around is easy with the Red Line MGH stop, or a short walk through the Public Gardens to the Green Line Arlington stop.
Heather V.
Like a grandma: adorable and old

When I explore Beacon Hill, I like to play a game where I guess the identity of people walking by. Is he an old money millionaire? Is she a congresswoman? You never know in Beacon Hill, one of Boston's oldest, and definitely the most prestigious, neighborhoods.

You'd be hard-pressed to find something in Beacon Hill that's not adorable. All the neighborhood markets have names like "Beacon Hill Grocery", the cobbled-stone streets are cute even when you're out of breath from climbing to the top and all of the vintage boutiques are dangerously charming, filled with pricey goods.

And you've got impressive institutions like the Massachusetts State House, the Atehnaeum, a membership-only private library (so Beacon Hill), and the Park Street Church, a beautiful and very old Congregational church.

Parking is awful and many of the Victorian brownstones are broken up into typical Boston apartments—small, old and with squeaky floors—but I imagine the pride of being able to say you live in Beacon Hill makes it all worth it.

Also, if you've got kids (or even if you don't) trick-or-treating in Beacon Hill is the best in Boston. Think king-sized Reeses and whole bags of Peach Rings. It's also lovely at Christmastime when the tree on the Common is lit and you can imagine traditional carolers strolling along the streets lit by gas lamps. Summer is wonderful here too…heck, Beacon Hill is great in any season. It's a must visit in Boston and if you're willing to spend a bit, a beautiful neighborhood to live in.

What's awesome

Picturesque streets, shops, history

What's not so awesome
Rachael R.
The Easy Life

Even though my husband was spending most of his day in Harvard Square, and cheaper apartments could be found in Somerville, we moved to Beacon Hill because we wanted to live in the city. I love being able to go the Charles River Esplanade for walks, runs, or a few moments in the sunshine. I love being able to stop by Savenor's for last minute groceries, drop a few things at the Post Office, or maybe spend the day at the Athenaeum (if you move here, and have several days free a week to work at home, join the Athenaeum). By a friend of mine, who is in his 60s, it's been called "an Assisted Living Community" because so many errands are so easy to accomplish here. I love Sunday brunch at Beacon Hill Bistro, a cozy evening at 75 Chestnut, pizza and wine at Figs….basically all the restaurants on Charles have been ideal for some occasion. Even the gritty Beacon Hill Pub, where you can usually guarantee a chance at the foosball table. If you're looking for a church, the Church of the Advent is a fantastic community church right in the neighborhood.

My only regrets are that I don't really meet my neighbors, there seem to be some people who don't mind just tossing their trash on the sidewalk every once in awhile, and that I drive to a cheaper grocery store because Whole Foods just doesn't cut it.

Parking is a fight, it's true. We don't have to move our car on a daily basis, so it isn't too terrible for us. If you got back from work at 5pm every day, and needed to find parking, it might be impossible. Many of the cars seem to be owned by people like us, so cars can sit in spots for a long time, narrowing your chances. If you don't need your car: sell it. Switch to walking and the T, since the Red Line is in your backyard.
Susie A.
Ahhh Beacon Hill. This neighborhood is what you likely picture in your head when you think "Boston." But for all of its charm and history, is this really the neighborhood in Boston you want to live? WHen I first moved to Boston, I absolutely NEEDED to live in Beacon Hill. I thought, what's the point in living in Boston if not in Beacon Hill? But after touring a few apartments and realizing they're a) tiny, b) really old, and c) ridiculously over-priced, I decided to look elsewhere.

But I do love coming back to Beacon Hill to visit. It makes me feel like a true Bostonian to walk along the cobble streets and up and down the steep hills. Quaint and trendy Charles Street is filled with amazing shopping, though they're mostly small boutique-like stores, and no bigger retail stores. The restaurant choices are also top-notch. Cambridge Street is a little dirty feeling, but still has some good restaurants; it's also where Mass General is located.

There's a large, wonderful Whole Foods in Beacon Hill and lots of smaller specialty grocery stores, but no big chain supermarket where you can do a week's worth of shopping without breaking the wallet.

All kinds of people live in Beacon Hill from the ridiculously rich and famous (including John Kerry) to students, mainly whose parents are footing the bill (Suffolk University is located on the Hill). Parking can be a main, especially in the snow. First you have to find a parking spot (and have a parking permit) and then you'll likely have to park your car on a steep hill.

The Red Line Charles/MGH T stop is right in Beacon Hill and super easy to get to, but the Green Line is a slightly long walk through the Garden away. At least you can get to Park Street and the Green Line from the Red Line.

If you're visiting Beacon Hill, stay in the Liberty Hotel, a once prison, converted into a beautiful hotel. Even if you don't stay at Liberty, stop by its restaurant Scampo for a meal or its bar Alibi for a drink.
caite m.
Love and Can-o-Beans: Beacon Hill Charms, Then Leaves you Broke

For the sake of this review, pretend Boston is the can-o-bean aisle at your local grocery store, and each baked-bean varietal (and there are many) is one of Beantown's neighborhoods. Now, now, give the metaphor a chance; it's strained, yes, but it's bound to be entertaining.

If you're in the mood for something traditional, and steeped in history, choose Beacon Hill Beans. You'll taste the bitter politics of tea-party tea, the sweet hypocrisy of triangle-trade molasses, and the underwhelming tang of every Puritan's favorite condiment, ketchup.

To live in Beacon Hill, you must either be heir to a fortune that is traceable to the above-mentioned triangle trade, or have a last name that is traceable to the ship upon which the above mentioned pilgrims sailed. I'll admit, I generalize out of jealousy; the truth is, anyone can live in Beacon Hill, so long as he or she has a padded bank account, a well-advised stock portfolio, or a daddy with one of the two. Those who are lucky enough to live there, enjoy walks to work along narrow streets lined with gas lights and brick row-houses from the Federal, Greek Revival, and Victorian periods; they sip Cape-Codders on rooftop decks with views of the State House's copper dome just a stone's throw away; they run into their congressmen at the corner bakery: "Mornin' Barney! What's the muffin of the day?" It truly is a lovely neighborhood, made up of over 10,000 residents, all represented under the auspices of the Beacon Hill Civic Association. The BHCA works to protect the historic residential character of Beacon Hill, and keeps the pride alive with block parties for its residents, an up-to-date website detailing the many intricacies of zoning laws and trash collection, and even, get this…an annual window box competition!

Not blessed with cushy inheritance or linear lineage? Do like me, and wander through Beacon Hill in the evening during the holiday season. Don't get carried away, nobody likes a peeping Tom, but enjoy glimpses of twinkle lit Chistmas trees placed prominently in front windows. Delight in the charm of seasonal adornments strung with care in historic doorways. Listen for Bing Crosby's croon and imagine a genetically-blessed couple, slow dancing in department store duds and stocking feet in the warmth of a living room just beyond the cold brick exteriors. Eventually, you will get bitter—in heart and body—and you'll need an excuse to warm up. What better excuse to duck into an historic watering hole? The Beacon Hill Pub (or BHP as it is affectionately known to locals), at the bottom of the hill along Charles Street, is an absolutely welcome contradiction. Sure, the floor and walls are grimy, and the bartenders stolid, but the pints are cheap, the TV's tuned to the Celts/Pats/Sox/Bruins game, and it's the closest approximation to a dive that most of its patrons will ever truly know. Did I mention there's a juke box?

While we're onto contradictions, I should mention another notable establishment that's more Wyatt Erp than Paul Revere. Tucked between uppity boutiques that sell hand cream and Lilly Pulitzer, and marked by the same rustic, wooden cowboy boot-shaped sign that has probably hung for its entire 30 years of business, is Helen's Leather. Now, I happen to have a boot problem, so maybe I'm biased, but one step into this place and you'll want to trade in your reasonable city shoes for an exotic pair of Luccheses. Make your honey try on a soft, buttery leather jacket, or a stiff-brimmed Stetson, and stow the memory of his Western persona away. Dig it up another day when you need to spice things up a bit. I digress… Should you decide to give in to temptation, and walk out of Helen's in a new pair of boots, the sound of your step alone will give you more street cred than a Pulitzer color blitz any day.

For epic eats and a unique dining experience, hit up Paramount. Year after year, Bostonians vote it among the best breakfast places in the city, but it does a number on lunch and dinner as well. Do not let the long line extending out the front door dissuade you from giving it a try. Not only is it a testament to Paramount's popularity, it's also the way you order: lunch-counter style. Before you go, however, do consider your company. Are you prepared to stand in line with your mother in law for up to a half hour? Do you have lots of things to talk about? Maybe she would like to know how dreamy her son looks in cowboy garb. Maybe not. Even a half-hour of awkward silence and foot-in-mouth compunction is worth the reward when it takes the form of a malted Belgian waffle, piled high with fresh fruit and whipped cream or a fresh, homemade salmon burger with all the right fixin's.

Beacon Hill's also a great jumping-off point for a picnic. You're steps away from the Commons and the Public Gardens, and only a short walk to the Charles River. If you're a Do It Yourself type, head to Deluca's Market where you'll find all you need from Spanish Queso Caverna, to Moroccan oil cured Olives, and French Baguette. Head downstairs to their in-house liquor store, and if you're lucky, you'll happen upon a tasting to help you narrow your choices. Unless you carry your own Samurai sword, don't forget to grab a cheapo wine key or a twist off bottle. If you like the sound of a picnic, but just aren't into all the planning, let the folks at Beacon Hill Bistro do the hard work for you. Just call one hour ahead and place your order "Picnic Style." They'll package it all up for you in a pretty little picnic basket and even outfit you with a blanket to sit on with your picnicking co-conspirators. Return the basket when you're through, and you're freewheeling toward your next adventure.

Late afternoon is the perfect time to embark upon a walking tour of Beacon Hill. The knowledgeable docents and guides of Boston By Foot offer tours with Architectural, Historical, or Literary concentrations. They leave from the State House steps at 5:30 on week day afternoons and at 2:00 on weekends, rain or shine. For a chance to get inside the doors of one of only two Beacon Hill homes open to the public, you'll have to do a bit more planning. The William Hickling Prescott House, built in 1808 by Asher Benjamin, (the same guy responsible for the Old West Church and the Charles Street Meeting House) is named after its most famous inhabitant, a scholar of Spanish royalty and Latin American history, a collector of foreign art, and a prominent member of 19th Century Boston society. Its hours are tough: May-November, Wednesdays, Thursdays, and Saturdays from noon to 4 p.m. so timing is of the essence.

Congratulate yourself for broadening your mind and strengthening your glutes with a cocktail at 21st Amendment, appropriately named considering its location within shouting distance of the State House. It's a classy little pub with a loyal after-work following—especially among—isten up ladies—suit and tie donning dudes. Don't tarry long, because you've got a walk ahead of you for dinner. Take the back route, hold hands and window gaze with your friends or lovers while you imagine what it'd be like to live there. So far I've told you it's ok to peep, role-play, day-drink and daydream. Do you still trust me? You should.

This next place is your last stop. Your all-in-one, if you're lucky. The Liberty Hotel, a former jail, is now among the hottest places to carouse besides your grocery's canned food aisle. Scampo is one of three bar/restaurants in the Liberty. Try to sit at the mozzarella bar and watch as chefs use fresh, mozzarella as a platform for daring high dives, such as burrata with sumac, house-made grape leaves, and fresh chick pea hummus. Share the wood-fired naan with prosciutto and an order of handmade ribiola and beet ravioli with poppy seeds and a hint of sweet strawberry balsamico, and you can skip dessert. All you've to do is cross the hallway for an after-dinner drink and a scene to-boot. Alibi proffers an inspiring drink list you can sample on a bustling patio among other trendy, if a bit affected patrons.

At the end of the night, if luck in love and dollar bills is on your side, you can stumble home to your Beacon Hill roof deck and continue from there. Second best would be to make your way upstairs along the original prison catwalks and retire in one of the Liberty's swanky hotel rooms. Worst case scenario is that you catch a cab—with the help of a crisp-collard bellhop—at the hotel entrance or huff it home to your shared third-floor walkup. Too many more days spent like this, and you'll find yourself more and more familiar with the sumptuous, ever satisfying, and slightly less strained metaphor that is the can-o-beans in your cupboard.
Colin B.
If you ever need to escape reality because you've spent all your money in DowntownCrossing on affordable clothing or on the authentic italian food in the north end, head to Beacon Hill, where your money won't buy you anything. The once cow crossed area is now home to all things impractical and seemingly unnecessary, including John Kerry and the State House.
Despite the oftentimes untouchable affluence that riddles the streets of Beacon Hill, it is decidely one of the most beautiful nooks in all of Boston. Quaint to the heart,Charles Street, the most showy area, holds a certain modesty only found among the rues and calles of Europe. There, one will find delicious markets and expensive boutiques before becoming perpendicular with Beacon Street and the Boston Common/Public Gardens. Any amenity can be found within Beacon Hill, granted at a price. Heck, they even have a Richdales(be it the classiest one I've ever seen.)
Within walking or biking distance is the Charles River Basin and the magnificant Esplanade,where during the summer all sorts of active, healthy people congregate to take in the fresh Basin air. Boylston and Newbury streets are only a few stops away by T if downtown crossing and Faneuil Hall do not sate your shopping hunger.
Living here, with the right sized wallet, would be ideal. There are private schools tucked in the Brownstones and groups of small children can be seen making the steep climb to home in their preppy uniforms. Traditional playgrounds offer a communal meeting place, families walk their mutts and golden retrievers, Starbucks mingles with Dunkin Donuts and life carries on as normal, if not just a bit elevated off sea level.

CSB
Dave B.
History Lives

Beacon Hill is historical Boston. It's fun, trendy, upscale and polite. It's where some of Boston's original buildings including the State and Senate Houses are, making it one of the most expensive areas in the city.
That being said however, Beacon Hill is great for young professionals and central to the rest of town. It's just north of Boston Commons and makes for easy transportation to the rest of the city (including the Southern parts). Be careful of tourists making their way through, but once the summer season ends, it will calm down quite a bit.
Edible options are endless, as are amazing grocers and fresh country markets. It's a great place to shop (upscale of course) and get the basic necessities, as well as the fine china and modern ware for your condo or apartment.
Don't be intimidated. Take a walk through and enjoy!