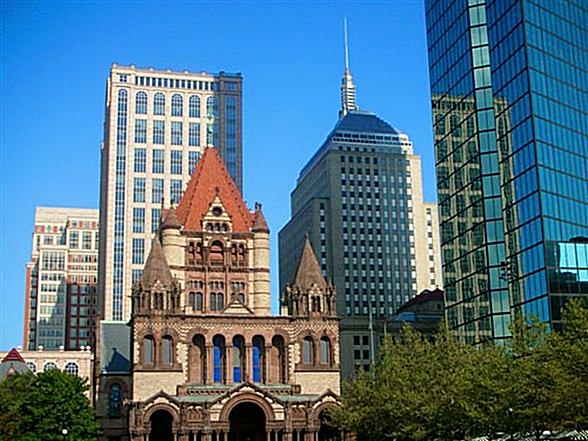 Infomation
Back Bay is the world's most luxurious landfill. In the late 19th century, Bostonians filled the "back bay" of the Charles River with earth, enabling its transition from a riverbed into one of Boston's proudest neighborhoods. Accessible by Green and Orange T lines, the neighborhood's Victorian brownstone homes and hundreds of bustling boutiques, cafés, and public parks lie in the shadows of Boston's tallest and most iconic buildings: the John Hancock Tower and the Prudential Center. Home of such Boston landmarks as the Public Garden, the Copley Plaza and Park Plaza hotels, and the Public Library, Back Bay is now filled with vibrant city life, art, and culture, rather than high tide.
Back Bay Data : Neighborhoods & Travel – Score out of 100
TOP ATTRIBUTES
Dining 94
Shopping 94
Public Transportation 87
Safety 84
Income 81
LOWEST ATTRIBUTES
Green space 61
Pet friendly 60
Quiet 48
Seniors 40
Parking 30
Reviews
Heather V.
The Best of Downtown

Back Bay has rows of brownstones, historic institutions and clumps of skyscrapers. It's home to the tallest buildings in Boston, the Hancock Tower and the Prudential Center (fun fact: the Pru has its own zip code!), and beautiful buildings like the Boston Public Library and Trinity Church.

It's fun to visit or live here, but more fun when you have extra cash to spend because rent and dining are not cheap. There's a farmer's market in Copley during the summer and the fall, oodles of chic bars, restaurants and independent coffee shops, in addition to the token Dunkins and Starbucks.

Green space is plentiful, with the nearby Public Gardens, where you can rest your feet and your wallet after shopping in the many boutiques and high-end chain stores on Boylston and Newbury Streets and in the Prudential Center mega-mall.

Like anywhere in Boston, there are at least 3 colleges in the area (Emerson, Suffolk, Berklee College of Music, etc.) so college students abound. But there are also plenty of families and young professionals so it's generally a very safe neighborhood.

What's awesome

Restaurants, parks, churches, easy transportation

What's not so awesome
Mallory C.
Not just a black hole for your money…

Whenever I would visit Boston in my high school days and even later when I was in college in Boston, I would come right to Back Bay to do some serious shopping damage. I only ever thought of it as a place to spend money: shopping, eating, drinking. And oh how well I spent my money on these things. Ok, enough of that. Needless to say, I never thought of Back Bay as a place to live until I took an internship on Newbury Street and began meeting people who lived in the nabe. More recently, one of my very own nearest and dearest moved into Back Bay and I began spending lots of time there-so much so in fact, that I feel like an honorary resident. The apartments are great. They have "Back Bay character" as I like to call it, they have history and many of them have amazing bay windows. To me, it's reminiscent of London with the brown stone lined sidewalks, trees (that are exquisite in Spring, by the way) and grassy paths. So lovely!
So there you have it, not just a place to shop (although this is the best Boston shopping) and eat (it does boast some of the best restaurants in town). This is a great nabe to live, and I mean live in the big sense: great apartments and living space, local restaurants, and shopping-the works!
The only downfall? (Because there are has to be one) It's not cheap. None of it. You can find tiny, windowless basement studios for $1500 but you can also find spacious, bright, airy apartments for the same price in other lovely nabes in Boston. Don't forget to take that into consideration!
Zachary B.
About ten years ago I worked in Back Bay while commuting from Jamaica Plain(affectionately known as "JP") by train. It was the perfect place for eating, drinking and hanging out after work. There were no worries about getting home as the orange line at Back Bay Station was right there to take me back to my shared flat in JP. The proximity and centrality of the Back Bay area to transport and cultural activities such as the public park and theatre district next to Boston Common, Newbury Street, Boston Public Library, Red Sox games at Fenway Park, good cheap food inChinatown and the Prudential Shopping Mall made ideal for entertaining clients from work as well as hanging out with friends.

I no longer work in Back Bay but I started living here in the spring of 2010. This has opened up new vistas I didn't recognize so much when I was working here. The Southwest Corridor park is great for walking and biking heading out towards Franklin Park and the Arnold Arboretum. All of the nightlife and activity I enjoyed as a corporate employee in this area are still here but as a resident I have recognized the richness of the food culture here. Markets of all sorts abound from the typical (Shaw's), to the trendy (Whole Foods), the cool (Trader Joe's), the ethnic (Super 88 and bodegas) and the list goes on and on. It is also interesting in such a high rent district that there is so much public housing in the neighboring South End and this gives the whole area a more integrated multicultural feel.

Because of the somewhat commercial aspect of the neighborhood, the close community feel of other more local areas is lost a little bit. However, it is spotty and the residents in my condo are quite friendly and polite. Most people that live here work a lot. If you can afford it, it is a darn nice place to be!
Celia N.
Boston's Main 'Hood

As a Emerson College student, I lived on Boylston St. for a year and now visit on a daily basis. Of course, it depends which end of Bolyston St. you're on — it extends from Chinatown to Hynes Convention Center, but the area is abundant with things to do and places to eat. Places of interest include: City Place (food court), Loews Cinema, the Boston Common, Copley Square and the Prudential Center. The street features restaurants such as Boloco (casual burrito fare), Back Bay Social Club (delicious burger!) and Golden Gate (chinese) and stores such as Apple and Paper Source.

Smack dab in the center of downtown and connecting some of the best places in Boston, Boylston is a great place to visit and, if possible, live. It is served by the green line: Boylston & Copley, and is close to the Prudential and Hynes stops as well. Red line Park St. and Downtown Crossing are also nearby.
Alessandra S.
The Boylston Necessities

Four things are essential to a Bostonian's workday: the T, coffee, food, and shopping escapes for after 5 p.m.
Boylston Street has it all, and better yet, it has variety.
Near various T stops, including (surprise) the Green Line Boylston stop, this street teems with people ranging from college grads to businessmen. The close proximity to both Emerson College and Newbury Street make Boylston a destination for partiers and workaholics alike, and as a result, it hosts some of the best variety in Boston.
Example 1: A Starbucks resides on one street corner, and across the street, and Dunkin' Donuts boasts its coffee.
Example 2: Boylston hosts Grub Street, a nonprofit creative writing group, as well as leads you to Copley, the posh shopping center of the city.
Yes, polar opposites, but somehow, this neighborhood makes it feel cohesive. Boylston stretches throughout a good chunk of Boston, and walking down it brings you from the heart of the Suffolk/Emerson bubble all the way out near Mass Ave. A great place to connect with friends or get from one destination to the other, Boylston can basically bring you to any point in this part of Boston that you desire.
If you're in the mood to drink a bit and sit in plush booths in the heart of the city, check out Gypsy Bar. Walking distance from the Boylston T stop and adjacent to Emerson College, Gypsy Bar boasts deep lighting and a huge dance floor, perfect for letting loose in a hideout. If you're DD'ing, the Boston Common Garage is a great, cheap find for parking, especially if you enter after 4 p.m.
My favorite spot on Boylston, though, is the spot right after all the greenery. Pass the Garden and walk down Boylston straight and you'll find a residential area, with statues and flowers. Picturesque Boston? I think yes.
Roberto G.
Boylston, a surrealistic Bostonian scenario

It depends on where you're standing or sitting down, but as your eyes timidly scanBoylston Street horizontally and/or vertically you'll realize that you are where you are supposed to be, at the core of Boston's life, where everything converges and turns into a surrealistic scenario. Turn one way and you'll find bars and restaurants, turn around you'll see a homeless guy talking to himself about politics, run away backwardly and you'll stumble upon a group of neatly-dressed businesspeople heading for a meeting. Stop at the Boston Public Library, an architectural and historical treasure that unites people of all sorts. After being intellectually stimulated, head towards the Copley park and take a deep breath; look around you, people of all races, dressed in uneven styles; people of all places, exhale a universal vibe; tall buildings will block the horizon, but later on you'll realize that all they do is try to reveal the night-sky, opening the doors to some decent nightlife.

In Boylston you can find a little bit of everything. Restaurants and bars of all price ranges however rent is always high. Street parking is nearly impossible, but there are a few parking lots close enough. There is convenient access to the Green line T. Also, Newbury St. runs parallel, offering the best shopping and dining options in Boston. The Boston Common and Copley Park illuminate the urban scenario giving it a slight organic feel.

If you like the accelerated lifestyle of a city, Boylston Street is a great place to live in, extremely convenient because of its location and wide range of options, but I wouldn't recommend it to relax with the family.
Mike F.
Boylston Street

Boylston Street is a Mecca for college students and young people looking to carve their first fresh niche in the Boston professional scene. It sprouts from the historic Boston Common and Theater District all the way to the Fenway neighborhood, running through Copley and Kenmore Squares, Fenway Park, many of Boston's most notable college campuses, and countless shopping and dining staples along the way.

Just beyond the Public Garden, a tourist snare that doubles as a getaway for residents to walk their dogs and Emerson and Suffolk students to catch up on their reading, is a modest but more-than-adequate strip of shops, stores, and restaurants, with a few night life options sprinkled on top. There is something for everyone: shopping fiends can scratch their itches in Gucci or Lord & Taylor while technology buffs and students can keep their hardware working and up-to-date at the Apple Store.

And anyone can punctuate a long day of shopping or sightseeing with almost any kind of delicious, albeit usually expensive, meal. Boylston Street's dining options range from California Pizza Kitchen to Legal Sea Food to Wendy's, each one as guilty as the next of hiking prices up from what one might expect to find in the suburbs. Nonetheless, neither the most discerning tongue nor the most guiltless stomach will go hungry anywhere on the far-reaching Boylston Street.

Perhaps Boylston's biggest asset is its proximity to nearly everything that might be of interest or importance to either a visitor or permanent resident. For the bulk of its span, Boylston runs parallel to Newbury Street, the center of Boston's shopping and dining universe. Just on the other side of the Common is Boston's hallowed golden dome, as well as the State House attached to it, a perfect place for anyone looking to infiltrate, work in, monitor, or study politics and/or law. Also just a short walk from the Common is Fanuiel Hall, a culture-drenched and more condensed shopping and dining alternative to Newbury Street. Further west down Boylston is what the rest of the United States has come to recognize as the sun around which New England life revolves: Red Sox Nation. Boylston wraps itself around Fenway for easy access to all the excitement of baseball season and the rousing night life with which it often goes hand-in-hand.

But here's the best part: for those transportantionally challenged, the subway is accessible from virtually every point of interest along Boylston and runs to every neighborhood and area in and around Boston. One of the Red Line's most central stops, Park Street, is just one Green Line stop or one short walk across the Common away from the Boylston Street Green Line stop. Besides its eponymous Green Line stop, there are three other stops just on Boylston Street: Arlington, Copley, and Hynes Convention Center, each conveniently located near restaurants and stores.

In the thick of everything is Copley Square, a spacious and busy park areas, complete with benches, shrubs, fountains, and information kiosks, a worthy haven for visitors. But don't be too put-off by the scores of out-of-towners snapping pictures of the breathtaking foliage or the bustling street; Copley Square, with all its corner stores, close proximity to several office buildings, and dozens of options for food, both fast and sit-down, is as accommodating to a Boston townie as it is to a tourist.
Derek S.
If you plan of living in the Back Bay, prepare your bank account for a full-scale assault on your savings. While the area is one of the most influential and beautiful neighborhoods (with Boston Common and the Public Garden only a short walk away), it is also one of the most expensive. Townhouses can, and do, sell for over a million dollars on a regular basis. You get what you pay for, however, as Boylston and Newbury Streets are among the busiest and most exciting streets in Boston; anything you need can be found in the myriad of shops lining the bustling streets. Dining out is no different – the food is great, and there are plenty of restaurants to choose from, but the bill will leave you feeling woozier than the wine you've been drinking. For a late night out, time can be spent at any of the bars located on Boylston street.

For the out-of-towner, no visit to Boston is complete without some time spent wandering the streets of Back Bay. There are numerous hotels to choose from, including the Lenox Hotel, Boston Marriott Copley Place, and Mandarin Oriental. The high-end fashion shops can be found closer to the southern edge of Newbury Street, as well as within the Prudential Center and Copley Place malls. For architecture fanatics, the northern section of Back Bay is dominated by Victorian Brownstone, and includes some iconic buildings such as Trinity Church, Boston Public Library and the John Hancock Tower. Parking is hard to come by, but for those unlucky ones unable to snag a spot on the street there are several cheap garages in the area. Several T stops also service the neighborhood, making traveling by foot easy and worthwhile.
Meggie
From Arlington to Exeter

For the grunge Berklee Music students to the Victoria Beckham's of Boston, Back Bay embraces all to its streets. Newbury Street offers shopping options from the famed Newbury Comics (a music aficionados dream) to the Neiman Marcus, 'The Hub' has all your needs covered.
Here are a few ideas to get your day and night covered:

Day on the town:
Ice skating on Frog Pond
Visit to the summer Farmer's Market in Copley Square
Shopping along Newbury Street
Frisbee and pick- up puzzle games on the Common
Coffee at Espresso Royale Cafe + Pavement Coffee
exploring the Boston Public Library

Evening out:
Boston Symphony Orchestra
Drinks at the "Top of the Hub" or the Fairmont Copley's "Oak Room"
Bar hopping along Boylston Street
A Concert at Berklee School of Music

Of the Many Dining Options:
Sonsie (best people watching)
Stephanie's on Newbury (best New England cuisine)
Four Seasons Hotel ( best brunch/ splurge)
B. Good (best burgers and sweet potato fries)
Joe's Bar and Grill (for a retractable ceiling on a beautiful day)
Mooo… (best steaks)
J.P Licks (best ice cream)

(Little known fact – the streets that run north to south from Arlington to Exeter are all in alphabetical order. Just when you thought Boston made it's roads by taking a shot gun to a map and connecting all the dots, you found there is an attempt at the method to the madness.)
Tanya M.
From Back Bay with Love

The Back Bay: Home to the historic refurbished brownstone and young venture capitalist. The prestigious Back Bay community fills its Victorian built residences with blue-blood-lined inheritance and sprinklings of the nouveau riche. The city's most sought-after shopping on the streets of Newbury and Boylston decorate the neighborhood amid Boston's tallest skyscrapers which serve as playgrounds of the beloved commissary game.

The acquisition of a townhouse overlooking the Charles River normally involves astronomical purchase prices and parking fees. Although, one can find modest high-rise apartments or brownstones for reasonable monthly rent which can be ideal for a posh student or comfortable young professional.

Back Bay includes the city's tastiest and most sophisticated restaurants all within walking distance from any start point. Also situated are convenient resident bars for an after work drink or – in the summertime – sangria a la cozy patio. Crowds of international tourists and mothers of suburbia adorn the shopping & dining streets over weekends, especially in the summer, making the small sidewalks very busy and full of incidental run-ins. Yet in the more residential areas closer to the Charles River (Comm Ave, Beacon St, Marlborough St), the atmosphere tends to remain perpetually quiet and calm. The Boston Public Gardens which border Back Bay and Beacon Hilladd a wonderfully beautiful get-away to indulge in an afternoon walk or feeding of the ducks along Frog Pond.

Boston is known for its large population of walkers, but for those who get enough of their daily exercise from one of the many gyms which color the neighborhood; the subway & public transportation are very swift and have many convenient situates in and around Back Bay.

Overall The Back Bay is considered to be Boston's most esteemed neighborhood. Anyone would appreciate the marvelous mix of Victorian and industrial architecture, as well as the neighborhood's innumerable amounts of offered amenities and best people-watching. If the price is right, than this is the neighborhood to jump on.
Dave B.
The Back Bay Breakdown

Back Bay is a fantastic area in the heart of Boston. That means great bars, restaurants, shopping, shows and more! Transportation couldn't be easier with a few T-stops located all around that can connect you to other hip areas like from Cambridge to Brighton to the South End. Walking is also an option however that takes a maximum of 30 minutes to connect to the area's furthest points. What's even better about Back Bay is the easy access to the Red Sox and shopping as Fenway Park, Newbury Street and Copley Square are at your doorstep. And for all out-of-towners, the iconic Prudential Tower that reigns over the Boston skyline is impossible to miss!

The people of Back Bay also range from business professionals to young, hip college students (Northeastern, Boston U. and Boston College are all right there!) looking to take advantage of the best that Boston has to offer. There's also a fantastic walk along the water with the Charles River just blocks from Commonwealth Ave.

True, it's not the most quiet area in town, but the excitement that the fans, tourists and locals bring is exciting and serves as a push to get out and walk around! Back Bay is a safe area; that doesn't make it safe to walk alone, but you also won't need to keep a watch over your shoulder every second.

Whether you're looking to visit the area or relocate, this nabe will not let you down.
Lindsay S.
Mid twenties and love the back bay

The back bay is a great spot for all ages. It's clean, safe, and has tons of amenities. Easy access to the Charles River Esplanade and lots of great shopping, galleries, and food.
Tom S.
Something Borrowed, Something Blue!

The minute you walk out to visit this wonderful, diverse and cultured nirvana. You immediately fall in love with its charm. Around every corner there are boutiques, shops, beautiful restaurants. (I recommend visiting the Gaslight near Washington St.) The area is extremely engaging. Lots of floral growing out of the different condos and apartment complexes. Its almost as if a giant garden sprawled onto the section of the city, very eco friendly. This area seems to really care about the environment. Everyone who owns a shop or place to eat seems to stick to an organic code. The shops are beautiful friendly and welcoming. Everyone is very personable. I like how people greet and say Hi all along the street and you can always meet someone out for a walk and just take in the beauty that is Back Bay. The crowd seems more towards the wealthy side but they do have some beautiful 1-bedroom apartments for cheaper price. It's not a far walk to the nearest T station ranging about 10 minutes to get the New England Aquarium or hoping on the next plane through Logan Airport. For the most part the areas are beautiful and appealing. Everything is very close and very convenient which is why this area is a bit more expensive than others. From visiting people who live in the area they love the community. Someone from next door would come by and have something to drink while visiting and then head off to work. Back Bay has a very convenient, aesthetic appeal; you just need to pay the extra price.
jennifer
I didn't move to Boston to live in the suburbs!

I moved to Boston from Atlanta, where you are a slave to your car. In Boston, specifically the Back Bay, the fact is you can walk to work, dinner, the movies, the river, shopping, Fenway Park, The Public Garden and practically everything else. Back Bay is a centrally located neighborhood. It's not trendy. It's an established neighborhood with a sense of community. People walk their dogs and stop to chat with their neighbors.
There really is everything one might need right around the corner. And by corner, I mean within a 20 minute walk. In the late spring, summer and fall there are two farmers markets that are consistent in delicious quality. There's also a small Trader Joe's, a regular grocery store, hardware store, endless retail shops – some high end designers and some cool shops, and art galleries. Lots of nail salons to choose from. And some fabulous spas. The only thing that I really thing is missing is a bakery that was local, and a few other independent places to eat. Like an ice cream shop or a place to get a frappe!
While not a cheap place to live, it does make visiting other parts of the country feel like a bargain. Certain things are overpriced like booze, so getting those things elsewhere do help the wallet.
With everything there is to see and do, it's a breeze to entertain out of town guests.
Parking can be a pain, especially during the street cleaning season, but there are many options for commuter parking (out by 9, in after 4, holidays and weekends). There is also a huge Zipcar network, so really you don't even need a car. You can usually hail a cab, and there are handful of MBTA stops and a commuter rail stop.
In the summer I love heading over to a dock on the river with a book and in the winter I love when the trees along Commonwealth Ave are lit up all night.