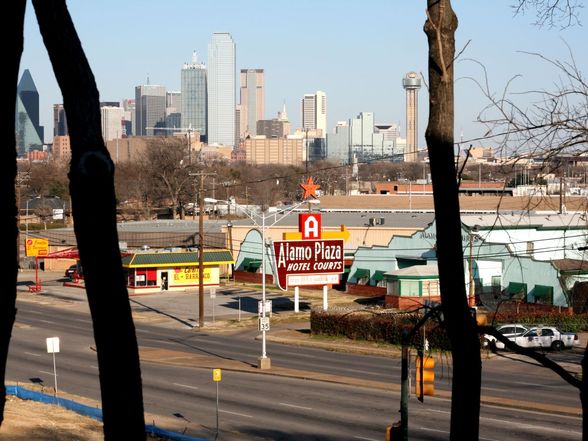 Belmont is a neatly built mix of historical "bungalow" homes and low rise apartments. Just minutes north of downtown, the area shares its restaurants and nightlife with Lower Greenville but offers a somewhat quieter way of life. Construction can be seen occasionally, but all in all this nabe has been left untouched by the renovation boom that swept Dallas. Neither urban nor suburban, Belmont provides the environment of a hush residential street with convenient access to the delights of city life.
Belmont Data

Lowest Attributes
Belmont Articles and Reviews
Calmer than Greenville
Much of Lower Greenville's character carries over into this nabe, minus the noise level – Belmont is actually very quiet, and holds itself with a little bit of prestige (as indicated by the fancy Belmont nameplates that adorn the street signs).
"Neatness" comes to mind when describing this nabe. Neat little residential streets, neat little yards played in by neat single people and some neat little families. Grocery stores and shopping are one direction, bars and clubs the other. Everything a young person (or family) needs, they could find in Belmont (and not have to deal with the traffic or noise of lower Greenville).
Dean B.
belmont braves development
i like that this place is trying to maintain its original character instead of turning into a bunch of big plastic uniform houses—let's keep fingers crossed it stays that way!
Liz E.
Vintage Dallas
Belmont is an interesting mix of urban and suburban, young and old. This East Dallas nabe is about 5 miles from Downtown, providing a laid-back atmosphere with easy access to the city.
Many houses in Belmont date back to the early 20th century, including classic Craftsmans and Tudors. Residents of Belmont intend to keep their historic homes in tact, often refusing construction of new, modern development. As a result, this nabe has kind of an old-fashioned, vintage feel to it.
Belmont has become popular with many in the 20s and 30s age group. Unique dining options and ample nightlife can be found on Greenville Ave., borrowing some of the hipness from nearby Lower Greenville. Though it may be small, Belmont is a unique and historic nabe that's definitely worth a look.
What's awesome
Old-fashioned vibe, plenty of dining and nightlife
Steve R.