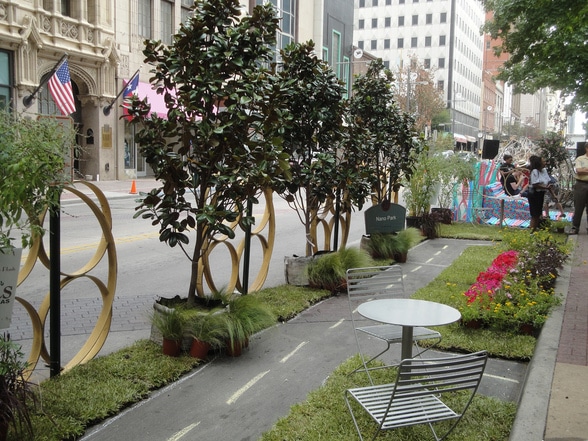 Main Street District
by nabewise
This nabe is the heart of Dallas, simply put. One of the first to undergo redevelopment, Main Street now glimmers with refurbished highrises and historic storefronts. Comparable to Manhattan's midtown, some of the city's most famous buildings are found here. Downtown, Deep Ellum, and Victory Park are just a stone's throw away. Narrow streets and tons of visitors give this nabe plenty of traffic: locals usually take the DART train instead.
Main Street District Data
Public Transportation

8.5
Lowest Attributes
Main Street District Reviews

Urban bliss
The Main Street District is the classic metro-downtown nabe of Dallas. This is where you'll find the cool old architecture, the trendy eateries and lounges, and of course the always-present traffic. Living here is an option for people who love being right in the middle of the action (there's a good selection of apartments and lofts), but most people just like to come here for work or play, then retreat back to one of Dallas' many suburbs for a quiet night at home.
A tip: Main Street is better enjoyed on foot, since traffic can be a pain and it's hard to see the sights from behind a windshield! While you're here, get lunch at Pegasus Plaza and check out the very first Neiman Marcus!
What's awesome
Cool sights and awesome urban living
What's not so awesome
You don't want to get stuck driving around here
Paige T
Half Done
First and foremost, the original Neiman Marcus is here, and the retro glamour of it is something to be seen and admired and is worth everything it takes to make a visit. So, there's that.
Main Street is a shining example of the ongoing revitalization in Dallas. What was once a concrete row of vestiges from the 50s is now a bustling promenade of shops and bars, with condos and apartments gazing on the street from above. The streets are populated with government workers, fashion cognoscenti, twentysomething professionals, and a healthy allotment of tourists. At nighttime the foot traffic slows somewhat as the crowds filter into the clubs and hotspots of downtown and Victory Park; this nabe is something of a daylight destination for most folks.
What's awesome
Clean streets, fun shops, beautiful people
What's not so awesome
Eccentric street folk who occasionally harass you for change.
Samuel A.