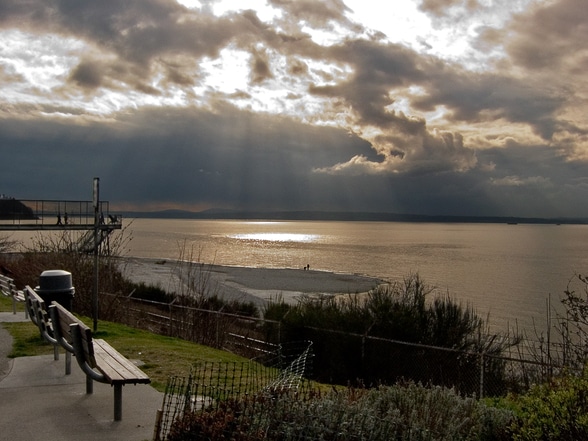 Located in the northwest corner of Seattle city limits, Broadview residents like its stunning views of Puget Sound and the Olympic Mountains. Once a bustling hub during the days of Playland–a large amusement park located in Broadview that was demolished by the city in 1961–this nabe has since calmed down, taken a deep breath, and reinvented itself as a peaceful neighborhood with a community focus and a concern for all things environmentally related. Purely residential and open space, Broadview feels like Seattle used to, before it grew up and became the largest city in the Northwest.
Broadview Data
Lowest Attributes
Public Transportation

5.6
Broadview Articles and Reviews
Snugged up against the waters of the Puget Sound but buffered from the lapping waves by an extensive and tree-filled park, this mid-sized nabe lacks what one might call "character" but I don't hear any of its residents complaining. Probably because they've taken the concept of tree-lined Seattle suburbia and soaked the thing in wealth.
Accordingly they've got a quiet place to call home and and escape from the city. They're close enough to Seattle's main artery—the 5—to access anything in the area but far enough away to not have traffic lingering feet from their backyards.
I wouldn't mind living here.
What's awesome
What's not so awesome
Progressives!
I love forward thinking nabes! One of the best things about living in Seattle is the ability to find not just forward thinking people, but entire communities of forward thinking people. Broadview residents are very concerned with preserving their environment and parks in the area and have gone to great lengths to achieve this goal. This has resulted in a supremely peaceful and happy nabe. The parks up here are stunning, and the views of Puget Sound and Olympic Mountains cannot be beat. Broadview is really nice
Olivia M.
Green-conscious, Tight-nit, and Gorgeous.
Gorgeous, and capable of boasting about expansive green-space and stunning views of the Olympic Mountains over Puget Sound, Broadview was once a bustling nabe in the middle of last century, but the closure of Playland as the Seattle World's Fair approached has left the nabe quiet and community oriented, and likely one of Seattle's best kept secrets. Most of the residents of Broadview have lived in the nabe for quite some time and are very unlikely to leave anytime soon.
Occupying the northwest corner of Seattle's city limits and located on a hill that slopes down to Puget Sound, Broadview contains some of the most incredible open space within the city limits. Carkeek Park is a 216 acre gem with miles of trails through natural forest along the banks of Puget Sound. Beach access is plentiful and gorgeous, providing residents with an actual sandy beach, which is a bit of a rarity in the Puget Sound area.
The mean price for a house in this area flutters around the 450K mark, with houses near the water or with views across Puget Sound fetching much higher prices. Most houses have large yards and, as such, lend a very spacious and suburban feel to the nabe, something that is uncommon for parts of Seattle within 10 miles of Downtown. The sense of community in this nabe, likely due to it's status as a best-kept secret, is very strong and many residents are very active in community issues.
This is a sleepy residential nabe, and nightlife and dining options are slim, but access to the Aurora Avenue bus lines is close and provides quick and easy jaunts into Downtown, Fremont, and Ballard. The nabe overall is very consciously green-oriented and has been seeing a lot of progress in the greening of it's infrastructure. Broadview is home to Seattle's Street Edge Alternatives project, an experiment on street design to limit erosion and damage from storm runoff. An excellent place to raise a family with green-leanings, a love of the outdoors, and the bustle of the urban life.
Zachary Walker