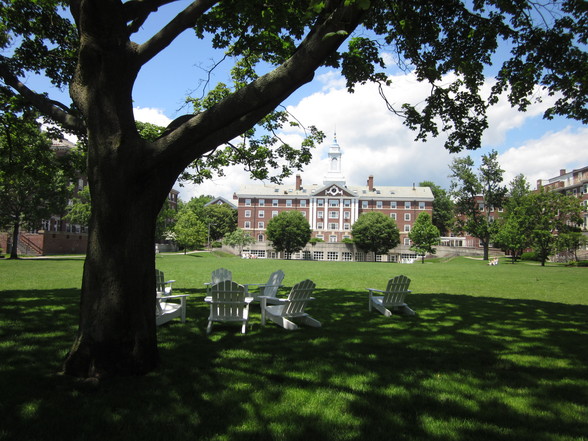 A tiny nabe wedged between West Cambridge and Porter Square, Larchwood is often hailed as one of Cambridge's prettiest neighborhoods. Originally the estate of wealthy Salem merchant William Gray, the land was redesigned in 1915 by well-known landscape architect Henry Hubbard as a residential subdivision. Larchwood boasts green lawns, tree lined sidewalks, and beautiful houses in the Georgian Revival style. A predominantly residential nabe, Larchwood does not offer much in terms of dining. However, nearby Cambridge provides some great restaurants, shopping, and parks.
Larchwood Data
Public Transportation

7.5
Lowest Attributes
Larchwood Articles and Reviews
Yuppie Heaven
This is yuppie heaven. This is wear yuppies dream of living after they attend Harvard, meet their mate and start a family. And you know what? Good for them. This is a beautiful neighborhood, the houses are large and expensive but have been meticulously designed, the lawns have been landscaped to within an inch of their lives and golden retrievers frolick in the yard. This is a mostly white neighborhood, made up of married couples and young families in their mid to late 30s. Although it is very residential, it is pretty close to Cambridge and all that it has to offer!
Mallory C.
Dream Nabe
It's impossible to play the "pick your dream house" game here—they are all so insanely gorgeous and adorable, you can't settle on one. Plus you can't beat the location, just a hop, jump and a few skips away from Harvard Square. Part of Harvard University, the Radcliffe Quadrangle, is also located here, along with some dorms and students housing. It's generally yuppies and young families though who call Larchwood home. All in all, it's a neighborhood that dreams are made of, if you can afford the hefty price tags on the homes.
Heather V.
At the center of Larchwood stands Harvard's Center for Astrophysics, which offers free lectures to anyone interested in the terrain beyond our lonely planet—and you don't even need to be a student of Harvard to attend! If you happen to be more of a stargazer, then the Center also hosts observatory nights when the public can look through the telescope when the sky is clear. Some towns have beaches, some nabes have shopping centers, but Larchwood has access to a higher ground of education.
Gray H