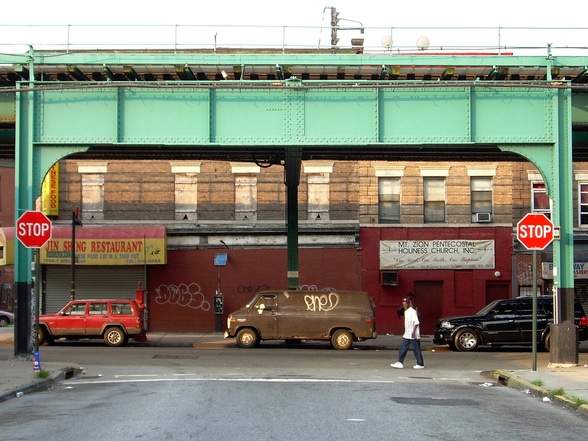 Bushwick, Brooklyn
by nabewise
Infomation
Things are changing in this Brooklyn nabe bordering Queens: Artists are renting studio spaces, and vacant storefronts are being turned into organic food shops. Bushwick's six-story walk-ups, converted warehouses and genuine artists lofts meet the increasing need for space of the NYC creative set without succumbing to any kind of in-authenticity.
Top Votes – Score out of 100
Gentrifying 100
Students 81
Artists/Creatives 80
Hipsters 74
Ethnic 72
Lowest – Score out of 100
Empty nesters 42
Clean 38
Green space 33
Shopping 32
Income 1
Top Reviews from Travel Rentals Neighborhoods
Greenpoint

I moved to Greenpoint after living in South Williamsburg. Greenpoint has the trendy, hipster feel of Williamsburg, but it is more downplayed and relaxed. After the obligatory hajj to Williamsburg, every hipster faces the critical decision of where to go next. Many head further and further east out of some sort of sick and depraved sense of manifest destiny, ignoring how intolerable they are making each new neighborhood. These are the true believers; they will live the lifestyle to its fullest until their parents stop paying rent. Hipsters who grow weary of the extreme posturing but still love their skinny jeans can go north to Greenpoint. Once they cross McCarren Park and encounter hordes of old men who have lived there for decades, something changes and life starts to revolve around brunch and pierogies. I recommend Greenpoint.

In all seriousness, this neighborhood is wonderful. It's quiet, green, and full of wonderful restaurants. In the summer, there is nothing better than scoring some blintzes and going on a walk to theWilliamsburg waterfront or to Newtown Creek. The neighborhood is still very Polish and you will hear a lot of it as you walk around. When shopping in the bakeries or meat markets, you might find yourself as the only person speaking English, but the bread or kielbasa is truly fantastic.

The Polish restaurants are the most obvious sources of great food in the neighborhood, but there are also a couple of decent Thai places, a great Mexican joint, and some very legitimate pizza. There are a number of places for those seeking libations, including a beer importer with a truly ludicrous selection on tap and in bottles.

Yes, the subway option is frustrating here, but having to ride the G is worth it for the rest of the neighborhood experience. On a nice day, it's a very enjoyable walk to the Bedford L, anyway.
Up and coming

Most of Bushwick still looks a lot like the majority of Brooklyn, aging apartment buildings with lots of character and the same bodega on every corner. However with the growing popularity of the loft apartments around the Morgan and Jefferson Ave. L stops, I think the area is on its way to being the next Williamsburg a few years down the road. There are already two Wburg style hip eateries south of Flushing Ave – Northeast Kingdom and Tandem – that are full of young locals and provide a pleasant eat-in atmosphere, though the local Los Hermanos tortilla factory still provides the best food around in my opinion, and a solid selection of coffee shops.

The area is definitely popular with artistic types right now and is home to a variety of unassuming rehearsal/gallery/performance spaces. I think artists and younger people, such as myself, are probably attracted to the area for the larger spaces you can get at a reasonable price as compared to Manhattan, and the excellent combination of the L and JMZ subway lines. I'm not sure how much longer you will be paying less here than in more established nabes (I'm not) but you will definitely get a bigger space, and if you are lucky roof access and a beautiful view of the city skyline

Anthony M.
BushWHACK…just kidding. It's awesome.

I have lived in Bushwick for quite a few months and have had no problems getting around or finding something to do. There is this delectable energy that permeates throughout Bushwick due to the incomparable diversity and sweet sweet up and coming art scene. There are little gems all over Bushwick where artists and musicians hang out and collaborate on different projects. Recently, a gallery opened up, and quite a few other places geared towards young people. I had a great time living in Bushwick frequenting bars like the wreck room and goodbye blue monday. Plus, it's not disgustingly expensive like Williamsburg, but super close to it.

Chris S.
The rents are cheap, I've had to leave Manhattan because of the rent-hikes but it's nice to see that I'm not the only one in this predicament. There's art and music happening. It's great!John P
Bushwick has grown on me since taking classes at 3rd Ward. There's also Roberta's Pizza & Tiki Disco. But over all I see this place like what Williamsburg was once like before the infusion of condominiums.

What's awesome

Cheep food & drInk. Arts space.

What's not so awesome

Some crime & L train is whack.

Richard F
Bushwick!!! Who Would have knew

I used to travel to Manhattan and Williamsburg to hangout, but one day me and my GF decided to give Bushwick a chance since we have been hearing so much about it. We were plesantly surprised coming out of Myrtle & Broadway J,M,Z train station. Walking our everything seemed so lively. As we walked to Northeast Kingdom for brunch, we couldnt help but admire the neighborhood. The area was quiet, but shopping was very close by, a person sitting on their stoop said "goodmorning" and when we arrived at Northeast Kingdom, the food was great. We also went shopping at the organic supermarket "Hana". Everything is so conveinently located, and its also just a few stops from LES and Williamsburg. Having said this, we are now in the process of looking for a place in Bushwick/ Bedstuy near the JMZ line, since plaes by the L line seems to be a bit pricer. Only downside I can see is I wish more cafes and restaurants were around, but I guess that will come in time.

ed
Shwick Ish

I moved to Bushwick after living in North Williamsburg, directly across the street from the Bedford L station. While Williamsburg is trendier, it is also far more expensive and if you're on a budget, the majority of dining, shopping, and nightlife options are not for you. When summer ended, I was politely asked to vacate my apartment so the owner could convert it to a restaurant. I had to make moves quick, so I moved to Bushwick.

A couple of blocks from the JMZ, I enjoy a far larger apartment with roof access, large bedrooms with huge windows (windows are hard to come by in trendy Williamsburg lofts and converted 2-bedrooms), and not 1, not 2, but THREE trains a stone's throw away. The advantages are easy to count—great value, more space, better transportation. Best of all, there are plenty of ethnic markets, organic food shops, furniture stores, bars, coffee shops, and discount stores in the area. If you play your cards right and find a place off Broadway, then you can add above-average safety to the list as well. I feel comfortable walking from the train to my house late at night, but not too late.

Bushwick is very much a neighborhood in transition, facing the challenges of integrating low-income housing and repurposed and revitalized properties that are increasingly being rented out by students, working artists, and those with disposable incomes. Easily accessible from the Lower East Side, Soho, and the West Village, Bushwick is an ideal option for young professionals who divide their time in Brooklyn and Manhattan. And because developers are attracted to the lower rents and "spend-happy" patrons in the area, newer spots like Lone Wolf are steadily improving the neighborhood's nightlife.

It's a neighborhood I'm learning to live in, and so far I've felt very welcome here. I look forward to witnessing the neighborhood's development, and I'm glad I have the opportunity to play a part in it. Give Bushwick a year or so, and there will be no need to toss around euphemisms like "East Williamsburg".

Sanyu
Bushwick: A Fresh Start for Young Adults

Believe it or not, there's more to Bushwick than drab warehouses and brownstones fallen into disrepair. Great restaurants, transportation and an arts scene have rejuvenated this neighbor ofWilliamsburg into a superb destination for twenty-somethings, as a place to party or to call home.

This nab just takes some sussing out. Beyond the crime and poverty remaining here, one can find a decent four-bedroom apartment for under two-thousand dollars and enjoy quick access into Manhattan on the train or to other locales of Brooklyn on a bus or bicycle. With the above-ground rail, straphangers enjoy panoramic vistas from train windows.

There's also good eating here. A few restaurants stand out for their integrity and affordability. Roberta's, located at 261 Moor Street, offers a crispy, personal-sized margherita pizza for $8; Northeast Kingdom has an outstanding American menu; and one can find some of the best burgers around at the vegetarian-friendly Life Cafe.

But what really defines Bushwick is its diverse culture and burgeoning art scene. The area boasts a number of standout DIY venues for indie musicians and small art galleries that can afford to bring in newer talent than anywhere else.

Even with all these perks, Bushwick is nowhere near as cushy as parts of Southern Brooklyn. I would still recommend using the buddy system at night when walking the streets, even though muggings have dropped significantly over the years. The chance of running into trouble will remain a threat to pedestrians for some time to come.

Gray H.
Bushwick is losing it's bad rep really quickly and I really love living here. Everyone is very respectful, friendly. I like the community vibe; there are lots of block parties, people hanging outside saying hello to neighbors, parents hanging out their windows watching their kids play along the block. There's not a lot of traffic and it's usually quiet by midnight/2am on weekdays/weekends.

I love having access to both the L and the JMZ trains, takes 15-25 minutes to get to manhattan. The bus system isn't too bad either, but it's a bit slower around these parts.

Lots of interesting bars and cafes are popping up, but they're hidden in side alleys and old warehouses and stuff. A lot of good food, but haven't found any decent pizza yet. Most places deliver late. Lots of great thrift shops. Knickerbocker Ave is highly underrated.

Pretty cheap to live here (comparatively), and a lot of the housing is recently renovated.

I like it here. I don't feel unsafe walking down to the corner shop at night or a few blocks down to grab some fries at Kennedy's. It's residential, lively without being obnoxious, lots of families, and just a good Brooklyn feel if you can get past the fact that it's not beautiful. It doesn't smell bad either! :]Caroline
Morgantown is the new sexy up and coming part of Bushwick

This area is surprisingly nice. It's the nicest (most gentrified) area of the neighborhood. There's a snobby grocery store, Brooklyn's natural that caters more to those of us who are vegetarians. There's a movie rental shop, a cute coffee shop with books on bookshelves and a nice vibe, and some really nice foodie restaurants. If I moved to Bushwick, I would try to be right near here. Seems super nice and you can still catch a break on rent! Very surprised to discover this little area.

Ann M