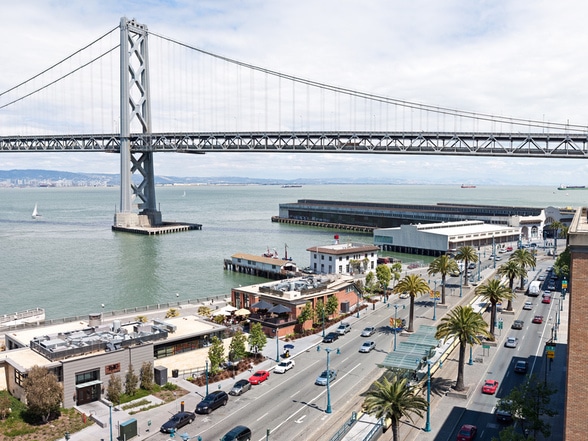 Infomation
This waterfront nabe, once a collection of dilapidated warehouses and abandoned piers, now exemplifies life in the new San Francisco. The product of a concerted makeover by the city, South Beach is now a thriving epicenter of upscale living where real estate commands top dollar and views stun. Replete with massive palm trees and luxury condominiums, South Beach has become a much sought after locale along the Embarcadero. AT&T Park and the San Francisco Giants call it home, while a host of high-end restaurants have followed suit, setting up shop here.
Top Votes – Score out of 100
Dining 82
Singles 81
Public Transportation 79
Income 76
Safety 75
Lowest – Score out of 100
Pet friendly 50
Shopping 50
Parking 42
Seniors 34
Families 33
Top Reviews from Travel Rentals Neighborhoods
South Beach needs style

South Beach is close to the water and the Ball Park. The N on the Muni runs along the Embarcadero, and it's within walking distance of downtown. There are mainly high-rise condos here; no houses. Feeling is sort of sterile when you walk down the street, but clean. This area is definitely gentrifying.

Jessie W.
I Left My Heart in San Francisco

Being a native of San Francisco, it would be fitting to deem this part of the city where I love most. However, it isn't just the scenery which beckons my heart to visit more frequently, rather the richness of San Francisco culture and the salty bay breeze. With views of the ocean and the Bay Bridge you will feel you're getting a real vision of what this city is really like. Pedestrians and homeless alike hoard the Embarcadero. Great food is walking distance away and happy hour is always in tow. Just remember to keep some spare change for the parking meters if you do decide to drive. Also if you don't like seagulls, then I suggest you trek inland for a more downtown feel.

What's awesome

Food choices, muni, boutique hotels; GO GIANTS!

What's not so awesome

Stephanie M.
Love/Hate Relationship

Personally, I tend to love South Beach, probably because it's indicative of a level of affluence I haven't quite yet reached in life (but TOTALLY want to one day). It's changed a lot. Even the past two years has seen new buildings, new businesses and new restaurants pop up seemingly overnight.

I worked in the neighborhood for several years and made it a point to walk around during lunch and break times. I still head there a couple of times a week to work out. Even their YMCA is fancy, sporting 5 floors, a pool, saunas and ridiculous views of the bay while you make time on the treadmill or elliptical. South Beach is filled with high-priced condos, some with awesome views of the bay. I guess it all depends on what type of atmosphere you love. If you're looking for some place in the city that is trendy, chic and never hard-up for sun, South Beach is your place. There are an endless number of nightlife spots and eateries, from the high-end Waterbar to Red's Java, a cheap and kick-ass little burger joint just on the water.

The down-fall is the neighborhood can be rather ethnically "stale". However, that all changes come baseball season when it becomes a hive of activity pre and post game time. Black and orange emblazoned everything fill the streets, restaurants are suddenly packed and the streets are filled with people out to enjoy the sunshine and a stroll along the water. With that, however, traffic becomes an absolute nightmare. You can easily get stuck between several blocks on King Street for half an hour. Daily rush hour also contributes to the same traffic nightmare.

So, while the staleness of South Beach can certainly be a turn-off at times, it's a neat little neighborhood that is constantly changing and has a constant flurry of entertainment and activity.

Kristine J
South Beach or bust

South Beach represents the luxurious loft lifestyle that has become so desirable in San Francisco. I find the real estate here to be too modern and lacking in character but it's undoubtedly a happening part of town that's on the up and up.

Gena F