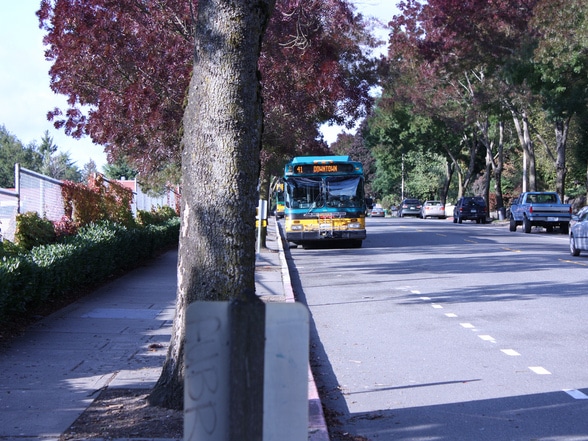 Slower to develop than the rest of the city, Cedar Park is a lakeside nabe that still maintains some of that old Seattle charm, especially in the areas close to Lake Washington. The houses nearer to the lake are larger and more luxurious than those that are a bit further inland (go figure). A large and incredibly cheap farmer's market comes to Cedar Park during the summer months, and some of the most diverse shopping in Seattle can be done in this nabe.
Cedar Park Data
Lowest Attributes
Public Transportation

4.5
Cedar Park Articles and Reviews
Lake City Way and A Neighborhood
Most people in Seattle's experience with this nabe is limited to prowling Lake City Way for fast and cheap dining or shopping options that aren't available in other parts of North Seattle.
The residents enjoy cheaper rent and proximity to both the lake and nearby colleges. The more-than-occasional group of college students will pitch in for a sharehouse in the nabe due to the low prices, but ages really vary other than that. Parts of the neighborhood feel semi-sketchy but not to the extent that you feel unsafe, just to the extent that you feel justified in paying lower rent. Other parts feel like the rest of the lakeside nabes nearby and are home to some fairly nice homes.
What's awesome
Fast, Cheap, Excellent Restaurants Galore
Bowen S.
Lake City Gems
Lake City is an affordable, convenient, and gem filled area. Its business owners are truly immersed in and beloved by the local culture. And despite un-updated exteriors that suggest otherwise, the restaurants and bars feature some of the best music, food and drinks in the city. With other areas of Seattle becoming ever more bourgeoisie, it's refreshing to know that the businesses on Lake City don't make you pay for unnecessary frills.
Not for the faint of heart or those who seek "chic", a visit to some of these most valued treasures will contradict any notion that it is "scary", "seedy" or "uncultured".
I will admit I didn't have high thoughts of the area myself. Moving to lake city last summer was a compromise. Jason worked up North and I worked in the city. In my mind the year we spent up north, "suffering" the suburbs, meant it was my turn to choose a city rental. Lake City has been given a reputation far from the "hip" rep I look for from places I move to. But, at the end of the day convenience and cost reigned supreme and as we settle in Lake City gems keep popping up.
I hate revealing best-kept secrets but the area and businesses deserve some recognition. To live in Seattle and never try these amazing places is absolute madness!
Two words, Toyoda Sushi, describe the absolute pinnacle of amazing cuisine. Open only 6 days a week for a few short dinner hours, Mr. Toyoda provides the best sushi in the city without paycheck crushing costs. Come in more then once and you are immediately a beloved friend and regular. The owner and sushi master, Mr. Toyoda always cuts your sashimi with care and style. This restaurant is perfect for social date nights. Sitting at the bar top with your favorite person is a must. It's a quaint space not designed for large parties or business meetings.
Not into sushi? Looking for a quick bite at lunch? If you haven't hear of Tubs Subs you've never had a truly fresh sandwich with high quality meats. Order the Grinder, it is by far the most perfect sandwich concoction on the menu. The ham on this sandwich is unbelievable.
Not into Grinder's? Fresh hand-made tortillas and authentic Mexican tacos more your style? Lake City Way's Mr. Villa has just that!
Thirsty and looking for the best live music without high prices and difficult parking? The newly updated El Norte has a great selection of brews, drinks, and live music nights. The mexi-fusion seems like a strange afterthought but in the end a Sol and live music always make me feel like I'm on vacation. Just down the street is another shack-like building hiding a gem of a bar, the Shanty Tavern. Don't let the exterior of these Lake city bars fool you, they're not your grandfather's pub.
Keep your minds open and keep exploring all. You don't need a plane ticket to experience something new.
What's awesome
Toyoda Sushi, Tub's Subs, Erawan Bangkok Thai Cuisine, Mr. Villa Mexican, El Norte, Shanty Tavern, Lake City Library, Easy Access to Burke Gilman, Quiet community 'hood. Farmer's Market Wednesdays.
What's not so awesome
Community job opportunity, and Crime, but its everywhere in every city.
Amanda C.
Quiet suburb with cute downtown
Getting into a bit more of the suburban feel of Seattle's northern areas, Cedar Park is home more to families with children than younger folks. Although you'll still find a younger crowd, rent tends to be a bit higher along with housing prices and occupied more by 3 or more than singles. It's bound by Lake Washington on the east, and Lake City Way on the west where you'll find a couple of restaurants on the southern end. 145 and NE 120th make up the northern and southern boundaries, respectively. The actual Cedar Park is located right in the center, and has an off leash area for dogs. Cedar Park has only a few public schools in the area.
Although most homes are pretty standard looking, you'll find some of the nicer ones along 39th. Lake City Way serves as a cute little downtown area complete with a well-stocked Value Village. A bit further up north is where you'll find several recent condo buildings.
Kevin H.
A tad sketchy in places, but with it's own brand of ethnicity
Cedar Park is essentially the east side of Lake City and is an ethnically diverse nabe of low rent and scuzzy apartment buildings. The east side of the nabe, against Lake Washington, is quite a bit nicer than the west side and offers modest single-family homes with good views of the lake and the Cascades. The area surrounding Lake City Way has the reputation for being not particularly a hospitable place. The crime rate is a good deal higher than the Seattle average and car break-ins tend to happe a bit too frequently. The rent in this area is definitely lower than the Seattle average, which can be appealing, but the commute into the Central District may be a major turn-off for some, as it requires you to drive down I-5 with no other options.
On the plus side, this is one of the more ethnically diverse Seattle nabes, especially for being on the outskirts of the city, and as such the dining options are varied and interesting. This diversity also spills into the shopping options, giving residents access to goods that are bit different from the norm. Also, during the warmer months, there is a large farmer's market that draws artisans and farmers from far and wide to sell their wares for prices much lower than many of Seattle's other farmer markets.
Zachary Walker