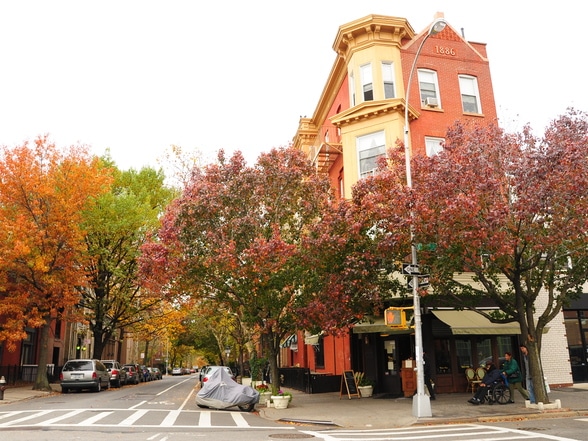 Cobble Hill, Brooklyn
by nabewise
Infomation
Cobble Hill is a section of Brooklyn typically known for its mom-and-pop shops, Italian meat markets, and boutique shopping. The nabe blends almost seamlessly with neighboring Boerum Hill and Carroll Gardens, with which it shares classic brownstone facades and the nightlife and dining offerings of Smith St. Altogether this makes Cobble Hill a classy, trendy neighborhood with a fine slice of Brooklyn charm.
Top Votes – Score out of 100
Ethnic 94
Families 90
Safety 81
Dining 75
Singles 75
Lowest – Score out of 100
Quiet 50
Public Transportation 50
Income 34
Seniors 32
Empty nesters 19
Top Reviews from Travel Rentals Neighborhoods
Cobble Hill is a fun place to hang out once in a while. It's as if Park Slope's 5th Avenue were expanded into a whole neighborhood. Very gentrified, very pricey, but a good once-in-a-while place to go hang out and get coffee or a beer. Great restaurants too, and the Cobble Hill Cinema usually has a cool mix of mainstream and independent movies. The brownstones around there are all beautiful, too.Danny L
Wrong. I've lived in both, and had to escape Park Slope when it was getting too crowded to live in Cobble Hill. Never looked back. Better restaurants, better shops, better vibe. Plus, I cut my subway commute to Manhattan by 20 minutes.

Take away the park, and there is no other reason to live in Park Slope.Erick S.
I agree that cobble hill is more chill than Park Slope—the smaller stroller to person ratio helps as well. Dinner here at watty and meg + movie and cobble hill cinemas = cute delicious eveningAlex