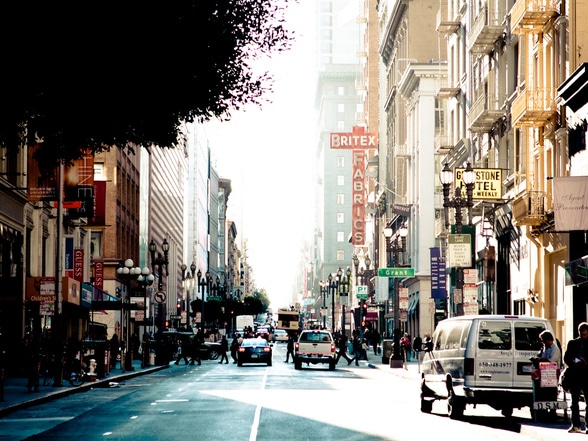 Downtown, San Francisco
by nabewise
Infomation
SF's number one shopping district, Downtown is a frenzied hub filled with fashionista and tourist activity (duh). Large department stores sell their wares alongside a host of high-end specialty shops. Some of the city's most well-known hotels are here and the Powell Street cable car ferries tourists to and from Fisherman's Wharf. Downtown is also where to find San Francisco's theatre district, which stretches westward along Geary Boulevard. Neighboring Nob Hill offers a more low-key, residential atmosphere.
Top Votes – Score out of 100
Public Transportation 90
Nightlife 90
Shopping 88
Dining 85
Singles 79
Lowest – Score out of 100
Seniors 19
Pet friendly 17
Quiet 15
Families 13
Parking 13
Top Reviews from Travel Rentals Neighborhoods
Calling all city people…

Nobody lives downtown! That's what I was told in response to telling people I lived there. In fact, lots of people live downtown and it could possibly be one of the most varied neighborhoods in San Francisco. There's the tourists of course, but amongst them you'll find seniors taking their morning walks up those steep hills, Academy of Art students toting their oversized portfolios around, and young twenty-somethings walking their chihuahuas.

This nabe is for people who crave a NYC-type of urbanity in SF. It's for the souls who need the pulse of energy right outside the door. Ambulance sirens scream, cable cars rattle, revelers yell too loud, and those who are afraid of the suburbs will accept and love it all.

There's also the charm of knowing that the 'hood is the entry point for most people's love affair with the city (except for the poor souls who mistakenly stay in Fisherman's Wharf). There's something satisfying about passing by the tourists gawking at Maiden Lane windows, photographing themselves in front of the Chinatown gate, enjoying an espresso at a sidewalk cafe, and knowing that all of this is yours for the taking, any time, any day. I love watching others love my city.

Mary P.
Downtown…The Never Ending Party!

San Francisco is without doubt the best city out on the West Coast. A poor man's New York City if you wish. The night life is grand and exciting, the music is always on full blast, the bars have gorgeous people left and right, and there is just the right amount of culture to make the city work. Balance is key for the success of D-Town San Fran. You have all the options right in front of you to make an amazing day to remember. Here is my typical day in San Fran.

1. Arrive at Dottie's True Blue Cafe for an amazing omelette.
2. Walk down the street to grab a newspaper.
3. Attend Business Meetings
4. Go to a SF Giants baseball game and get some Gilroy Garlic fries.
5. Then choose from one of a 100 top restaurants for dinner.
6. End the night at a favorite night club or bar.

A trip to downtown San Francisco is a memory waiting to happen. As Alicia Keys says "The lights will inspire you…" I whole heartedly agree as driving through downtown San Francisco at night will have you inspired to do bigger and better things. Its a city that can consume your thoughts and a city that can provide you everything you need.

Nick B.
Hey, City Slicker!

Hey, city lover. Did I hear you say you wanted skyscrapers and big city lights? Bustling crowds of people and 24-hour excitement? Then come Downtown.
Did you ask for shopping? Between the Westfield Mall and the massive stores surrounding it, Downtown provides endless shopping for those who are more into big names stores in contrast to small boutiques. Close by Market Street is Union Square, the very famous and pretty exciting center of Downtown. And food?There are, of course, restaurants all around, ranging from terrible to fantastic and very cheap to very expensive. Driving can be difficult, but since you're a big city-slicker you don't need a car, right? And really, driving around downtown isn't absolutely terrible, but definitely don't send your 16 year old who just got their drivers license Downtown in your Porsche.

What's awesome

It's Downtown: it's exciting, entertaining, and there's always something to do.

What's not so awesome

It's loud, and there are always tourists. Great to visit, not that great to live in.

Chloe N.
Electrifying

I think Mary P said it best in her review "Calling all city people…" when she said, "This nabe is for people who crave a NYC-type of urbanity in SF. It's for the souls who need the pulse of energy right outside the door." Sure the tourists suck (it is not called San Fran, it is not called Frisco, and we don't appreciate you stopping in the middle of the sidewalk), but it has so many more pros than it does cons. There's always something to do, always something going on, and if you're trying to get to something going on in another part of the city transportation is a breeze. You're always going to pass new people on the street, even when it isn't tourist season (which pretty much means Super Bowl Sunday). The diversity is evident, the buzz is constant. Just don't drive. Whatever you do, don't drive downtown!

Kati S
Downtown darling!

There's nothing like hopping on the train and spending a day cruising downtown. The cavernous department stores and the highest-end retailers are here as is Union Square, a prime people watching locale. It's super busy downtown as people buzz along through their days and it's almost always heavy with tourist traffic. My favorite spot has to be the cable car turn around on Powell Street, where break dancers perform and there's usually impromptu street performance to be found.

Gena F.
Downtown! Everything's waiting for you!

This is the heart of the city. The main transportation artery (BART) runs straight through here along Market, and all of the Muni lines are oriented to this part of the city: they either run "inbound" or "outbound" from Downtown. You will mainly find all of your major shopping staples here, and can hop on the historic cable car at the Powell and Market corner. You'll find the typical hustle and bustle here.