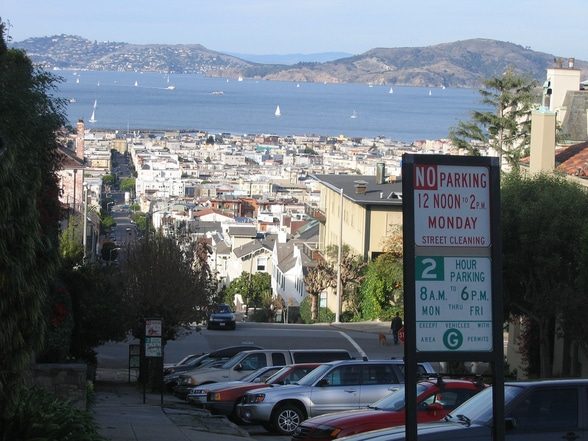 Pacific Heights
by nabewise
Infomation
Pacific Heights defines elegance and old San Francisco aesthetic. Grand mansions are the architectural rule here and homes rarely enter the market. Although the nabe doesn't have its own commercial center, Cow Hollow and Lower Pacific Heights are a short walk away where there are a myriad of dining and shopping options. Nearby Lafayette and Alta Plaza Parks offer scenic views of San Francisco's famous skyline.
Top Votes – Score out of 100
Income 93
Safety 91
Exclusive/Prestigious 80
Clean 80
Dining 80
Lowest – Score out of 100
Nightlife 50
Empty nesters 45
Seniors 41
Community 38
Singles 17
Top Reviews from Travel Rentals Neighborhoods
Living there during high school

My dad and stepmom moved up to Pacific Heights from San Mateo when i was a sophomore/junior in high school although all of us still commuted to the peninsula (stupid i know). Our family really loved being able to walk to Filmore street because there are some great restaurants and cafe's along the street as well as a Whole Foods and Laffayette Park. I never had a problem with catching a bus to BART/Metro/Caltrain downtown, the busses along Fillmore and Van Ness are frequent. It's a walkable neighborhood that feels safe and convenient. The only real downside is that it is expensive to live there, the street parking can be terrible, and the cross-town commute is the longest part of the journey if you're driving out of the city, the ultimate reason we ended up moving back.

ryan h.
Okay, picture your ideal rich great-aunt that you just found out about: does she wear pearls, have a distinguished voice, and is she perhaps the daughter to a railroad fortune, or a whole lot of gold mines, or something similar? Well then, your ideal rich great-aunt probably has a mansion in Pacific Heights, where the houses are huge, gorgeous, antique, very, very expensive, and rarely available for purchase. Hopefully you're super nice to your rich great-aunt, in case she leaves you the mansion one day…..

What's awesome

The mansions that are this nabe's claim to fame

What's not so awesome

Has a reputation as stuffy, not much going on other than house-viewing

Chloe N.
Great restaurants and quiet evenings.Jessie W.
If you looking for clean, quiet, and absolutely beautiful…

Pacific Heights is for you. I lived here for almost 7 years and loved every minute of it. I was in walking distance of Fillmore street, and Sacramento street, both filled with cool shops, good food and some decent bars. I was close enough to downtown that I could jump on an express bus and be zipped downtown in the morning, but far enough away I could escape the craziness of the city and live in a quiet hood where I didn't have to worry about a bum sleeping on my doorstep.

nicole s.
Stuffy Heights

Pacific Heights or Pac Heights as people seem to call it is an undeniably lovely nabe where the rich and the richer live. But otherwise, it's pretty boring and stuffy.

Gena F.