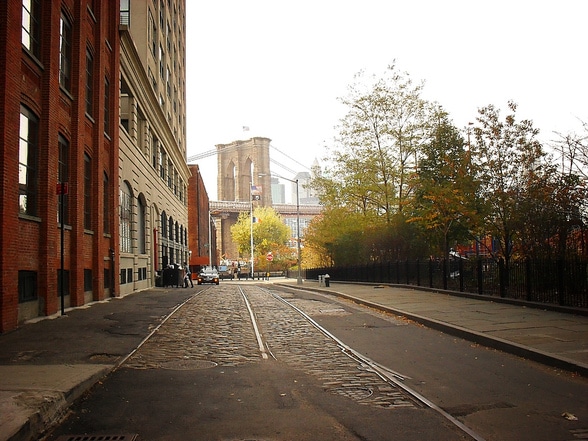 DUMBO, Brooklyn
by nabewise
Infomation
An acronym for "Down Under the Manhattan Bridge Overpass" (what a mouthfull!), DUMBO is a waterfront community filled with character and charm. Warehouses transitioned into lofts, historic architecture, cobblestone streets, and of course the bridges themselves mingle together to create a vibe that's classic and edgily hip at the same time. Stunning views of the Manhattan skyline and the newly developed Brooklyn Bridge Park have upped DUMBO's popularity, tinging the nabe with a slightly Manhattan vibe. When you're here, be sure to stroll along the East River and go exploring in DUMBO's historic pocket nabe, Vinegar Hill–one of the oldest areas of NYC.
Top Votes – Score out of 100
Pet friendly 90
Gentrifying 88
Safety 79
Clean 75
Gays/Lesbians 73
Lowest – Score out of 100
Quiet 47
Community 41
Parking 39
Seniors 16
Income 16
Top Reviews from Travel Rentals Neighborhoods
DUMBO, Tribeca's little sister in exile

If you've been everywhere in Manhattan and you're just now stepping out in DUMBO, you may feel as if you've been here before. It has a decidedly Tribeca feel, with enough newly opened high-end craft-boutiques and glam-Mexican food to keep you entertained for many a weekend. This neighborhood feels as if it is guiding you towards co-op membership at every turn. There are myriad European interior design showrooms, book and record stores to furnish one's coffee table displays, and specialty food stores like Jacques Torres Chocolatier to keep those out of town condo-guests both satisfied and impressed. During the week you'll find a business-casual vibe pervasive due to the abundance of trendy office spaces, but on the weekends the art galleries open their doors, eclectic bars send exotic tunes bouncing around the streets, and alternative fashionistas wobble the cobblestone avenues until their vintage heels can't take it anymore. If you've still never been, Dumbo is definitely worth a stumble.

Andrew B.
Baby SoHo

DUMBO is Brooklyn's oldest neighborhood, but with the prominent DUMBO Arts Festival, ever-expanding waterfront park, growing number of businesses and rise of luxury condos, it is also New York City's development project of the decade.

Walking along Front Street, the neighborhood appears to be thriving, but Water Street and Plymouth Street still display the raw tenor of vacant warehouses. The strips of abandoned trolley tracks, the monochrome faces printed on white posters adorning the exterior of the Waring Envelopes warehouse (the Inside Out Project), and the rumbling trains that pass over the Manhattan Bridge every few minutes are all integral parts of DUMBO. As are the quirky book shops, the friendly residents, and the numerous art galleries. In many ways it is like SoHo in its younger days; absent are the luxurious boutiques and crowded sidewalks with throngs of tourists; a strong, unique art scene and eclectic architectural styles are present.

DUMBO is an exciting place to be in. Development projects are constantly underway, making the neighborhood a great mix of industrial design, hip art and small businesses, among other things. If you find yourself with some free time on your hands, be it for a few hours or a whole day, take a trip to DUMBO. You will not be disappointed.

What's awesome

Entertainment-wise, a ride on Jane's Carousel is a quick trip to the 1920s.
The Philadelphia Toboggan Company constructed the carousel in 1922. It was originally installed in Idora Park in Youngstown, Ohio. Then in 1984 Jane Walentas, an artist living in DUMBO, purchased it at an auction for $385,000. She diligently worked on restoring the carousel for twenty seven years, scraping away layers of paint to reveal the true form of the elaborately designed horses. The entire carousel was repainted, re-leafed, and restored to its previous glory. It now boasts 1,200 dazzling lights, 48 finely designed horses, and 2 chariots. Architect Jean Nouvel designed the acrylic pavilion that encases the structure.
Jane's Carousel opened to the public at its new home in the Brooklyn Bridge Park on September 16, 2011. It boasts spectacular views of both the Manhattan and Brooklyn Bridge, as well as the Manhattan skyline. The cost of a 3 minute ride is $2.00 for those above the age of 3 and the height of 42 inches. It is open between the hours of 11 AM and 6 PM, Thursday through Sunday.

Food-wise, Bubby's (1 Main Street) has excellent pie and an amazing view of the Manhattan Bridge and the Brooklyn Bridge.

Yana A.
great place for evening out

The best time to be in Dumbo is anywhere from just before sundown to four in the morning. From the amazing sunset over Manhattan to tons of great clubs and bars, Dumbo is the place to go for a cool, classy evening. If the quirky (and delicious) restaurants, the art galleries around every corner, and some of the best cocktails in the city aren't enough for you, then I recommend you leave New York as you won't find a better tourist-free nightlife anywhere else.

Julie S.
processed meat tells it all

A few nights ago, I was in DUMBO ordering a delicious hot dog from a hot dog stand by the promenade. And then some fool came up next to me. "All beef?" he asked. "Yes," the hot dog man replied. "Well, are they organic?" the man asked. U

I feel this anecdote serves as a fine metaphor for the folks that live in DUMBO. They are cool and chill enough to hunger for a fine street hot dog, and yet right when they've reached their chillest, the inner yuppie shines through.

Katie P.
DUMBO – Good views and parks, Bad eats

Dumbo is very different from brownstone Brooklyn. It is more like a less populated version of Tribeca. There are lots of kids, families and parks. You are also very close to Brooklyn Heights, Cobble Hill and Columbia Waterfront/Red Hook.

What's awesome

Proximity to city, Lofts with amazing views

What's not so awesome

There are no good restaurants in DUMBO and many restaurants in nearby nabes won't deliver even though it's close.

Nithya D.
Unique and Exclusive

DUMBO is such a small area that you could walk up and down every street in a couple hours. It also feels somewhat like being in a snow globe because of the bridges that arch over you in the sky. The thriving arts community here, along with the mixture of old and new architecture, is what made it stand out for me. There are endless photography studios and galleries and lots of boutiques have opened up in the past year with locally made clothing, jewelry, art and other designerly creations. I found it to be pretty low-key during the day and dead on a week night. The crowd is a mixture of families and gallery-goers/artists. It's a lovely place to visit, but super expensive to actually live there.

Nina B.
Lots of cool art/design things, hard to get to.

I freelanced in DUMBO last summer, and coming from NJ it was a pain to get to, though I'm sure it's less of a hassle for NYC residents. It's a nice area with some cool spaces, like the Galapagos Art Space, but I didn't really spend that much time socializing because I was there to work. The only train within DUMBO proper is the F train, which is slow as molasses coming from Herald Square, so I always took the A to High Street and just walked a few extra minutes north.

Lots of art and design studios are in DUMBO, so while I may find myself working there in the future, I wouldn't want to live there.

Matt C.
Always great coming here.

I love Dumbo, though there's no way I could live here, mostly because of the expense. When the weather is nice, I love going down to the park under the bridge, then maybe hitting a gallery and grabbing a beer or some food at Superfly. For some reason a lot of people that I know from out of town want to visit, I think they're literally thinking of elephants because of the name. Whatever the case, I always enjoy taking them down there, though getting there by train can be kind of a hassle.

NYC L.
DUMBO is a real interesting place, but it's pricey, and fairly small for a Brooklyn neighborhood. I don't spend a lot of time there, but when I do, I usually have a good time. The architecture is really cool, and there are a few neat bars that have craft beer selections. The waterfront is a great summer date spot, with Grimaldi's and the Ice Cream Factory, and that great sunset view of the skyline.Danny L.
Dumbo Brooklyn

I work in Dumbo, the neighborhood is a very nice one, however, there aren't very many options out here in terms of grocery stores, clothing stores, or cheap eats, it sort of feels as if your in the middle of know where. I must admit that im comparing this neighborhood to the typical manhattan neighborhoods that im used to, Dumbo is nothing like that, resources are very limited. Dumbo is a Green neighborhood, they are all about preserving the area, and that is truly amazing, even most of the food is organic. It is also an extremely pet friendly environment, but im not sure what they feed these dogs, they are huge. But if there is one thing thats great about Dumbo, it has to be that its a small comfortable neighborhood… oh, and did i mention, there is a Starbucks… ALL SMILES!!!!

Shiquita S.
Dumbo is ridiculous. There's some cool stuff, but it was Williamsburg beforeWilliamsburg. Rent is through the roof now (if you can find a place for rent), and forget about buying an apartment unless you are loaded.Sam B.